Solution Deployment & Evaluation
Business Analysis Driving Business Success: Driven by the rise of complexity and uncertainty in today's world, business analysis is key to enabling change that drives project and business success.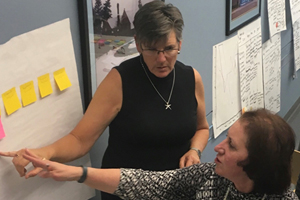 Creating an elegant, business-focused technology or process improvement solution is a worthy accomplishment: assuring that the solution is properly implemented and generates value on an ongoing basis is equally important. The skills and knowledge delivered in Solution Deployment and Evaluation help assure that mission-critical solutions live up to their potential.
Course Objectives:
Trace value from inception to fulfillment
Set the stage for successful solution implementations
Assess the organization's readiness for change
Identify barriers to realizing full return on investment
Identify business-driven performance measures
Address gaps in value fulfillment
Validate achievement of the desired business value
Course Outline:
I. Confirming the Solution
Requirements allocation and traceability
Solution validation
Defect management
II. Solution Implementation
Transition requirements
Readiness assessment
Implementation and support
III. Performance Evaluation
Value metrics
Performance analysis
Root cause analysis
IV. Value Delivery Optimization
Process optimization
Organizational optimization
Change management
BA "art"
Sustaining the value delivery

Cost: $1,095.00
Location: Online (virtual / live-remote)
Date(s): (December 7th & 8th / $ 1,095.00)
Time: 8:30 am – 4:00 pm
Catalogue #: CE-BUS 2132
Class #: 6902
To register for this class, call 914-606-6830 and choose option 1 when prompted.
Learning Path
Business Analysis Certificate | Spring 2021 | Feb 16-May 12
This course is part of the Business Analysis Certificate Series. Save 15% if you register and pay, in advance, for all four classes. See "Business Analysis Certificate Series".

Professional Development Hours awarded by the International Institute of Business Analysis / IIBA.
For IIBA courses, contact:
Jim Irvine, Director, Corporate and Continuing Professional Education
914-606-6658
james.irvine@sunywcc.edu