Student Involvement
Mission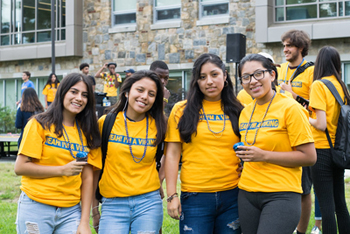 The Department of Student Involvement believes that every student has the right to community, connection, and self-development. We are committed to providing comprehensive and meaningful educational experiences for students in the co-curriculum. We accomplish this through the creation of inclusive and intentional learning environments while supporting students in acquiring leadership and other transferable skills that can be utilized throughout their academic and professional careers.
Why Get Involved?
Engagement outside of the classroom contributes to a well-rounded college experience. Along with a solid academic record, jobs and four-year colleges want to see how productive you were with your time outside the classroom. Not only that, getting involved is a great way to discover who you are, what you want to be, and meet lifelong friends! With over Forty student clubs/organizations, and dozens of on- and off-campus events each semester there are a variety of options to help you be successful now and in your future! There are opportunities available to every student, regardless of your availability, course schedule, age, interests, etc. Take a chance and get involved.
How to Get Involved
With over forty student clubs and organizations discover some of the unique opportunities available at SUNY Westchester Community College. Click on any of the tabs found at the top of this page to learn more about involvement opportunities you may enjoy.
Upcoming Events and Workshops: