Student Involvement
Virtual Activities and Programming
Looking for something to do from the comfort of your home? We've got a few ideas to keep you entertained.
Activities within Westchester Community College:
Music
Virtual Tours and Museums
Experience the best museums from NYC to France to Seoul in the comfort of your own home. Check out these sites to go on virtual tours of different museums and specific exhibits.
Check out some cool places around the world from National Parks to National Landmarks.
Animal Webcams
Lions, tigers and bears, oh my! Just want a cute and cuddly distraction? Check out several different animal live cam options from watching silly sea otters and curious elephants or just mellow out to the hypnotic drifting jellyfish.
More Fun Things To Do!
Mission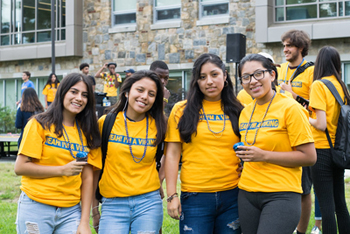 The Department of Student Involvement is committed to providing comprehensive and meaningful educational experiences for students in the co-curriculum. Through the creation of intentional learning environments, the Department of Student Involvement helps students acquire leadership and other transferable skills that can be utilized throughout their academic and professional careers.
Engagement outside of the classroom contributes to a well-rounded college experience. Along with a solid academic record, jobs and four-year colleges want to see how productive you were with your time outside the classroom. Not only that, getting involved is a great way to discover who you are, what you want to be, and meet lifelong friends! With over seventy student clubs/organizations, dozens of on- and off-campus events each semester – there are a variety of options to help you be successful now and in your future! There are opportunities available to every student, regardless of your availability, course schedule, age, interests, etc. Take a chance and get involved. Discover some of the unique opportunities available at Westchester Community College. A fun, friendly, and always active department, be sure to stop by Student Center, Room 108 and see what opportunities await you at Westchester Community College.
Be sure to LIKE and FOLLOW Student Involvement on social media to learn the latest ways to get involved at Westchester Community College!
Hours of Operation: Monday – Friday: 8:30 a.m. – 4:30 p.m.
Email: getinvolved@sunywcc.edu
Phone Number: (914) 606-6731
Get Connected
with the Department of Student Involvement. Find us on