College Policies
Policy Workflow
In furtherance of the college's focus on excellence, the Assistant Dean for Process Strategy and Excellence facilitates the periodic review of policies, and when policies are created or revised, the Assistant Dean advises on the people, process, and timeline that upholds the college's collective decision-making standards and aligns the policy language with student success, operational efficiency, and institutional effectiveness. The President has provided the following direction on policy creation and review:
Ensure that all policies are reviewed at least once every three years.
Post complete and accurate policy information online.
Report to the President on the status of policy reviews.
Upon request, recommend individuals or teams who should be involved in ad hoc reviews to research and develop policy and the corresponding timeline. The Assistant Dean may call upon administrative subject matter experts and/or the following shared governance leaders to solicit input on who should be involved where broad input is desired:

SGA President or designee, student representative
Faculty Senate Presiding Officer or designee, faculty representative
Staff Council President or designee, staff representative
Policy Terms
A policy is a set of basic ideas or principles adopted by a governing body intended to guide and determine decisions and actions.
Click here to see a description of Board Policies
Board policies are pursuant to the policy-making authority vested in the Board by NYS Education Law Section 6306. Board policies address, but are not limited to, appointment and responsibilities of the President of the College; governance of the College; admission of students; academic programs, certificates, and degrees; land, facilities, and equipment; tuition and fees; and annual operating and capital budgets. Board policies are approved by the Board of Trustees.
Click here to see a description of Institutional policies
Institutional policies support high quality teaching and learning, promote operational efficiency and excellence, or manage risk. These policies may involve compliance with laws, regulations, mandates, and accreditation standards from federal, state, county, and local authorities including, but not limited to, Federal Agencies, Middle States Commission on Higher Education, New York State Education Department, State University of New York, Westchester County, and the College's Board of Trustees. Institutional policies pertain to and/or affect more than one division or unit and usually require college-wide review for development or revision. Institutional policies are approved by the President of the College in accordance with the authority delegated by the Board of Trustees.
A procedure (a.k.a. practice, process, or workflow) is a sequence of actions that is the official or accepted way of accomplishing a particular task.
Policy Creation and Review Workflow
Policies are created and regularly reviewed by agile teams of subject matter experts, including faculty, administrators, and staff. Policies may be proposed and advanced from any area of the college, and the President of the College and/or College Board of Trustees provide final approvals for policy directives. Technical assistance is provided by the Assistant Dean for Process Strategy and Excellence.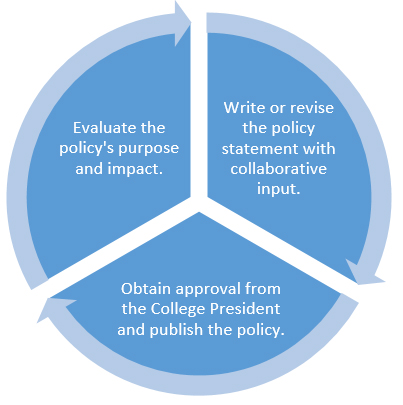 Approval and Recording Process
1: College VP/Shared Governance Leader
Distribute policy to EXALT and/or Cabinet for further comment, review, and/or acceptance. Refer policy to the President for approval.
2: College President
Approve the policy and authorize distribution.
3: Assistant Dean for Process Strategy
Record and publish approved policy.
4: Director of Strategic Marketing and Communications
Provide public notification and update the website.
Policies
FEDERAL EEOC COMPLIANCE STATEMENTS
INFORMATION TECHNOLOGY – EMPLOYEE
INFORMATION TECHNOLOGY – STUDENT
Preferred Name Information – Westchester Community College (sunywcc.edu)
Title IX – Westchester Community College (sunywcc.edu)