Human Resources
About Us
Westchester Community College, the County's largest educational institution, is nestled on 218 acres of scenic property and provides a tranquil work environment.
With locations in key markets throughout Westchester County, career positions are generally available in a variety of functions.
The College will provide equal opportunity in all of its employment practices to all persons without unlawful discrimination on the basis of political affiliation, age, race, color, national origin, ancestry, citizenship, genetic information, religion, disability, sex, sexual orientation, gender identity, gender expression, marital status, parental status, pregnancy, arrest or conviction record, membership in any reserve component of the armed forces, or use or non-use of lawful products off College premises during nonworking hours, or any other status protected by applicable state or federal law.
More information about Westchester County.
Openings
College OpeningsFoundation Openings
Mission:
The mission of the Human Resources Department is to foster an environment of professionalism, accountability, trust and mutual respect amongst all employees of Westchester Community College. We strive to do this by providing information, support and guidance in every facet of the employment relationship in a conscientious, responsible and proficient manner; and by supporting college departments in their efforts to help realize the life and career goals of our surrounding community.
New Hires
WCC welcomes the following employees who were announced at the Fall 2021 Convocation:
Academic Affairs
Stergios Bibis, Biology Department
Helen Caicedo, Office Assistant (School of Business and Professional Careers)
Richard Gennaro, Interim Dean (School of Health Careers, Technology & Applied Learning)
Blakeley Lowry, Nursing Department
Daniel Pena, Biology Department
Administrative Services
Roy Castro, Budget Specialist ll
Nicola Howard Brown, Financial Aid
Maureen Lyons, Manager of Fiscal Operations
James Nardi, Maintenance Mechanic l
Garth Walcott, Bursar
President's Office
Dolores Swirin-Yao, Foundation Executive Director and VP of External Affairs
WCC Foundation
Jeff Goldberg, Foundation Chief Financial Officer
Dr. Thomas Lee, Foundation Board President
Parica Mason, Director of Volunteer Services
Student Access, Involvement and Success
Stephanie Tothill, Registration Clerk
Rosemary Baez, Admissions
Workforce Development and Community Education
Araceli Soriano, Assistant Director, Mount Vernon Extension Center
Westchester Educational Opportunity Center
Stacey Larson, Assistant Dean of Academic Affairs
Ana Veras, Assistant Dean of Student Life
COVID19 Information
CastleBranch reporting portal is MANDATORY FOR ALL EMPLOYEES to complete by no later than August 12, 2021. All employees that do not complete this by August 12, 2021, will be required to COVID-19 PCR test at the Westchester Medical Center in Valhalla starting August 16, 2021, and each week thereafter.

As we prepare for our return to our worksites, there is important information employees need to know about COVID-19 vaccine requirements.
You must be fully vaccinated to be on campus, or else apply for one of the following exemptions:
Medical
Religious
Personal
If you are not fully vaccinated, then you must be COVID-19 PCR tested on a weekly basis at Westchester Medical Center COVID-19 PCR testing site located on the Grasslands Reservation in Valhalla.
If you are fully vaccinated, you are excused from the weekly test regimen.
You must report your vaccination status, or selected exemption by going to the Westchester Community College's CastleBranch portal at: https://portal.castlebranch.com/YW05 (CastleBranch instructions are attached to this email).
All individuals, regardless of vaccination status, will be required to wear masks in all indoor College spaces. Exceptions include anyone:
> actively participating in athletic activities;
> drinking beverages or eating meals while social distanced;
> by themselves in a private space (does not include areas open to others, such as service counters or other spaces where there may be interaction between two or more persons in that space);
When in doubt, wear a mask.
Employees MUST wear their WCC ID badge while on College property.
Visitors will not be required to show proof of vaccination. However, all visitors MUST follow WCC COVID-19 safety protocols, including the wearing of masks, when indoors and practicing social distancing. Visitors will be checked in and in doing so they must acknowledge the WCC COVID-19 safety protocols. On the Valhalla Campus, the visitor check-in process will take place in the lobby of the Gateway Building. There will be signage on the Valhalla Campus directing visitors to the Gateway Building and you should inform anyone you are inviting to the Valhalla Campus of the check-in requirement at the Gateway Building. And all visitor's arriving by car to the Valhalla Campus is to park their car in Lot #1.
For updates on WCC COVID-19 protocols, visit
www.sunywcc.edu/covid
Frequently Asked Questions – Personnel Action Form (PAF) Training Sessions
Form User:
Form User - Questions and Answers
If there is an error on a PAF or a PAF is denied, how do we resubmit PAF?
a. If there is an error, you may cancel the PAF before it is fully approved, make the correction, save it, and then resubmit. Please note that, if you made a significant change to the PAF after HR has started their review process, you are advised to reach out to us via email at humanresources@sunywcc.edu.
b. If the PAF is denied due to incorrect information, you should make the appropriate correction on that PAF, save the change, and then submit. The approval process for the corrected PAF will start over upon your resubmission.
Does an email notification go to supervisor for approval?
Yes, an email notification is automatically generated to the first approver once a PAF is submitted. This starts the approval chain of the PAF.
If the approver is away, who can approve a PAF?
Approvers have been provided instructions on how to request temporary backup approver if they plan to be away for at least 5 consecutive business days. The backup approver will have access to approve the applicable PAF in their absence.
Will a Form User receive a separate email at each step of the approval process?
No, the Form User will only receive an email when the PAF is either denied by one of the approvers or approved by all the approvers.
Can a PAF be duplicated/ copied or updated so it can be used at a later time?
No, each PAF is independent and may not be copied. Changes/corrections may be done as described in answer 1. However, once the PAF is fully approved, you will be unable to make changes to the form.
Is the "rehire" option within the "PAF_New Hire_Rehire_Promotion" form to be used for Budget Rehire?
No. Budget Rehire PAF's are completely different and must be submitted in the grid format by email to hris@sunywcc.edu.
Can I print the PAF?
Yes, you may print the PAF for your department's records. However, we do not advise doing so unless it is really necessary. This new process is designed to reduce the need of paper PAF and you will continue to have access to the PAF's that you submit over time.
When should I start submit PAF's through PeopleSoft?
You should start using the new process as soon as your department/division receives a notification confirming that your access has been granted.
Will HR notify the department of the date that the employee can start?
No, you will not receive an email directly from HR. The system will generate an email notification to inform you that the PAF has been approved. This automatically means that all transactions related to this PAF has been fully completed on our end.
Form Approver:
Form Approver - Questions and Answers
If I deny or approve a PAF by accident, can I reverse it?
No. You will need to reach out to the Form User to either resubmit or cancel the form, as applicable.
Where can I access the PAF's that I have denied or approved over time?
Once you open the approval tile in PS HR, click on the second icon located on the upper right corner (the three dots – Actions List), then select "Approvals History".
When can we expect to have all the forms available in PS?
We are unable to confirm at this time. The remaining transactions will gradually be made available in PS and the departments will remain informed.
How can I request a temporary back up approver?
Please refer to the guidelines emailed to all Form Approvers by HR on July 16th, 2021 and follow the instructions provided.
Request for Volunteers at the Native Plant Center
The Native Plant Center welcomes the help of volunteers—in its gardens, during plant sale, and in other ways throughout the year.
Currently we need help in the gardens weeding, mulching, watering, etc. on the following days:
September 30
October 4, 5, 7, and 12th
Times: 9 am to 11 am (or longer if you are willing)
If you would like to help but cannot make these times, please email us of your interest at wcc.nativeplant@sunywcc.edu.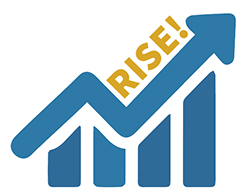 You're invited to RISE!
A summit focusing on Reimagining and Innovating Strategies for Enrollment.
Date: November 12, 9:00 - 11:00 a.m.
To create a more cohesive and structured program, we're creating breakout rooms where you can ask questions, share input, and contribute valuable insight in the following areas:
Academic and Workforce Programs
Branch Campus and Extension Centers
Performance Development and Talent Management
Technology Infrastructure
We'll be sharing more details over the next few weeks to help you prepare to be an active participant.
Please RSVP below...
RISE Committee Charge & Discussion Questions
Performance Development and Talent Management
Performance development and talent management, including optimal college organizational structures to meet future demand and ways that agile teams can be empowered to reach goals.
Discussion Questions Here
---
Marketing Approaches
Innovative marketing approaches that communicate WCC's unique value proposition.
Discussion Questions Here
---
Academic and Workforce Programs
Specific academic and workforce programs that will attract and retain students, inclusive of high-potential target student demographics new to WCC and the corresponding enrollment projections.
Discussion Questions Here
---
Branch Campus
Reimagined roles for branch campuses, extension locations, remote, hybrid, hyflex, and other innovative delivery methods and the corresponding enrollment projections.
Discussion Questions Here
---
Technology Infrastructure
The technology infrastructure that supports 21st century teaching and learning and the systems that support exemplary digital, online, and remote student services.
Discussion Questions Here
RISE Intro and Closing
Academic & Workforce Programs
Marketing Approaches
Branch Campus & Extension Centers
Technology Infrastructure
Quick Links