A Message from the President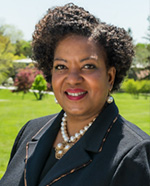 Welcome!
Westchester Community College is a supportive community committed to current and future students and the professionals that serve them — even while facing profound societal shifts and uncertainty. During these challenging times, our open doors welcome you. Serving one of our nation's most diverse counties, students come to our campus representing a wide array of backgrounds and perspectives.
Here, we provide a safe space for individuals to come together, learn about themselves, shape their world view, and exchange ideas while determining how best to thrive and serve.
This year we celebrate our 75th Anniversary. Throughout our history, WCC has instilled in students a quest for learning, a toolset for success, and a capacity to think critically about and meaningfully contribute to the world they inhabit. We are proud of being one of the leading community colleges in the percentage of students who begin their academic journey from the bottom fifth of the income quintiles but end up in the top fifth later in life.
The core business of WCC is teaching and learning. Our commitment to continuing this work throughout the COVID-19 crisis led us to create innovative methodologies of delivering learning and services to students. As we continue to navigate through the pandemic, more than two-thirds of our courses are offered remotely, and all student services will be accessible on campus or online providing you the flexibility to pursue your studies the way you prefer safely and conveniently.
On campus or remote, we encourage you to take full advantage of the WCC experience. Whether you are enrolled in a degree or non-degree program, WCC provides a variety of resources and enriching co-curricular experiences that support students' academic, social, mental and emotional needs.
Students who wish to better understand the historical, political or social factors underlying current events can access the rich resources available through our Harold L. Drimmer Library, including free access to a wide selection of media such as HBO documentaries, PBS, The New York Times, The Washington Post, The Atlantic, and Newsweek, as well as a team of librarians available via live chat to address specific information needs.
Students in need of support in dealing with the many stressors not uncommon amongst us today can reach out to our Department of Mental Health and Counseling Services.
Students seeking information about where their education can take them as they look forward to economic mobility and the opportunity to take their place in the world can explore dozens of transfer agreements or visit our Career Services Center to chart out their individual pathway to success.
Our college motto, Building Minds and Building Futures, is a reminder of how we prepare students for what lies ahead. Our seal contains the phrase Sapere Aude – the Latin phrase meaning "Dare to Know" – which reflects our commitment to knowledge and learning as keys that unlock the door to that future. Together, these ideas guide our work to strengthen our society, prepare our students as contributors, and achieve higher pursuits.
Respectfully,
Belinda S. Miles
President