A Message from the President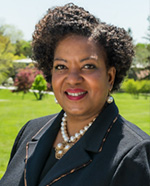 Welcome!
The start of this school year begins with particularly exciting developments. Foremost is our return to campus following more than a year of mostly remote classes and services.
During the pandemic, our faculty and staff did a tremendous job in converting almost all our classes and student services to remote delivery. While we are confident there was no drop in the quality of what we provided, there is no replacement for a full on-campus experience. There is a vibrancy that emanates from thousands of engaged and enlightened people who come from so many diverse backgrounds and life-stories, sharing their ideas and experiences in informal, impromptu conversations in class and around campus. Students come to SUNY WCC to learn about themselves, shape their world view, and exchange ideas while determining how best to thrive and serve.
This fall semester marks the first time we begin a school year with our new brand. As part of our 75th Anniversary celebrations, the college changed its name to SUNY Westchester Community College. By adding SUNY to our name, we are acknowledging the prestige that comes with being a proud member of the SUNY system. Graduates of SUNY WCC earn seamless transfer to any of the prestigious four-year institutions in the nation's largest, most comprehensive system of public higher education. We are also proud of our position within this system, as our college boasts more SUNY Chancellor's Awards for Excellence for faculty and professional staff than any other community college in the system.
At the same time, it is important to retain Westchester Community College in our name to reflect our primary focus of serving our local community; understanding and addressing the hardships many of our neighbors face in trying to balance education with the requirements of daily life; and educating our residents to gain the knowledge, skills and expertise needed to reach their goals in emerging fields that will help drive our county's economic growth.
This fall we open our new expanded Yonkers location in the Cross County Center. This new facility will be three times larger than the current Yonkers center and feature new high-tech classrooms and facilities. Students in southern Westchester and northern Bronx will be able to earn their degrees while staying close to home. Students near Mount Vernon, Ossining and Peekskill can also take advantage of our convenient locations and flexible schedules.
Whether on the Valhalla main campus or at one of our other convenient facilities, we encourage you to take full advantage of the SUNY WCC experience. Students enrolled in degree or non-degree programs can take advantage of our wide variety of resources and enriching co-curricular experiences that support students' academic, social, mental and emotional needs.
Students who wish to better understand the historical, political or social factors underlying current events can access the rich resources available through our Harold L. Drimmer Library, including free access to a wide selection of media such as HBO documentaries, PBS, The New York Times, The Washington Post, The Atlantic, and Newsweek, as well as a team of librarians available via live chat to address specific information needs.
Students in need of support in dealing with the many stressors not uncommon amongst us today can reach out to our Department of Mental Health and Counseling Services.
Students seeking information about where their education can take them as they look forward to economic mobility and the opportunity to take their place in the world can explore dozens of transfer agreements or visit our Career Services Center to chart out their individual pathway to success.
Our college motto, Building Minds and Building Futures, is a reminder of how we prepare students for what lies ahead. Our seal contains the phrase Sapere Aude – the Latin phrase meaning "Dare to Know" – which reflects our commitment to knowledge and learning as keys that unlock the door to that future. Together, these ideas guide our work to strengthen our society, prepare our students as contributors, and achieve higher pursuits.
Respectfully,
Belinda S. Miles
President