President's Office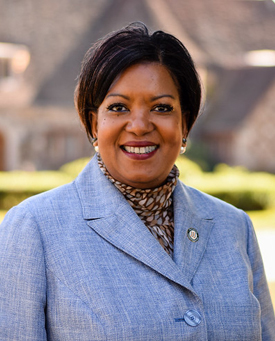 Westchester Community College's impact on the local community has been extraordinary, dating back to 1946. The college first opened to serve returning veterans on a small urban site in White Plains, later moving to a vast 218-acre location in Valhalla, where new buildings boasting state-of-the-art facilities now dot the vibrant green expanse of the grounds. While we have kept our presence alive on this main campus in Valhalla, we have also expanded our reach through our vibrant Extension Centers in bustling cities throughout the county.
This dual commitment, to students who enjoy the spacious acreage in Valhalla campus along with those who thrive at the active, bustling Extension Centers in Westchester's largest cities, helps make the college accessible, successful, and relevant.
This commitment to expansion and accessibility is instrumental in our efforts to encourage and foster the realization of our students' aspirations. Each year, approximately 24,000 individuals come to the college to prepare for new careers, improve their lives, and gain the knowledge and skills necessary to realize their objectives.
Although still new to the college, I have had the opportunity to review the long, storied history of the institution and am impressed by all that the college has achieved and am committed to work with my team to do even more. I see five potential action categories emerging as a framework to advance the mission and impact of the institution.
Five Categories
1. Student Success
The primary goal as we emphasize college readiness, engagement, learning, and completion in our effort to help students realize their dreams.
---
2. Community Engagement
Focused on working with strategic partners to tell our story of the many ways the college responds to the needs of the community through credit and non-credit programming.
---
3. Stewardship
Focused on continuing affordability for students, fiscal acquisitions and accountability, and regulatory and operational excellence.
---
4. Campus Culture
Creating an environment that values and supports employees, demonstrates purpose and excellence in performance, communicates and collaborates, and embraces innovation.
---
5. Workforce Development
Providing educational opportunities leading to an increase in the number of knowledgeable and skilled contributors to the regional economy.
---
As we balance our respect for the longstanding traditions of the college, while simultaneously focusing on the need for constant innovation, we will be assured of future success. I am honored to have been chosen to lead this effort.
Warm regards,
Dr. Belinda S. Miles
President