A Message from the President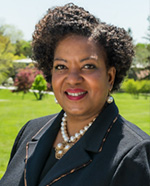 Welcome!
During these uncertain times, community colleges are a great choice. Community colleges were specifically designed as places for those choosing to stay near home, work, and family while studying. Our competitive tuition has expanded access to higher education to millions. We save families tens of thousands of dollars which is critical during this period of economic instability.
In response to the COVID-19 pandemic this past spring, Westchester Community College moved instruction and services remotely and kept our promise to students to help them finish the semester or their degrees and stay on track toward their academic goals. Since that time, we've put measures in place for social distancing, mask-wearing, cleaning, and screening to ensure a safe environment for employees and students returning to work and study.
We couldn't have done this without our dedicated faculty and staff who adapted to uncertainty with persistence, resilience, and grit. They embraced change, expanded their craft, and engaged students in new ways with new tools and resources. Follow us on Twitter at @sunywcc1 to hear some of their testimonials.
Our students also persevere through uncertainty toward success. We help them discover and develop new abilities at WCC. We provide an array of services from tutoring and advising to student clubs and honors programming. Through guest speakers, special events, and individual plans, we prepare our graduates for future success. Our degrees and certificates transfer to many well-known four-year institutions and to well-paying middle-skills careers.
Westchester Community College is a connected community whether in-person or remotely. With classes offered primarily in a remote format this fall, most students will meet with their faculty and classmates online during regularly scheduled times while some will choose courses they can access independently anytime it is convenient for them. Out of necessity, a few courses will be partially onsite. Student clubs and study groups, while operating online, will provide spaces for networking and belonging; the heart of what we do best! There is still time to join our #WCCVikingNetwork this fall and get started or maintain momentum toward your goals.
Join us!
For more information please visit our Re-Emergence website at https://www.sunywcc.edu/re-emergence-plan/
Respectfully,
Belinda S. Miles
President