Process Mapping, Modeling and Analysis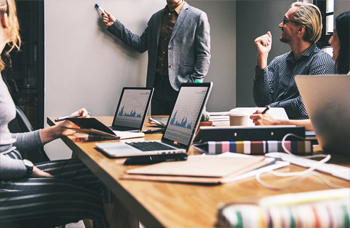 Using Process Analysis to Define & Solve Business Challenges
Organizations are a collection of processes. These processes are the business activities performed to produce value, serve customers, and generate income. Managing these processes is the key to the success of your organization. Most organizations are not set up to manage processes, instead, they manage tasks. Inefficiency and waste become part of the system, they rob your organization of profits, productivity and its competitive advantage. Process mapping shows you the way out. 13 CPEs.
---
GAIN THE SKILLS YOU NEED TO MAKE PROCESS MAPPING WORK FOR YOUR ORGANIZATION
This practical, how-to-do-it program delivers a one-two punch: Systems thinking techniques to clarify the "big picture" and a toolbox of mapping techniques that will enable you to streamline and redesign performance. It will arm you with the knowledge you need to analyze the way your organization really operates, to identify opportunities for eliminate waste and inefficiency in addition to identifying upstream metrics that will help your organization manage quality, customer service, productivity and financial performance.
---
Learning Objectives:
Identify and understand your organization's true core processes
Recognize and remove activities that do not add value
Eliminate systemic flaws that result in poor quality
Document processes for knowledge management or BPM initiatives
View customer/supplier relationships and their impact on your system
Engage business leaders, users and customers in process change efforts
Dramatically improve your efficiency and customer satisfaction
---
Course Outline:
Systems Thinking: Seeing the Big Picture
The evolution of process management
Operational excellence vs. strategic BPM
Traditional problem solving vs. systems thinking
Creating a System Map
Clarifying customer needs and gaps
Scoping the process improve/redesign project
Mapping & Analysis Tools: Inside the Black Box
Symbols & fundamentals
Process and Workflow Diagrams

Top-Down Flow Chart
Block Diagram
Activity/ Spaghetti
Work Flow Diagram
Cross-Functional Flow Chart

When to Use Each Chart
Analyzing Process Flowcharts

Streamlining the Value Engine
Optimizing Flow and Capacity

Process Measures: Identifying the Right "Pulse Points"
Class Exercise: Putting It All Together
---
Getting There: Next Steps
Organizational Change
Creating the right documentation for your purposes
WHO WILL BENEFIT:
You will benefit most from the Business Process Management (BPM) Certification program and its modules if you are a:
Leader of a process improvement, Six Sigma, Kaizen, Lean or reengineering team
Process owner or manager
Process improvement facilitator
Process, workflow or business analyst
Internal change agent
Manager or consultant who is installing BPM, ERP, CRM or similar technologies
Senior leader who is "Champion" of process/technology change
Process Improvement team member
Candidate for CBPA or CBPP certification from the ABPMP
Actively involved in your organization's process improvement, Lean or Six Sigma efforts
Project Manager or team member
IT personnel tasked with automation and / or system upgrades
The skills delivered in this seminar can be applied in manufacturing, service, health care and public sector organizations.
Professional Development Hours awarded by Association of Business Process Management Professionals / ABPMP.
Fall 2023
Location: Online (virtual/remote)
Dates: October 10th 11th, 17th, 18th
Time: 1:00 p.m. to 4:30 p.m.
Catalogue #: CE-BUS 2105
Class #: 92070
Cost: $1,095.00
How to Register:
Register over the phone using MC, Visa or Discover. Call 914-606-6830, press 1
You will need the Class # when speaking with a representative.
Registration office hours are Monday – Thursday 8:30 a.m. to 7:15 p.m.
Friday 8:30 a.m. to 4:30 p.m. (in summer, 9:00 a.m. – 12:00 noon) Saturday 9:00 a.m. to 3:30 p.m. (in summer, closed some Saturdays)
For course questions, please contact:
Jim Irvine, Director of Corporate and Continuing Professional Education 914-606-6658 james.irvine@sunywcc.edu