Lifelong Learning for All Ages
The Division of Workforce Development and Community Education offers a wide range of courses for adults, teens, children, and seniors.
Spring 2020 Course Offerings
► Course Offerings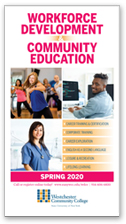 Programs for older adults
COLLEGIUM for Lifelong Learning is a membership organization created in 2004 under the aegis of Mainstream by Community College volunteers seeking to combine serious study and social exchange.
Mainstream has long been an innovator in exciting educational programming and lifelong learning options designed for mature adults over 50. Course topics include enrichment, and personal growth, history and culture, and sports and fitness. Non-credit courses are tailored to meet the needs of mature adults. For more information on courses, dates and times and to register, please call 914-606-6793 or email workforceandcommunity@sunywcc.edu.
Senior Audit at Westchester Community College
Senior adults can audit designated credit-bearing classes for a small student fee.