TESOL Certificate Program
New: Now awarding Digital Badges for TESOL!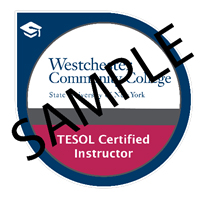 What are Digital Credentials?
In order to make our alumni more competitive in the 2021 job market, the TESOL Certificate Program at Westchester Community College now awards its graduates both printed certificates and digital badges. Digital badging provides additional, digital, documentation along with our standard paper-based certificates.  Digital badges can be shared in a secure and verifiable way electronically and can be added to social media or professional profiles so colleagues and prospective employers can view accomplishments and gain insights about credentials.  The badges are not only a great visual image, but they are embedded with information about the type of coursework completed, skills gained during training and more.
Summer 2021
Applications are now being accepted for the Summer 2021 TESOL Certificate Program. The Summer 2021 TESOL Certificate Program (Teaching English to Speakers of Other Languages) will be offered ONLINE in light of the recent events related to COVID-19, from May 17 to August 11. The program requirements of classroom observations and the student-teaching practicum will also be fulfilled remotely. All fieldwork placements are conveniently done through the English Language Institute ESL classes by the TESOL Program Director. Applications will be accepted until the cohort reaches its maximum capacity. Please email all complete applications to TESOL@sunywcc.edu
The program's experiential approach to teaching and learning provides participants with opportunities to use their skills both for in-person and remote instruction. The current situation presents an increased opportunity for professionals in the field of language education and the delicate balance of theory and practice and the emphasis on hands-on applications that is at the heart of our certificate program equips learners with the tools they need to succeed in any teaching modality, be it in-person, remotely, in the U.S. or overseas.
The Certificate program was designed to give participants a supported and mentored learning and teaching experience, and our commitment to language education has never been stronger. New doors have been opened for language educators around the world and the growing demand for qualified ESL instructors is real.
Description:
The TESOL Certificate Program is a hands-on learning experience for those who will pursue employment in the field of TESL/TEFL in adult or college programs, in the not-for-profit or proprietary sectors in the USA or abroad. The program is also suitable for those with some teaching experience but no formal training in TESOL, or for teachers who wish to advance their knowledge of ESL methodologies and technology. Participants will examine fundamental principles of language teaching and learning and their practical classroom applications. This is a non-credit program that offers 126 hours of classroom instruction and extensive supervised teaching.
Click here to download our flyer in PDF format
Participants will learn to:
lead student-centered classes
use a variety of materials and techniques
effectively manage classes for adult learners
plan dynamic lessons in areas of grammar, conversation, reading, and writing at different levels
assess language proficiency
The Program:
36 class sessions meeting Monday/Wednesday/Thursday from 6:30 to 10:00pm
3 12-week sessions per year: Fall, Spring, and Summer.
126 hours of classroom instruction and 30 hours of classroom practice.
Admission Requirements:
A Bachelor's degree or equivalent is generally required.
Advanced level of English proficiency. Assessment may be required for non-native speakers
I-20 available to international students; additional course work may be required
Certification Requirements:
Satisfactory completion of all course work and supervised teaching
Satisfactory completion of program portfolio
---
Registration
Step 1:
Fill out an application here.  Applications are also available at the ELI office or by email at TESOL@sunywcc.edu
Submit a current CV or resume
Submit copies of college transcripts/degrees
Submit a 500-word essay explaining  "Your Interest in Teaching English as a Second Language".
Email your application to TESOL@sunywcc.edu or mail hard copies to:
Attn: Claudia Carco
Westchester Community College
English Language Institute
Gateway Center, Rm. 243
75 Grasslands Road, Valhalla, NY 10595
Step 2: You will be contacted within 3-5 business days.  Once admitted into the program, we will send you a registration  which you will return to us with payment.
---
Schedule 2021:
Spring: January 20 – April 12
Summer: May 17 – August 11
---
Fees:
Tuition: $1,998.75 (FSA & Registration fees included. Textbooks not included).
Books: Approx. $185
Refund Policy: 100% of tuition is refundable 2 business days prior to the start of the class.  No refund after that time.
---
Contact Information:

Claudia Carco, TESOL Certificate Program Coordinator
Office: (914) 606-7743
Email: TESOL@sunywcc.edu

Meet the TESOL Program Director
Claudia Carco, who directs and teaches in the TESOL Certificate Program at Westchester Community College, has extensive classroom experience as an ESL/EFL instructor as well as a teacher trainer. For ten years, the program has successfully trained hundreds of students in teaching English as a second or foreign language and has seen the transformational impact it has had on their lives. The program's experiential approach to learning to teach is a delicate and unique balance of careful observation, practice and reflection.
"There is something so very special about guiding others find their own voice and identity as teachers."