Westchester EOC
Online Information Sessions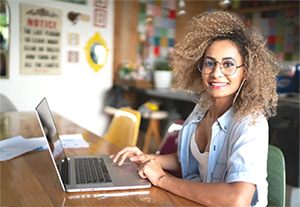 Learn all about our upcoming programs

Day: Wednesdays: 2:00 p.m.
For more information: Contact us at 914.606.7621 or by email at
eoc-admissions@sunywcc.edu
Meeting ID: 916 596 7046
Passcode: SA0520
Apply to WEOC
Click WEOC Application to complete an online application. We will respond to you in an email that will:
Invite you to a Welcome Session.
List the documents that you will need to bring to the Welcome Session.
Provide instructions to complete the application process.
What We Do
Part of a statewide system of educational enterprises, the SUNY WEOC provides a comprehensive array of tuition free workforce preparation programs for eligible adults in a supportive environment.  WEOC is committed to fostering the personal growth, intellectual development and economic independence of our students and to supporting the economic revitalization and well-being of the communities that the Center serves.
We offer a continuum of developmental, academic and vocational training program options to respond to the varied needs of students in the day as well as the evening; and we provide a wide range of supportive services to help students achieve their personal and career goals.
Community Services are a significant part of WEOC's business.  The Center serves as a resource to and expert in the County on workforce development issues, particularly as they relate to public policy, federal legislation and the needs of underserved populations.  Center staff provide workshops and present position papers at a variety of public forums and venues.  WEOC also has well established and significant partnerships with employers, other educational institutions and training providers; community based organizations, and state and local government agencies.  The partnerships serve multiple purposes and include collaborative training on site at partner agencies, testing and assessment of potential students, targeted outreach and recruitment, referral services, etc.  We partner with employers to provide internships for our students.  We offer customized training for employers, and refer trained and screened candidates for available job openings.  We also participate in community and political awareness activities such as economic development, Earned Income Tax Credit (EITC) tax preparation services, and voter registration.
WEOC's developmental programs are designed to help students improve their basic skill competences in math, reading and writing, and critical thinking. In many instances, students enroll in developmental courses as a prerequisite for enrollment in vocational or more advanced academic programs. Our continuum of courses allows WEOC to meet students where they are and to assist them in advancing to their desired level of proficiency.
Our academic programs are designed to assist students to acquire the advanced reading, writing, math and critical thinking skills they need to take and pass the HSE exam, and/or to enter college. Our College Prep Academy provides students with placement exam preparation along with substantive academic classes to prepare them to be ready for the college placement exam. Applicants who are interested in enrolling in vocational programs who do not have their HSE are encouraged to complete their HSE prior to enrolling in their vocational program of choice.
WEOC's vocational program offerings are designed to prepare students for careers in health care, business, and the knowledge economy. In addition to receiving occupational skills training for specific careers, many of our vocational students obtain industry or state certification in their field of study through testing. Vocational students often acquire practical experience in a work setting before completing training, by participating in paid or unpaid internships.
Recognizing that adult students are often challenged to juggle jobs, families and school, and that a personalized and supportive learning environment is essential to student success, WEOC makes every effort to be responsive to the collective and unique needs of our students and the community. We offer personal, academic and career counseling, as well as advocacy, case management and referral. For students who receive Temporary Assistance for Needy Families, we provide specialized support and adult basic education.
Supplemental instructional support is also provided to all students on an individualized or group basis in our state-of-the art academic resource center which is popularly known as the ATTAIN Lab. Additionally, to ensure that students are ready for the workforce and are successful in their job and career aspirations, we provide job search assistance, work readiness seminars and placement services as well as post placement assistance. We also offer financial literacy training, and provide free tax preparation and voter registration services to students and the community.
Commercial Driver's License (CDL)
Criteria for Enrollment: Valid NYS Driver's License for at least one year, Driver's abstract, Driver license/ history clear of moving violations for the last year, no outstanding tickets and no felony or drug convictions. Misdemeanors will be evaluated on a case-by-case basis. Applicant must have an interest in a career as a Commercial Driver. Preference will be given to applicants with zero points on their Driver's abstract. U.S. Department of Transportation medical examination required for the CDL license. Must score at least 450 on TABE M. High school diploma is not required. Must be at least 21 years of age.
Contact Information
SUNY Westchester Educational Opportunity Center
26 South Broadway
Yonkers, NY 10701
914-606-7621