Enrollment at the WEOC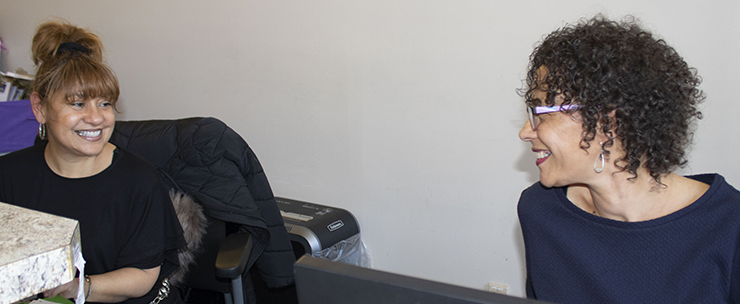 To participate in training, applicants are asked to click here to learn more about the Westchester Educational Opportunity Center and complete a short recruiting form.  A letter inviting you to a Welcome Session and describing our eligibility criteria will be sent to you.
Our programs are available to individuals who meet our income and educational eligibility guidelines and who are interested in furthering their education and/or securing employment upon the completion of training.  The information contained in the downloadable Information Packet will also help potential students view our Program Offerings and determine their eligibility for training. Questions about the application or admissions process should be directed to EOC-Admissions@sunywcc.edu or to the WEOC Admissions Office at 914-606-7621.
The application process includes testing and a personal interview with the assigned program counselor and/or the instructor. The interviews serve the purpose of helping to assess each applicant's eligibility and readiness for training, and they help to identify the specific needs that prospective students might have while enrolled in school. They also assist Counselors and teaching professionals to assess each applicant's level of commitment to training and personal success. WEOC's tuition-free training programs are designed to help students acquire the skills and credentials needed to further their education or to pursue career-oriented employment.  
While enrolled in training, students are encouraged to take advantage of all available support services which are provided by WEOC to support student success.
Upon the completion of training, graduating students are expected to take state or industry exams (such as GED, EMT, Pharmacy Tech, CNA, Customer Service, etc.), attend college, or secure employment (whichever is applicable based on their program of completion). Graduating students are also expected to notify WEOC and to provide documentation of test results, employment, and college registration. We are required to report this information to the State University and to maintain records about our student success. This information supports our continued funding and ultimately benefits future students who need our services.