Community Services – Westchester EOC
SUNY WEOC has been serving Westchester County since 1973 and believes that service to the community is a critical and vital part of our business.   Throughout the year, WEOC will host guest speakers and work with community partners to provide relevant information for our students and the community.  Ranging from workshops on financial literacy to interactive demonstrations on self-defense, WEOC welcomes a community role that goes beyond the walls of a traditional classroom setting.  For example, WEOC staff are available to speak and often participate at community forums, conferences and other venues to address education, workforce preparation, and human services concerns of underserved populations.
On-Site Community Services
While our community service varies from year to year, there are standing services that WEOC provides to the Westchester community on a regular basis that includes, but is not limited to the following:
Free tax preparation services under the Earned Income Tax Credit Program
WEOC is the primary site in lower Westchester for tax preparation services under the Earned Income Tax Credit Program, operating in partnership with the Westchester County Office of Workforce Investment. The EITC program provides free tax preparation services to low- to moderate-income members of the community (generally, $39,000 and below) who typically cannot prepare their own tax returns. In FY 2014, the average refund obtained at WEOC was $1,911, and the total of all refunds exceeded $1,200,000.
The EITC program in Westchester depends on volunteer tax-preparers to assist individuals in preparing their forms. No prior experience is needed, and hours are flexible. Training to prepare each year's federal and state returns is provided free by Westchester County, and the volunteers receive a certificate from the Internal Revenue Service.
To volunteer for the Earned Income Tax Program, you can register online, call (866) 914-EITC, or visit the program's website at NYS Vita site for more information.
---
HSE Testing
WEOC is an official HSE Testing Center (TASC Testing Center) approved by the New York State Education Department and offers the HSE Test (TASC Exam) to students and community members according to a statewide schedule. The tests are generally administered on Wednesday and Thursday evenings, from 4:00 PM until 9:30 PM. Students are required to attend both nights unless they are retesting for only one or two specific sections.
Applications for the HSE/TASC test (See Below) must be submitted in advance and can be picked up at WEOC or downloaded from the NYSED.gov website.  Individuals ages 17 or 18 must also fill out the specific application available at the link below and have their school complete the bottom portion.  Testing seats must be reserved in advance.  WALK-INS CANNOT BE ACCEPTED.  Applicants can drop off or send completed applications to WEOC, Attn: HSE/TASC Exam / Room 709.
On the night of the HSE test, all testers must bring government-issued photo identification (license, passport, etc.) two #2 pencils, and a pen. Results are available from Albany in approximately 2-4 weeks. Please call (914)-606-7600 if you need more information about the HSE/TASC exam.
Download HSE Test Application – 16 years of age
Download HSE Test Application – 17 or 18 years old
Download HSE Test Application – 19 or older
HSE Testing Schedule
---
Voter registration campaigns
WEOC offers applicants the opportunity to register to vote when they apply for enrollment in school. We also conduct independent voter registration drives to promote the participation of underserved community residents in the voting process.
You can register to vote at any time. Click here to download the Official Voter Registration form and instructions, either in English or in a Spanish version.  You can also stop by the Student Affairs office on the 6th Floor to pick up Official English and Spanish Voter Registration Forms
---
College Fair/College Spirit Week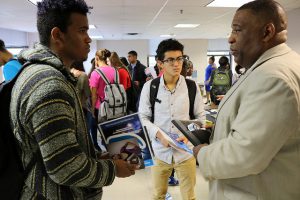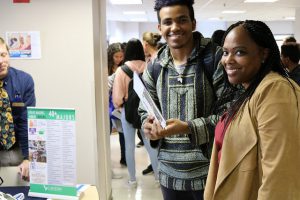 Community Resource Fair
Job Fairs
Community access to computers through our ATTAIN Lab