Ossining
Westchester Community College Is Right Next Door!
With a Convenient Center in Ossining – AND Online
WCC offers not only the most affordable education in the county, but we are the most convenient. Whether our courses are offered in our local center or online, WCC is here for you. By registering for classes through our Ossining Center, you will join our community of learners side by side with your neighbors. So, even in our remote classes, you can create study groups with people you already know, or see around town.
WCC Extension Centers Offer the Same Quality Education and Services as the Main Campus
When you register for courses at Ossining, you will enjoy:
Outstanding non-credit professional and personal opportunities, as well as English as a Second Language Programs
Access to academic support, financial aid counseling, academic counseling, and career & transfer advisement
Student leadership opportunities and meaningful experiences through co-curriculum programs, workshops and student clubs
Administrative support to assist with class registration, tuition payments and more.
PLUS these benefits unique to our Extension Centers:
Convenient locations so you never have to travel far
Small, friendly, state of the art facilities
Convenient course scheduling, with courses available in evenings and weekends
Added flexibility with courses starting one week after the main campus classes
Small class sizes with personalized instruction
A welcome feel inviting you to study with your neighbors in our close-knit community
PLUS these benefits unique to our Ossining center:
Workforce Programs in Healthcare
Summer Course Offerings
Click here to see the list of courses
If you have questions regarding Center for Healthcare classes and programs, please contact us:
22 Rockledge Avenue
Ossining, NY 10562
914-606-7400
ossining@sunywcc.edu
Directions To Ossining Extension Center – Arcadian Shopping Center
From the Taconic State Pkwy, exit at Rte 117 West / Pleasantville. From the Taconic North, turn left onto 117 West; from the Taconic South, turn right onto 117 West. Take 117 West to Rte 9; bear right onto 9N. Continue on 9N into Ossining and look for the Arcadian Shopping Center on your left. Turn left at the light to enter the shopping center; go past McDonald's to the stop sign and turn left onto the service road, then right into the Westchester Community College parking lot. If you're coming south on Route 9, turn right to enter the shopping center.
Click for Personalized Directions to this location.
History
The Ossining Extension Center of Westchester Community College opened in January 2001 to continue the College's commitment to offering high quality, low cost education at convenient locations throughout the County. The facility is 12,800 square feet and includes a health skills lab equipped with hospital beds and other clinical care equipment, a fully equipped biological science lab, an instructional computer lab, an open computer lab, and a student lounge.
The Ossining Extension Center is a great place for students to begin their college careers where they can choose from credit course offerings in science, liberal arts, and basic business courses. The Center also gives area residents a convenient location to continue their personal and professional growth by taking non-credit courses such as English as a Second Language and professional development courses for teachers, funeral directors, and healthcare professionals
.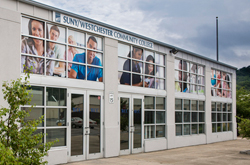 The Ossining Extension Center specializes in workforce development programs for those seeking careers as healthcare paraprofessionals. Students can train to become certified nursing assistants, patient care technicians, phlebotomists, mental health technicians, medical interpreters, home health aides and doulas as well as other professions within the healthcare field. Registered Nurses who have been away from a practice setting can update their skills in the RN Refresher course.
The Ossining Extension Center continues to partner with hospitals, nursing homes and various community organizations within Westchester County to provide a range of training and externship opportunities for students and build relationships within the Greater Ossining area.