Academic Counseling
Center for Academic Counseling and Student Success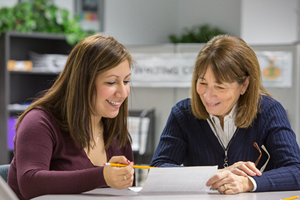 Speak with a Counselor
Go to Get Advised​ to speak with an academic counselor. Counselors are available to help you via Zoom, phone or email.
About Us
The Center for Academic Counseling and Student Success provides a variety of services in order to aid student success. Personal, career and educational goals are identified and discussed through one-on-one Counseling. Academic Counselors are available days and evenings, on campus and at extension sites. Our goal is to increase student success and assist students in:
Developing educational plans
Selecting and scheduling courses
Assessing abilities and interests
Addressing personal concerns
Career planning and job placement
Attending to any special needs
IMPORTANT INFORMATION
Under the guidance of state and local health officials, and to help mitigate the spread of the coronavirus, there are no in-person services available at any of our campuses. Therefore, The Center for Academic Counseling and Student Success is currently working remotely to assist our students, their families, and our community.
Counselors at all locations are available to help you virtually. Below, please find the information that you need to be in contact with us.
Office Contact Information
Center for Academic Counseling, and Student Success
Student Center, Second Floor
Valhalla, NY 10595
www.sunywcc.edu/getadvised
AcademicCounseling@sunywcc.edu