Peekskill Extension Center
WDCE welcomes you to register for Spring 2022!
To attend in-person classes, students must provide proof of compliance with the COVID-19 vaccine requirement or have received an approved exemption BEFORE the start of class. View more COVID-related information and safety protocols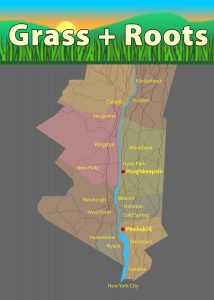 Peekskill to Poughkeepsie
Art Centers are the heart and soul of regional art communities. They are lively ecosystems and an epicenter of community and embody the importance of art being rooted in every aspect of a civilized society. As a local gathering place for artists and art lovers, they support artists in building a sustainable studio practice, offer space to work, tools and resources for creation, the opportunity to network with other artists and to exhibit.
This exhibition, a partnership between the Putnam Arts Council and the Center for the Digital Arts Gallery, Peekskill Extension, Westchester Community College, will connect and showcase the grassroots talent of artists across the Hudson Valley, from Peekskill to Poughkeepsie, in the partner galleries. The opening will be at the Putnam Arts Council while the closing will be at the Center for the Digital Arts Gallery, Peekskill Extension, Westchester Community College.
Under the theme of Grass+Roots, the exhibition will survey and celebrate the beauty, strength, and resilience of the art and artists of the Hudson Valley.
The show will be juried for exhibition and awards by Patricia Miranda.
Opening Reception: Putnam Arts Council
521 Kennicut Hill Road, Mahopac, NY 10541
Saturday, October 2nd, 2:00 – 5:00 pm
Closing Reception: Center for the Digital Arts
27 North Division Street, Peekskill, New York 10566
Sunday, November 7th, 12:00 – 4:00 pm
Gallery Hours:
Putnam Arts Council, www.putnamartscouncil.com
Wednesday, Thursday, Friday, Sunday*, 2:00 – 5:00 pm
*Closed November 7th for Closing Reception
Center for the Digital Arts, www.sunywcc.edu/peekskill
Monday – Thursday, 10:00 am – 5:00 pm
Friday, 10:00 am – 4:00 pm
Westchester Community College Is Right Next Door!
With a Convenient Extension Center in Peekskill – AND Online
WCC offers not only the most affordable education in the county, but we are the most convenient. Whether our courses are offered in our local center or online, WCC is here for you. By registering for classes through our Peekskill Extension Center, you will join our community of learners side by side with your neighbors. So, even in our remote classes, you can create study groups with people you already know, or see around town.
WCC Extension Centers Offer the Same Quality Education and Services as the Main Campus
When you register for courses at Peekskill, you will enjoy:
Access to the same award-winning faculty and for-credit courses and programs that are featured at our Valhalla campus
Outstanding non-credit professional and personal opportunities, as well as English as a Second Language Programs
Access to academic support, financial aid counseling, academic counseling, and career & transfer advisement
Student leadership opportunities and meaningful experiences through co-curriculum programs, workshops and student clubs
Administrative support to assist with class registration, tuition payments and more.
PLUS these benefits unique to our Extension Centers:
Convenient locations so you never have to travel far
Small, friendly, state of the art facilities
Convenient course scheduling, with courses available in evenings and weekends
Added flexibility with courses starting one week after the main campus classes
Small class sizes with personalized instruction
A welcome feel inviting you to study with your neighbors in our close-knit community
PLUS these benefits unique to our Peekskill center:
Industrial grade post-production facilities
Regular software upgrades
Maker space with 3D printing
Fine Arts Studio
Smart classrooms for all courses
Onsite technical support team
Onsite Academic Support, Financial Aid, Tutoring, and Personal Counseling
Professional gallery and lecture program
Student life events including virtual reality, dip n' dots, Viking Strong days and more
Counseling
Click here for Academic and Financial Counseling
Fall 2021 Schedule
Click here to view the Fall 2021 Non-credit Brochure in PDF format.
Click here to view the Fall 2021 Newsletter in PDF format.
Register for Classes
Contact Information
If you have questions regarding Center for the Digital Arts classes and programs, please contact us:
27 North Division Street
Peekskill, NY 10566
Phone: 914-606-7300
peekskill@sunywcc.edu
Academic Counselor
Halina Hollyway
Halina.Hollyway@sunywcc.edu
Visit the following link for immediate assistance from an Academic Counselor:
https://www.qminder.com/location/westchester-community-college/
Hours of Operation

Monday – Thursday:  9:00 a.m. – 9:00 p.m.
Friday: 9:00 a.m. – 4:00 p.m.
Saturday, Building Closed, Remote Services Only: 10:00 a.m. – 1:00 p.m.
To receive updates on the Center's course offerings, and special events please complete the information below:
✉ Click to join our mailing list
Follow Us

---