How To Register
Need help registering for non-credit continuing education courses?
Please call 914-606-6830, press #1.
We have staff ready to assist you in real time:
Monday through Thursday: 9:00am – 6:45 pm
Friday: 9:00am – 4:30 pm
Or e-mail workforceandcommunity@sunywcc.edu
WDCE Covid Information for Non-Credit Courses
To attend in-person classes, please visit our COVID webpage below for the most up-to-date information.
3 Easy Ways to Register for Non-Credit Classes:
Register over the phone
Call 914-606-6830, press 1
By Mail or Email
Mail your completed form to:
Westchester Community College
Div. of Continuing Education, Admin 207
75 Grasslands Rd
Valhalla NY 10595

Click here to download registration form. or email workforceandcommunity@sunywcc.edu
Online
Tips for Online Registration
NOTE: You may have to clear your cache to access the online application. See how to clear your web browser cache here. For tips on how to register online, click here.
1 Create an account: To create and activate your account and/or to register for classes go to https://mywcc.sunywcc.edu
2 Class Search: First, make sure you select the correct Term and when viewing results confirm that the Course Career is set to Continuing Education. All WDCE class subjects begin with "CE-" (i.e. CE-ART). Either type in a Subject (i.e. CE-ART) or click the Additional Ways to Search button and scroll to the CE subjects, then click Search. Click here to Search for Classes.
Open for visual instructions on how to search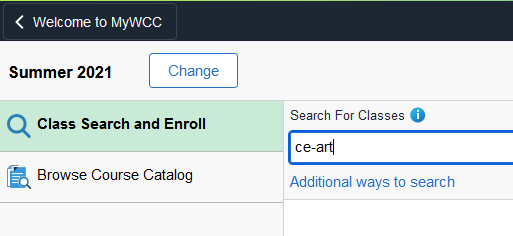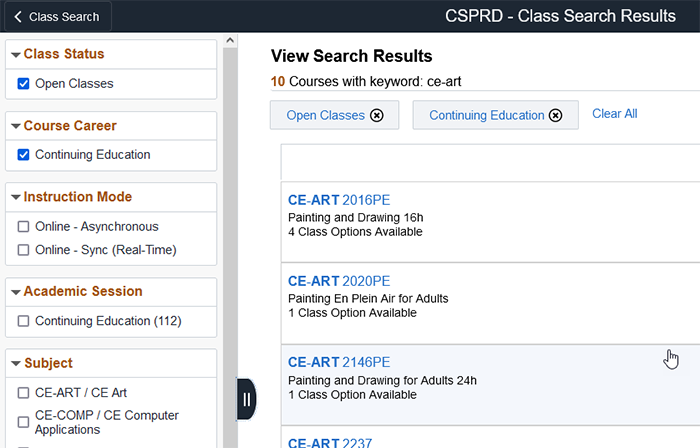 New Students:
Contact our office at 914-606-6830, press 1 if you need assistance.
Returning Students:
Sign in to MyWCC to register for classes with your WCC student user ID and password. If you don't have your ID or forgot your password, call 914-606-6830, press 1 or contact the MyWCCHelpdesk (below).
SUNY WCC Helpdesk
The SUNY WCC Help Desk is available at MyWCCHelpdesk@sunywcc.edu or 914-606-5600.
Payment is due at the time of online registration. If you have trouble making an online payment, call our office at 914-606-6830, press 1. Enrollments without payment will be dropped and you will need to re-register.
---
Important Information:
REFUND POLICY – for non-credit classes.
All refund requests must be made to the college in writing or emailed to workforceandcommunity@sunywcc.edu. All refunds are issued as checks.
For requests received at least 2 business days prior to the start of the class: 100% refund.
There are no refunds after that.
---
Cancellations
The college reserves the right to cancel any under-enrolled class and return all fees. Faculty substitutions and other rescheduling may be made if necessary.
---
Room Assignments
Search for Classes (be sure to search under "C" for all continuing education classes) or by calling us at 914-606-6830 (choose option 1), or by stopping by our office in Admin. Bldg., Room 207. As changes are made and automatically updated in the system, be sure to check room assignment, course schedule, etc. 48 hours in advance for the most up-to-date information.
---
Certificate of Residence
In order to qualify for the lower resident tuition rate for some courses (such as ESL), you must meet these conditions:
Permanent resident of Westchester County for at least six months
AND resident of New York State for at least one year
OR obtain a Certificate of Residence issued by the Chief Fiscal Officer of your home county in NYS.
---
Confirmations
You are officially enrolled when we receive your registration and payment. We will contact you only if there is a change in your class. If you are not contacted, your class will meet as scheduled. Please make a note of your course information.
Email Continuing Education at workforceandcommunity@sunywcc.edu