Essentials of Business Process Management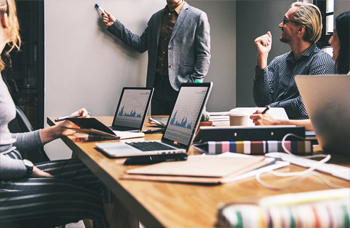 A strategic and tactical look at the world of BPM
BPM encompasses both performance improvement and strategic differentiation. This six-hour, Instructor-led, LIVE virtual seminar, given in three (3) two-hour modules, provides the context for sustainable and impactful BPM success. It is the entry module to the Business Process Management Certificate Series Business Process Management has emerged as the glue that enables organizations to effectively integrate strategic initiatives, information technology investments and day-to-day operations, thereby enabling sustainable operational excellence.
---
Professional Development Hours awarded by Association of Business Process Management Professionals / ABPMP.
Learning Objectives
Why a systems view is essential to sustainable success
Where the ABPMP's Knowledge areas fit
Beyond Improvement: What you can achieve with BPM
Improvement strategies (Lean vs. Six Sigma, etc.)
3 Ms of Process Improvement: Map, Measure, Manage
Creating a culture of improvement
Managing Across Silos: Results of a best practice survey
Charting the course ahead for your organization
Fall 2023
Location: Online (virtual/remote)Dates: October 10th 11th, 17th, 18thTime: 1:00 p.m. to 4:30 p.m.Catalogue #: CE-BUS 2105Class #: 92070Cost: $1,095.00
How to Register:
Register over the phone using MC, Visa or Discover. Call 914-606-6830, press 1
You will need the Class # when speaking with a representative.
Registration office hours are Monday – Thursday 8:30 a.m. to 7:15 p.m.
Friday 8:30 a.m. to 4:30 p.m. (in summer, 9:00 a.m. – 12:00 noon) Saturday 9:00 a.m. to 3:30 p.m. (in summer, closed some Saturdays)
For course questions, please contact:
Jim Irvine, Director of Corporate and Continuing Professional Education 914-606-6658 james.irvine@sunywcc.edu