Funding Your Future
How to get help paying for college:
1 Sign up at fafsa.gov to Request FSA IDs for you and your parent(s)
2 Collect necessary info:
Your social security number
Your parents' social security numbers and dates of birth
Your parents' marital status
Tax returns for you and your parents
W-2s for you and your parents
Bank, stock, real estate, and business records for you and your parents
Untaxed income records
Your driver's license number
Your alien registration number (for non-U.S. citizens)
3 File the Free Application for Federal Student Aid (FAFSA)
The fastest way to file is online at www.fafsa.gov. You can also call 1-800-4-FED-AID to request a paper application. Our school code is 002881.
4 If you're a New York State Resident: Complete the Tuition Assistance program (TAP) application
Use the link on the FAFSA confirmation page or visit www.hesc.ny.gov for more information. Our school code is 2160.
5 If you're a New York State Resident: Complete the Excelsior Scholarship application
Visit www.hesc.ny.gov to apply for the New York State Excelsior Scholarship.
6 Watch your Email inbox
You will receive a notice from the U.S. Department of Education with a link to access your Student Aid Report (SAR).
7Follow up
You'll receive a financial assistance package from Westchester Community College that includes any financial aid and scholarships you qualify for. Follow the instructions included with the package so that your awards may be applied.
International Students
Although international students are not eligible for federal or state financial aid, they can apply for scholarships by completing the International Student Application at
www.sunywcc.edu/international
The DREAM Act gives undocumented and other students access to state-administered aid and scholarships. To determine your eligibility and to apply, visit www.hesc.ny.gov/dream.
How can I fund my college education?
There is money out there to help you pay for college, and at Westchester Community College we are prepared to help you find it. Here's an overview of financial support available to our students:
Government-subsidized Financial Aid:
Federal and state programs provide funding to support your college education. These include Federal Pell Grants, Federal work study, the New York State Tuition Assistance Program, the New York State Excelsior Scholarship, and New York State DREAM Act awards.
Most aid is available to students with financial need. Follow the steps listed on the back of this brochure to find out what you qualify for. Complete your financial aid applications – you might be surprised!
WCC Foundation Scholarships and grants:
The Westchester Community College Foundation raises money to help students like you achieve their educational goals. Each year, about $2 million are awarded to deserving students. Scholarship awards are available for many types of full-time students: incoming, continuing, graduating students who are continuing their education at 4-year institutions, international students, and DREAMers.
All full-time Westchester Community College students who apply for financial aid will be automatically considered for Foundation scholarships. Most scholarships are awarded in the fall and provide a full academic year of support. Awards renew for another academic year if all requirements are met.
Some scholarships require additional applications for consideration. Visit www.sunywcc.edu/scholarships for more information.
Other sources:
The Office of Student Financial Assistance can help you find other sources of support, including:
Private scholarships from outside the college
Federally-subsidized loans
Private loans
Our Career Center can help you find part-time employment or paid internships.
Estimated Annual cost of attendance at WCC:
New York Resident
Non New York Resident
Paid directly to the college
Estimated tuition and fees
-$4,743
-$12,233
These expenses are different for every student and will vary
Estimated books and supplies

-$2,000
-$2,000
Estimated personal expenses

-$1,200
-$1,200
Estimated transportation

-$2,200
$2,200
Estimated room and board (off-campus)
-$9,300
-$9,300

Apply for financial aid to be eligible for
awards like this
Estimated aid, grants, and scholarships
+$8,222
+$7,279
Estimated work-study award (if eligible)
+$1,419
+$1,419
Estimated cost after applying financial Assistance Package
Estimated annual net cost
$11,221

$19,654
Who Pays the New York Resident Tuition Rate?
If you have lived in New York State for at least 12 months, or have attended a New York high school for at least 2 years and graduated, you may be eligible for New York resident tuition. Review the requirements at
www.suny.edu/smarttrack/residency
Calculate a personalized estimate
at
www.suny.edu/howmuch
Education Pays
Studies show that education pays for itself. Engage your passion for learning to increase your earning potential, expand your employment options, and broaden your horizons.
Median Gross Annual Earnings of Full-time Year-round workers Age 25 and Older, by Education Level, 2015
For more info about this study, visit trends.collegeboard.com
Understand college costs, explore average salaries, and expected demand for jobs at www.suny.edu/smarttrack
"I NOW LOOK INTO THE MIRROR WITH CONFIDENCE AND HOPE FOR THE FUTURE."
Kyrie overcame homelessness, domestic violence, and food insecurity largely due to the support available at Westchester Community College. Scholarships made her college education feasible. Kyrie went on to study at New York University (NYU) with a full-tuition scholarship where she graduated with Honors. She has since gone on to complete her Masters of Social Work at the University of Michigan. Kyrie now works in her field of study as a case manager helping refugees resettle in the United States. Receiving scholarships through Westchester Community College helped her plan her future with confidence.
Kyrie Philbrook,
Westchester Community College Class of '15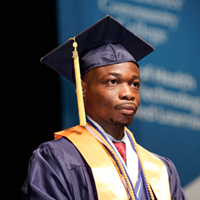 Pursue academic excellence and opportunity
Westchester Community College helped Jeremiah follow his dreams by linking him up with a scholarship that fueled his self-development. Jeremiah graduated with a dual degree in Cybersecurity and Computer Information Systems. His goal is to continue his education at MIT or Cornell and then establish a tech company that bridges the cybersecurity gap between the Western world and Africa.
Financial Tips
Graduate on time
Taking 15 credits a semester will help you graduate on time. Reducing your time in college saves money on tuition and expenses. Did you know that a fifth class can be taken in one semester, often free of additional tuition?
Textbooks: rent or buy used
A Student can save hundreds of dollars a year by first searching for used or rental textbooks before buying new.
Take advantage of tax credits
Tax credits like the American Opportunity Credit and the Lifetime Learning Credit can offer up to $2,500 a year in tax credits to offset your cost of attendance.
Borrow wisely
Be aware of which aid types require repayment. Scholarships never require repayment. Only borrow what you can afford to repay.
Develop a financial plan
Use SUNY Smart Track's Financial Literacy Tools to explore your path after college and develop a financial plan. Learn more at
www.suny.edu/smarttrack/literacy
Private Scholarship Searches are Free
Applying for private scholarships from outside the college can result in money for tuition and expenses that does not need to be repayed. Every bit counts towards your expenses; books and travel costs can be offset by multiple small awards.
Start your search here:
www.fastweb.com
www.studentaid.gov
www.bigfuture.org
www.sunywcc.edu/scholarships
Fast Facts
Scholarships:
awarded based on a variety of criteria including scholastic achievement, activities and majors. Subtypes include:
WCC Foundation Scholarships: student must meet eligibility criteria. Details at www.sunywcc.edu/scholarships
Private Merit Scholarships: offered by organizations outside the college.
Federal Pell Grant:
student must demonstrate financial need and complete a FAFSA to apply.
Federal Supplemental Educational Opportunity Grant (FSEOG):
student must be Pell Grant eligible and complete a FAFSA to apply.
Federal Iraq and Afganistan Service Grant:
for student whose parent of guardian died as a result of military service in Iraq or Afganistan after 9/11/01. Student must be Pell Grant ineligible.
Federal Teacher Education Assistance for College and Higher Education (TEACH) Grant:
for student who intends to teach in a high-need field in a school that serves students from low income families. The program requires a four-year service obligation and will convert into a loan if the service obligation is not met. More at
www.studentaid.gov
Federal Work Study:
provides part-time job opportunities. Amount depends on your level of financial need, other aid received, the availability of jobs, and your schedule. More at www.sunywcc.edu
/workstudy
Federal Veterans Benefits:
for student who is an eligible veteran. Learn more at
www.benefits.va.gov/gibill
New York State DREAM Act: gives undocumented and other students access to TAP, the Excelsior Scholarship, and other state-administered scholarships. Determine eligibility and apply at
www.hesc.ny.gov/dream
New York Tuition Assistance Program (TAP):
available to New York State resident or student who qualifies under the NYS DREAM Act. Amounts are based on net taxable income and other factors.
SUNY Tuition Credit:
student must be TAP eligible. Award is based on tuition and amount of TAP received.
State University Student Assistance (SUSTA):
student must be TAP eligible. Award is based on amount of unmet financial need.
All full-time WCC students who apply for financial aid will be automatically considered for WCC Foundation scholarships!