Message from Dr. Belinda S. Miles: February 14, 2020

February 14, 2020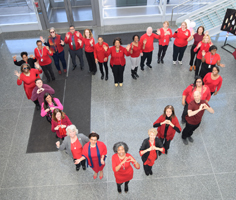 Colleagues,
This morning I joined members of our college community in the Gateway Center Atrium for a photo celebrating American Heart Month*. Please enjoy this shot of our Westchester Community College Goes Red for Heart Health team.
Our gathering in this location felt bittersweet. Last Valentine's Day our Go Red team was photographed on the Gateway Center stairs – smiling faces proudly displaying their red. Sadly, we have lost several members of our college community since that time. We reflect on these losses even as we express gratitude for their lives and contributions. We dedicate today's photo to their memories and celebrate each other in our continuous and renewed work Building Minds and Futures through a Westchester Community College education.
We thank the Health Services team for facilitating blood pressure screenings today. Kudos to nursing students Jean Louis Percello and John Castaneda for administering the screenings in Gateway and for being a part of our event. Special thanks to Serena Chamblee and Dorothy Posada for coordinating this effort and capturing the joy that we felt in each other's company.
Today we celebrate all things heart; be sure to take care of yours.
Dr. Belinda S. Miles
President