Dr. Belinda S. Miles's Bio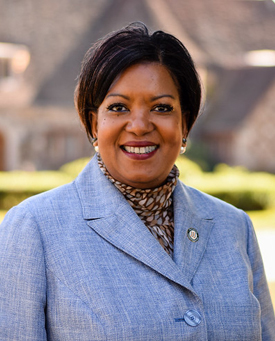 Belinda S. Miles serves as president of the largest college in Westchester County, New York — one of the nation's largest metropolitan regions. The college educates and trains more than 21,000 students in credit and non-credit programs annually and is the State University of New York's (SUNY) first Hispanic Serving Institution. Since her arrival in 2015, President Miles has galvanized multiple teams to realign college structures, policies, and procedures to reflect an agile organization committed to more directed and supportive pathways for students. Reforms have contributed to a 58% increase in IPEDS graduation rate (comparing Fall 2012 to Fall 2019 cohorts); up to 34% more college readiness; and an 11% increase in retention for First-Year Experience (FYE) cohorts. Among the top strategies has been new cohort management systems, improved placement in college level math and English courses, college-readiness bridge programs, and improved student orientation and onboarding strategies.
President Miles has led cross-functional teams that have attracted external support from government, foundation, and private sources. With Hispanic student enrollment exceeding one-third at the most diverse of 64 SUNY campuses, the college was able to compete successfully for a $2.7 million Title V grant from the U.S. Department of Education to transform the student experience from entry to completion. Additional funded projects include replication of CUNY's Accelerated Study in Associate Programs (ASAP); participation in the Achieving the Dream network of community colleges committed to improving student outcomes; Honors College founded; nationally recognized Center for Cybersecurity founded; expansion of undergraduate research, internships, and project-based curricula; and collaboration with regional industry partners and high schools on Pathways in Technology (P-TECH) programs in cybersecurity, electrical engineering, and civil engineering.
President Miles serves on several boards focused on workforce development, expanding mobility, and the impact of technology on the future of work. Regionally, she is a member of the Board of Directors for the Business Council of Westchester, the Westchester-Putnam Workforce Investment Board, and Hudson Valley Patterns for Progress. Her national leadership includes board or advisory roles at the American Association of Community Colleges, American Association of Colleges & Universities Presidents' Trust, and the Block Center for Technology and Society at Carnegie Mellon University.
Recognized by City and State NY as one of Westchester's Power 50 (2018), President Miles' numerous awards include YWCA Education Champion Award (2020); Westchester County Federation of Women's Clubs and F. Willia Davis Women's Clubs Woman of the Year (2019); and 914INC Magazine Women in Business (2017), among many. Dr. Miles is a highly regarded regional and national presenter on a range of topics including community colleges as a disruptive innovation in academia that fosters an equitable and inclusive democracy.
Prior to joining Westchester Community College, President Miles served as provost and executive vice president of Access, Learning, and Success at Cuyahoga Community College with oversight of four campuses and multiple extension sites serving 60,000 students in the Greater Cleveland, Ohio area. Her other roles at Cuyahoga included president of the Eastern Campus, dean of Academic Affairs, and assistant dean of Liberal Arts. Other previous positions include faculty and administrator roles at LaGuardia Community College, Nassau Community College, and Columbia University.