Dr. Belinda S. Miles's Bio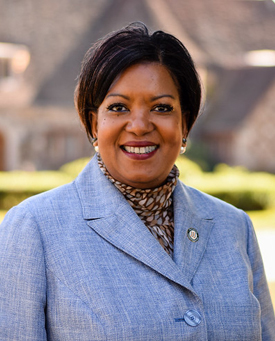 Dr. Belinda S. Miles has served as president of Westchester Community College, a State University of New York (SUNY) institution serving more than 26,000 students in one of the nation's largest metropolitan areas, since 2015. Deeply committed to student success and completion, Dr. Miles has worked with faculty and staff to achieve a 42% increase in the college's three-year graduation rate and the largest graduating classes in its 72-year history.
Her leadership contributed to Westchester Community College being selected as a member of the Achieving the Dream network of community colleges committed to improved student outcomes and as one of two institutions selected nationally for a $1,000,000 award to support replication of the City University of New York's Accelerated Study in Associate Programs (ASAP) which doubled CUNY's three-year graduation rate. Westchester Community College is SUNY's first federally designated Hispanic Serving Institution.
Locally, Dr. Miles is a member of the Board of Directors for the Business Council of Westchester, the Westchester-Putnam Workforce Investment Board, and the Westchester Medical Center Healthcare Transformation Workforce Committee. Her national leadership includes board or advisory roles at the American Association of Community Colleges, COMBASE, Higher Education Resource Services (HERS), American Association of Colleges & Universities Presidents' Trust, and the National Junior College Athletic Association (NJCAA).
Among Dr. Miles' numerous awards are 2017 914INC Magazine Women in Business; 2016 NAACP Education "Still Standing for Justice;" and 2016 United Way of Westchester/Putnam "Spirit of Caring." Dr. Miles is a highly regarded regional and national presenter on a range of topics including community colleges as a disruptive innovation in academia that fosters an equitable and inclusive democracy.
Prior to joining Westchester Community College, Dr. Miles served as provost and executive vice president of Access, Learning, and Success at Cuyahoga Community College with oversight of four campuses and multiple extension sites serving 60,000 students in the Greater Cleveland, Ohio area. Her other roles at Cuyahoga included president of the Eastern Campus, dean of Academic Affairs, and assistant dean of Liberal Arts. Other previous positions include faculty and administrator roles at LaGuardia Community College, Nassau Community College, and Columbia University.
Originally from Queens, New York, Dr. Miles attended public schools including York College City University of New York (CUNY), earning a B.A. in Political Science. She attained a M.A. in Educational Psychology and an Ed.D. in Higher Education Organization and Leadership Development from Columbia University Teachers College.