Dr. Belinda S. Miles's Bio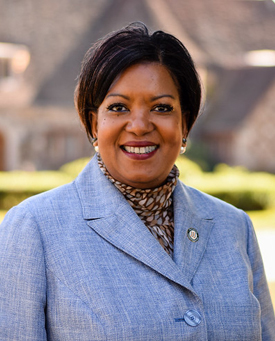 Dr. Belinda S. Miles was appointed president of Westchester Community College, a State University of New York (SUNY) institution providing access and opportunity to more than 26,000 students in one of the nation's largest metropolitan areas, in 2015. Since her arrival, the college has experienced increased graduation rates, new academic and workforce development programs, expanded transfer agreements, and unprecedented growth in gifts to support scholarships and transformational student success programming. Westchester Community College is SUNY's first federally designated Hispanic Serving Institution.
Dr. Miles' leadership contributed to Westchester Community College's selection to the Achieving the Dream network of community colleges committed to improved student outcomes; participation as one of two institutions awarded $1,000,000 to replicate the City University of New York's Accelerated Study in Associate Programs (ASAP); founding a full Honors College; and procurement of a major gift to establish the Center of Excellence in Cybersecurity.
The recipient of numerous service and leadership awards, Dr. Miles is a highly regarded speaker on community colleges as a disruptive innovation in academia that fosters an equitable and inclusive democracy, student success, and leadership development. She serves on several national and regional boards focused on expanding economic mobility, workforce development, and the impact of technology on the future of work:
American Association of Community Colleges;

American Association of Colleges and University Presidents' Trust;

Block Center for Technology and Society at Carnegie Mellon University;

Hudson Valley Patterns for Progress;

Westchester-Putnam Workforce Investment Board; and

Business Council of Westchester
Dr. Miles' previous roles include provost and executive vice president of Access, Learning, and Success at Cuyahoga Community College with oversight of four campuses and multiple extension sites serving 60,000 students in the Greater Cleveland, Ohio area. Other roles at Cuyahoga included president of the Eastern Campus, dean of Academic Affairs, and assistant dean of Liberal Arts. Additional prior positions include faculty and administrator roles at LaGuardia Community College, Nassau Community College, and Columbia University.
Originally from Queens, New York, Dr. Miles attended public schools including York College City University of New York (CUNY), earning a B.A. in Political Science. She attained a M.A. in Educational Psychology and an Ed.D. in Higher Education Organization and Leadership Development from Columbia University Teachers College.