The Gateway Center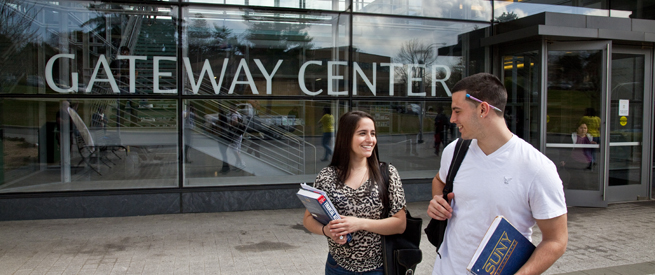 Welcome
The Gateway Center was conceived as an educational venue that would have a positive impact on Westchester County's community and businesses. Its many services and programs interrelate resulting in innovative activities to help promote workforce development and improve the lives of the thousands of students that come to Westchester Community College yearly.
A 70,000 square foot structure, this landmark houses business, language, volunteers and international student programs. The new building includes state-of-the-art labs, classrooms and an auditorium that accommodates 175 people. Its café is a vibrant hub where students meet with friends and/or faculty in a relaxed friendly atmosphere.
About the Gateway Center
About the Gateway Center
For more than five decades, as Westchester County has evolved, so has Westchester Community College. Nowhere is this more evident than in our attention to the shifting demographics of Westchester. To maintain a thriving economy and quality of life for all its residents, Westchester County needs to respond to the changes we will face in the coming years.
A rapid increase in newcomers to the United States
Increased number of high school graduates who need higher education for economic success
An aging population and imminent retirement of much of current workforce
Our future depends on an economy driven by a viable, capable workforce. Younger and foreign-born workers must be prepared to assume responsible positions in business and develop the professional careers that will enable us to move forward in the 21st century. The College must have the resources and space necessary to meet the challenge of providing innovative and effective education for tomorrow's workforce.
The Gateway Center provides critically needed space for college programs to help accommodate the increased demand from high school graduates. More than one in ten Westchester high school graduates chooses Westchester Community College as their first venture into higher education. Academic programs in The Gateway Center include Modern Languages and the Business Center. With technology-based 'smart classrooms,' students gain essential skills for the technologically sophisticated workplace. Programs are offered that teach students how to develop successful entrepreneurial endeavors.
The Gateway Center brings together programs and resources to create a center for dynamic exchange. Synergy among Gateway departments reflects trends of corporate globalization – the Business Department, Modern Languages, English Language Institute, and Professional Development Center are all part of The Gateway Center.
The Gateway Center programs helps to bridge language and cultural differences for companies doing business worldwide. The Professional Development Center provides language programs for local corporations and healthcare facilities. The Center serves as a hub for hosting educational forums and sharing information with other educational institutions, organizations and individuals throughout the community.
The Center houses programs to enable new Americans to advance in their careers and participate more fully in the community. Gateway programs include language and cultural exchange, specialized job and career development, entrepreneurship, U.S. citizenship, and cultural skills for the corporate environment. Language programs are infused with content-based curricular material.
The Gateway Center is a dynamic force in addressing the most critical challenges facing our community, building the programs that will bring the world to Westchester for education.
The Gateway Center is one of the county's most dramatic structures. Gateway was designed by the internationally-renowned architectural firm Ennead Architects (formerly Polshek Partnership), the same architects who designed the Clinton Library in Little Rock.
The Gateway Center recently received LEED (Leadership in Energy & Environmental Design) Gold certification; becoming the first Westchester County-owned LEED certified building. Ecology and sustainability were central to the design, from the building's overall siting and massing strategies to the integration of energy efficient systems and selection of materials. FCopy or generations to come, this building is intended to serve the College as a vital center of scholarship and opportunity.
For tours highlighting the green aspects of the building contact, Eileen McKee, Director of the Welcome Center at 914-606-5626.

Westchester Community College offers a number of pathways to help you prepare for a new career! You can get the skills and knowledge you need by enrolling in a non-credit program, or earn college credits through one of our degree or certificate programs. Perhaps you are not sure what people do or how much money they earn in certain careers? Would you like to know how many jobs are predicted to be available in a particular industry? Or maybe you are unsure whether receiving a non-credit career certification or license would be right for you? Go to https://sunywcc.emsicareercoach.com to explore a variety of career opportunities, their associated job descriptions, and salary and employment trends. Complete a career assessment for additional guidance. Still not sure? Visit www.sunywcc.edu/career for more career resources and contacts.