News & Updates
Last updated on December 22nd, 2021 at 05:21 pm
Spring 2022 Newsletter
Managing Editor: Beth Holden
Layout: Karen Panke
Cheers to Another 75 Years
by Beth Holden
This issue is dedicated to our students who inspire us daily and who
achieve great success, sometimes against all odds.
Westchester Community College is celebrating its 75th year educating students from Westchester, surrounding counties, and the boroughs that comprise New York City. Although the Academic Support Center hasn't been offering student tutorial services for 75 years, we do have a long-standing tradition of helping our students succeed in their coursework, continue in their degree programs, and complete their programs of study. The Academic Support Center Coordinators, tutors and staff are proud to participate in and celebrate student success. We help students with academic studies. We cheer them on when the going gets tough and we watch proudly at commencement when they receive their degrees. Whether you've been studying for 75 weeks, 75 days, 75 hours, or 75 minutes, it is important that you set yourself up for success. We offer the tips throughout this issue in that spirit.
---
Seven Steps for Student Success
by Phyllis Zahn
Whether you're taking online courses or in person courses, there are always challenges.
Developing skills and habits to manage your time and to organize has never been more important. Remember, your ability to manage your time and to organize your work will always be a work in progress. As you learn and grow, you will become stronger and more capable and the demands of your course work will increase. You will find solutions that work, and these solutions will need to be monitored and adapted.
START: Just get started. There is no perfect moment, or perfect mood. Get rid of the notion of perfect. Create a start time and stick to it.
SMALL STEPS: Create tasks that are small, specific and do-able. Large assignments can feel overwhelming. Break a large task down into a series of small steps. Start with the first small step.
STAY FOCUSED: Set yourself up to reduce or eliminate distractions.
STOP: Create a stop time. And reward yourself. Have a cup of coffee or tea. Take a walk. Chat with a friend. The reward is not meant to take the rest of the day. It's meant to make you feel good about the effort you put forth.
SPACE: Create a dedicated space to do your work when working from home. Most of us don't have a spare room, but perhaps there is a corner of a room that you can claim. Set up a table and chair that you can use to do your work. Have a place for your textbooks, binders, notebooks and backpacks.
SYSTEM: Create a file system for papers and online work that you can rely on. It doesn't have to be perfect and it is always a work in progress. It will change as you move through the semester. You need to know that you can find what you need when you need it.
SELF CARE: Often over looked, but absolutely essential. Get enough sleep. Eat well and don't overdo junk snacking. Set aside time to exercise or meditate. Have some fun; see friends and family. Create balance in your life. Don't be thinking about work all of the time.
Don't just work hard — work smart!

---
75 Tips for Student Success from your Friends at the Academic Support Center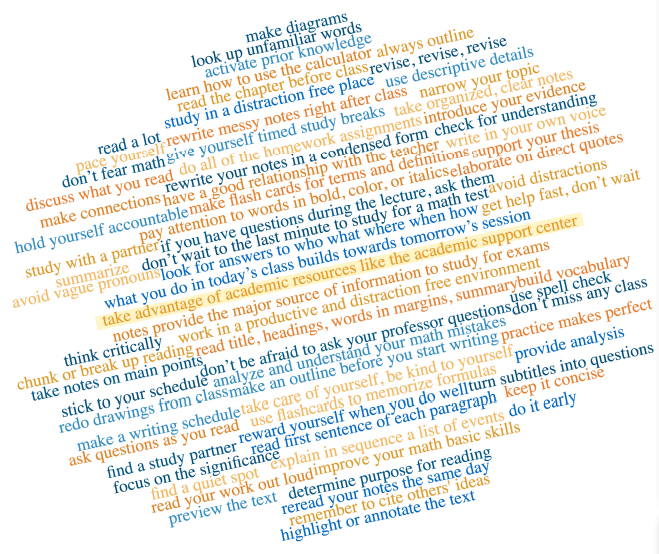 National Day on Writing
To celebrate the National Day on Writing, the Academic Support Center collected one-word responses to the question, "What does WCC mean to you?" The ASC used your answers to create this word cloud, which commemorates the college's 75th anniversary
What does WCC mean to you?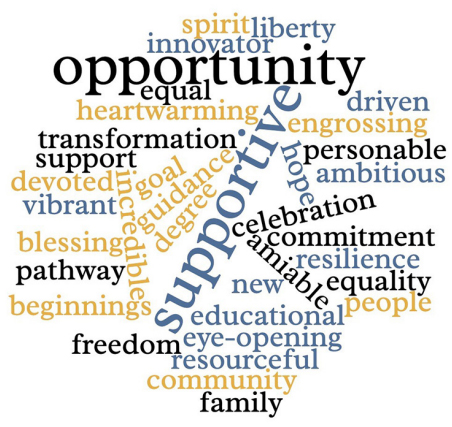 ACADEMIC SUPPORT CENTER CONTACT INFORMATION
For our hours of operation, contact the Academic Support Center at (914) 606 – 6470 or email us at asc-group@sunywcc.edu or any of the tutorials below.
Math: Askatutor-math@sunywcc.edu
Physics: Askatutor-physics@sunywcc.edu
Science: AskAtutor-sci@sunywcc.edu
Writing: Askatutor-wri@sunywcc.edu
ESL: Askatutor-esl@sunywcc.edu
Reading & Study Skills: Askatutor-read@sunywcc.edu
Economics: Askatutor-economics@sunywcc.edu
Computer Science: Askatutor-compsci@sunywcc.edu
Psychology: Askatutor-psychology@sunywcc.edu
ZOOM IN: STUDY SKILLS FOR SUCCESS, WEDNESDAYS AT 11:00 AM – 12:00 PM
Time Management & Organization: FEB 2
Note-Taking Ideas: FEB 9
Memory Skills: FEB 16
Metacognition Skills: FEB 23
Reduce Test Anxiety: MAR 2
Predict, Prepare, and Take the Test: MAR 9
Review for Finals and Projects: MAR 23
ZOOM IN: WRITING WORKSHOPS, WEDNESDAYS AT 12:00 PM – 1:00 PM
What To Do Before You Write: FEB 2
Thesis Statements: FEB 9
Developing The Essay Body: FEB 16
Intros & Conclusions: FEB 23
Citing & Quoting: MAR 2
Revising & Editing: MAR 9
WHAT OUR STUDENTS ARE SAYING ABOUT ASC TUTORS:
 "It was a pleasure to work with Mia."

"Thank you so much for helping me. You're the best!"

"I really appreciate you guys!"
Fall 2021 Academic Support Center NEWS

Silver Linings Pandemic Play Book: A retrospect from the ASC
By: Beth Holden
In the spring issue of the ASC newsletter, I posed the question, "Are we (students, faculty, and staff) really thriving in this (virtual) environment?" In the throes of the pandemic, I wondered. Now that we've had time to reflect I can say unequivocally, not only did we thrive as a department, but our students thrived under our tutelage as well. The entire experience was humbling. In the beginning, I likened it to everyone jumping in a life raft and rowing to keep afloat. Tutors were now in the students' shoes and learned new technologies and new ways of tutoring in different modalities. At times, we suffered from stormy weather. " I can't hear you?" "Can you hear me?" "You're muted!" "Did you have the correct link?" All of these became common phrases in our collective lexicon. Some students and tutors suffered from spotty internet connections, and got kicked out of the life boat, but they jumped right back in. Now, like a vessel that achieves stability with the proper ballast, so have we.
When I think about what we were able to do as a department—to continue to provide students with the quality tutorial support that they are accustomed to practically seamlessly –I can look back, on my question and answer unequivocally yes we did thrive as did our students. As is so often the case with students who dedicated them-selves to working with tutors in the ASC tutorials, many succeeded in their studies exemplifying the true meaning of GRIT.
Some students preferred this environment and Zoomed in to receive tutoring during their lunch hours from work. One showed up in scrubs. Others commented that they had more time to study due to less com-mute time. Others were grateful to have a little more money because they didn't have to commute to campus by train, bus or put gas in their cars.
Some students with ADHD or with Autism Spectrum Disorder were able to thrive in this remote environment where there were no distractions or sensory stimulation. Theresa Revans-McMenimon, Counselor for Students with Autism Spectrum Disorder from our Disability Services Office, tells us that, "Some of my ASD students have reported preferring the remote learning environment because it eliminated or reduced some of the sensory issues they experience on campus. The anxiety level experienced in the classroom was reduced because the students can control sensory stimuli in their own home.At the end of the spring 2021 semester, only 7 students of the 91 I worked with failed a class. Whereas comparatively, in spring 2019, 17 students out of 112 failed a class.I think the bottom line is that a great variety of teaching methods needs to be offered so students can pick the format that works best for their individual learning style."
During this time we have learned so much about ourselves and about our students. We are resilient and we will not be shipwrecked. The waters may have been a little rough at first but now our rough edges have been washed away for the most part. They have been polished like sea glass tossed about by the tempests of time and we come into the fall semester a more seasoned crew, ready to face the waters of fall 2021 whether they be fair or foul.
Below some retrospective comments from tutors and students:
"I am in awe of our students. Plain and simple awe.Some have told us they and/or their family members contracted Covid. Some have lost people dear to them. Many have lost their incomes or have been out there this whole time on the front lines while so many others were able to work from home.Some are desperately trying to use unfamil-iar technology to get the most out of their academic experiences, of-ten in a language other than their native tongues. But they persevered, stuck with us, saw their classes through to the end. Inspiring."
"What surprised me about the students was their resilience in a really trying year. Despite all the technological obstacles and the notion of Zooming into classes, I thought our students were impressively dedicated to doing their best in school and truly improving their writing skills. Especially when 'Zoomed out,' I give them credit for seeking out Zoom meetings."
"I would like to keep Zoom meetings an important part of the tutorial. I found them sometimes more helpful in some ways than an in-person meeting, and to the extent a student may be more likely to "Zoom in" than walk into a physical space, we should keep Zoom as key part of the ASC tutorials."
"ASKATUTOR service has been a tremendous support to many of us students. I speak from experience when I say that without it many students would be struggling to keep their grades up. I have always felt heard and taken care of, and the interactions are always pleasant. I can't put my gratitude into words, but thank you for providing this service!"
"I really enjoyed meeting one on one through zoom with tutors and I think that it was very convenient to have zoom meetings rather than in-person meetings. Once schools open I suggest you still have zoom meetings because it is easier for students like myself who have a busy schedule, to get help on assignments.""Keep smiling because when we are feeling down the most, tutors light up our spirit.""It was my first time using Zoom but tutors were understanding. Thank you so much for the help."
Tutoring News
After more than 18 months of working remotely, ASC tutors will be back on campus in a limited capacity for the fall semester. Tutors will be available to work with students taking courses on campus in-person by appointment from 11:00 a.m. to 3:00 p.m. Mondays through Fridays. Our remote Zoom option is also available Monday – Friday from 9:00 a.m. – 5:00 p.m.
Designated Tutor Program Continuing in Fall 2021
By now, you may have heard from some of your colleagues about ASC's the Designated Tutor Program. The program was designed to provide greater access to students for academic support and to assist in helping motivate students to use ASC services. Over the last academic year, Faculty and Adjunct Faculty members in Math, English, Reading, and ESL had a tutor assigned to a specific class one hour a week. Faculty and adjunct faculty members participated in various ways: some were interactive with the tutor, speaking to their assigned tutor weekly and organizing topics to be covered in the session; others offered a designated hour once a week for students to get additional support. In the end, ASC surveys showed that when students participated in the Designated Tutoring Program by attending Designated Tutoring Sessions or by working with their Designated Tutor, the program worked for them, and they had positive experiences. Faculty, tutors and students agreed that overall, the program was helpful for students. We invite you to become part of the program this fall by contacting the ASC coordinator in your content area for more information.
Here is what the students, tutors, and professors are saying about our Designated Tutor Program!
"Our designated tutor in our writing class was Stephanie DiMartino. She was available for open zoom for our class but also through ask-a-tutor. She was incredibly helpful to me. I learned so much. The time and effort the tutors put into their jobs at WCC is very much appreciated by all the students program was so helpful. I am so grateful for all of the help that they provided me throughout the semester."
"Since I wasn't able to make the designated weekly session due to an interfering class, I still utilized the tutor services on other days of the week. Madalena was very reachable, kind, and responsive.She always promptly scheduled appointments for me and replied quickly to emails. The tutor I worked with most frequently with was Lauren. Again, so kind, helpful and patient. Thank you everyone on the tutor team!!"
ZOOM IN | Study Skills for Success Wednesdays @ 11 AM Online (or anytime with a tutor), Fall 2021
9/22: Time Management and Organization | 9/29: Note-Taking | 10/6: Memory Skills | 10/13: Metacognition and Learning to Learn10/20: Reduce Test Anxiety | 10/27: Predict, Prepare, and Take the Test | 11/3:Review for Final Exams & Projects
ZOOM IN | Writing Workshops Wednesdays @ 12 PM Online (or anytime with a tutor), Fall 2021
9/15: What to do Before You Write | 9/22: Claims & Thesis Statements | 9/29: Developing the Body | 10/6: Effective Introductions & Conclusions | 10/13: Incorporating Sources into the Text | 10/20: Revising & Editing
ZOOM IN | Science Study Groups Fall 2021:
Contact Askatutor-sci@sunywcc.edu to reserve a time for you and your classmates
Archived Newsletters
Click here to see past news & updates
Spring 2021 Academic Support Center NEWS
The ASC Newsletter is published once a semester by the Academic Support Center. Managing Editor: Beth Holden Layout/ Designer: Linda Araya Surviving another Semester of Remote Learning By: Beth Holden I was thinking about writing an article about how to thrive in the spring semester, but I had to ask myself, are students, faculty and staff really thriving in this environment? With COVID-19 fatigue, Zoom fatigue, just plain any-oldday fatigue, kids being home, food insecurity, joblessness, illness and everything else going on, are we really thriving? So, I consulted Professor Kristy Robinson, acting Director of the Personal Counseling Department and Licensed Clinical Social Worker, to ask for suggestions on how students and faculty can make it easier on ourselves to get through another semester of COVIDinduced remote learning. Prof. Robinson reassured me that it was enough just to survive, and offered tips below.
Feel your Feelings!
On a good day, feelings and emotions can be difficult to manage, but when all of the factors present now—stress from classes, prolonged working and studying from home, financial & health strains—are added, Prof. Robinson says it's important to give yourself permission to feel what you're feeling even if those feelings aren't feeling so good. "These are not typical times. A lot of humans are struggling emotionally, so it's okay not to be okay. Give yourself permission to feel those feelings." She continues, "Saying, 'Don't be sad' is like saying don't be tired or don't be hungry. Loneliness and sadness are human experiences. It's important to validate them."
To the Dickens with Great Expectations!
Prof. Robinson says it's important for us to manage our expectations and set realistic goals, reminding ourselves that how we're going to function in today's world will look different from what it may have looked like a year ago. For example, she says, "If you are a taskmaster, you might need to change your expectations of yourself and set realistic goals, making sure that those goals are manageable." In other words, don't put too much pressure on yourself right now. Sometimes, just getting through the day is enough. And for students, this scenario may equate to grades, "You might have gotten straight A's when you were on campus and things were functioning in a different way. You might find your grades look different, and it's hard to get an A. You have to show compassion to yourself." And remember, compassionate tutors are just one email or Zoom away at the Academic Support Center tutorials. Whether you're doing well or struggling with classes, email us at
asc-group@sunywcc.edu
to be directed to the tutorial that corresponds with your subject.
Tick Your Tock – Throw Yourself a Dance Party!
Another thing to remember is to keep physically fit. "We can't forget that even the walk from a bus stop to a classroom is a form of movement that a lot of us aren't getting now. Any movement or activity can make a difference," says Prof. Robinson. Something as simple as standing or stretching in between Zoom sessions can be impactful. Prof. Robinsons' personal favorite way of getting exercise in is to put on your favorite song, and throw yourself an impromptu dance party. She explains, "Dancing it out increases your endorphins, which can give a boost to your mood." If dance isn't your thing, Prof. Robinson says, "There are so many home workouts that you can do in the safety and comfort of your home. Move your body, and stay as active as possible. All of these things are accessible, and they're free." So, put a song on your phone or laptop, stand, stretch or dance the night away.
Commune with Community
Although there's no replacement for that in-person feeling of being on campus, in a classroom, or hanging out with friends & family, there are things you can do to connect. Prof. Robinson tells us that getting and staying connected is critical to mental well-being, and personal counseling can help. "Some of the things we're doing in Personal Counseling is to increase the amount and frequency of virtual support groups, creating spaces for students to talk and connect with their peers around similar struggles. We've been intentionally emphasizing peer support in our area." Students can find out about Personal Counseling Department events, support groups, and programs on their website
www.sunywcc.edu/personalcounseling
, on their Instagram @personalCounselingWCC or by e-mailing
PersonalCounseling@sunywcc.edu
. "While it may be hard to take that first step, connecting in whichever way we are able is super important for mental health," Professor Robinson says. So, get involved with Personal Counseling or Student Involvement. "Student Involvement has done an amazing job making student events accessible online. Even though it's not the same as being in person, they have a robust array of programs for students to connect about interests and subject matters. Their website is always up to date at
https://www.sunywcc.edu/student-services/getinvolved
. Email
GetInvolved@sunywcc.edu
to find out about clubs and activities." So, from tutoring at the ASC tutorials to Personal Counseling and Student Involvement, you don't have to go it alone. We are here for you!
Spring 2021 Spring 2021 Common Read: Across That Bridge by John Lewis—By Joanna Peters
With all the news that happened this last year - the election, the climate change controversy, the economy, and the demonstrations, the Common Read Committee decided to focus on the issue of racial equality when it reviewed and considered books for the campus wide Common Read book selection. Across that Bridge, by the late Senator John Lewis, is the spring Common Read book. This book was selected because it: a) promotes a vision of change for the future of America, b) is very accessible and c) won the most votes in a college wide vote of faculty members. If you are already reading it in your class, wonderful, if not, please consider adding the book to your syllabus, and your reading list. There were several lead up online events in the fall. One was Howard Bryant's talk hosted by Dr. Erik Fortune, about the book, Full Dissidence on November 12 and Professor Don Simmons Jr. hosted a discussion with Ibram X. Kendi author of How to Be an Antiracist which was held on October 28th through the White Plains Library. This talk and other discussions helped set the stage for the Common Read choice this year. These discussions and the multiple and interesting events designed for the spring semester will help us focus on finding and achieving racial equality in the United States. Look for related topics to be covered through monthly symposiums, discussions, and films. The e-link for the book is currently available. Contact Margaret Eiden or Helen O'Brien for more information. ZOOM IN | Study Skills for Success Wednesdays @ 11 AM Online (or anytime with a tutor), Spring 2021
Avoiding Zoom Gloom - By Beth Holden
It's fifteen minutes before class. You're searching through your email box -- a tangle of messages for all of the classes or meetings you have that day. Where is it? You thought you had it. Your heart pounds. Your palms sweat. Finally, you find it. You click. It's not connecting. Wait! It's working now. You're plopped unceremoniously into a class or meeting. Your face stares out into a sea of other faces. You see yourself and notice that your hair's a mess. Your child darts across the room behind you and shrieks, "Where is my bunny?" The faces are chuckling. Should you turn the camera off? Would that be rude? And all of this is happening before the class or meeting. It's exhausting. So exhausting in fact, that neuroscientists have been studying it since the pandemic began and have coined a term for it "Zoom fatigue." It's just one of the many new words that have been added to our collective lexicon since COVID crashed our planet. So, how do you refresh yourself? Again, we turned to Professor Kristy Robinson, Acting Director of the Personal Counseling Department, and Licensed Clinical Social Worker for some answers. "The fatigue is real. The brain is working harder when we are on camera calls than when we are in person. It's more work for your brain to process. There are tech issues and mishaps. It's more exhausting on our brains, and the exposure to the screen light is also tiring on the eyes. It can give you headaches." Class after class, meeting after meeting and then socializing with friends and family at night after being on a screen all day is enough to give anyone a headache, so what's a Zoomer to do? Professor Robinson says be strategic about your schedule and recommends scheduling breaks between Zoom sessions if you can. She says that, "Even if it's just two minutes in between your class and your meetings, it can make a big difference," and adds, "We forget how important transition times from class one to class two are during our days. Those little transitions are mental breaks that we need to go from one place to another. Having those breaks can give the feeling of those transitions." Some of her students have even scheduled "mock commutes" as part of their morning routines. "I thought it was amazing -- having that time where they would make their coffee and sit on the couch like they would sit on the bus. That time is an important part of our daily lives that we forget about and maybe don't give enough credit." She also encourages students to advocate for themselves. "Check in with your professors and club advisors. See what the expectation is about having the camera on. If you are in a class or a club meeting or some type of call where the expectation is that you don't have to have the camera on, turn it off, and have that time to not be "ON." She recommends checking in with yourself too. "Students taking that moment to check in with themselves to see what they need and what the appropriate response is such a powerful mental health tool." Also, remember that although we are in a Zoom Boom where everyone is Zooming from here to there, we do have other methods of communication that can serve us just fine. "Limit unnecessary video calls. If something can be completed in an email, phone call or a text make sure that you are exploring alternative options so you don't feel like you are tied to one technology all the time."
Designated Tutor Program Spring 21—By Joanna Peters
By now, you may have heard of the Designated Tutor program in the ASC. The program was designed to provide greater access to students for academic support and to assist in helping motivate students to use ASC services. This last fall, forty-four sections including Math, English, Reading, and ESL had a tutor assigned to a specific class one hour a week. Faculty members participated in various ways: some were interactive with the tutor, speaking weekly and organizing topics to be covered in the session; others offered the extra hour for students to get additional support. In the end, ASC surveys showed that students were hesitant to come to these sessions, but when they did, it worked for them, and they had positive experiences. Faculty, tutors and students agreed that overall, the program was positive for students. Judy Marano tells us, "Having Phyllis as my DT has been a wonderful experience. Many of my students stayed on each week, as Phyllis reiterated the points discussed in class and the next steps for them. Having this supported teaching has helped many of the students find success." This spring we are suggesting a first come, first served approach for faculty to be part of the program, and the deadline is the second week of the semester. For further information, please contact
Joanna.Peters@sunywcc.edu
, or your ASC coordinator for more information.