News & Updates
Spring 2023 Newsletter
Managing Editor: Beth Holden
Assistant Editor: Stephen Perry
Layout: Mark Capitelli
Stephen Perry's Journey
By Beth Holden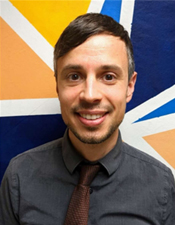 I sense a bit of wanderlust in Stephen Perry, the Academic Support Center's new ESL/Reading/Study Skills Coordinator, that probably led him in his early years to a nomadic existence exploring other regions and learning about other cultures. Originally from the Philadelphia area, at an early age, he felt the call to travel, and it took him to such places as Albuquerque, Seattle, Kyiv and Taipei before settling back in NYC and ultimately traveling north, landing at Westchester Community College, where maybe someday he can claim he has finally found Valhalla.
His experience encompasses teaching in settings as varied as maximum-security prisons to community college classrooms. In spite of all of his experience, his humble, quiet demeanor immediately puts students and colleagues at ease.
After living abroad in Ukraine and Taiwan for a few years, immersed in teaching students the English language, Stephen realized that, although he had had a lot of fun adventures, he wanted to continue to move forward developing his skill set. He landed a job as a tutor at Bronx Community College in a program called CUNY Language Immersion Program (CLIP). Soon thereafter, he was offered a full-time position as an instructor in the CLIP program. "That job is really what cemented my interest in teaching ESL long term," Stephen reflects, "because I found teaching at a community college had a substantial impact on students' lives. Part of that was knowing about the degree to which community colleges boost up those from lower income brackets into the middle class. It was more challenging work, and it felt more purposeful."
In spring of 2018, he started grad school. "I chose the City College of New York's Language and Literacy program instead of a traditional TESOL (Teaching English to Speakers of Other Languages) program," he explains, "because I already had a lot of experience teaching English language but did not feel as prepared to teach writing and academic skills. The Language and Literacy program focused on both developmental writing and ESL and was geared towards educators."
"I found teaching at a community college had a substantial impact on students' lives."
After the completion of his master's degree, Stephen began a position within the same program at Kingsborough Community College in Brooklyn. Soon after, the pandemic began. In 2021, while working remotely, he moved to White Plains. "I taught remotely from up here for a year and then I was extremely pleased to see the position listed and to be asked to interview," he says. Eventually, Stephen was offered the ESL Coordinator position, which contended with a teaching faculty position in New Jersey. The choice was not difficult: "Westchester Community College was by far my first choice. I saw this position as a means to a lot of things I had been headed towards, in thinking beyond my own classroom and the larger context of the college as a whole, and how I could fit into that and help students and educators succeed."
Says Stephen, "Working at a Community College is ideal for me as I would like to help equip students for their classes in terms of study skills, English language, reading and writing. This is critical within a college and particularly at a community college. So, yeah, that's kind of how I came to be here." We're glad you are here, Stephen Perry.
A is for Agnie!
By Beth Holden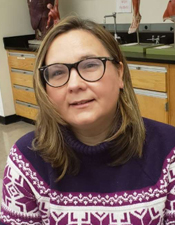 Goal oriented, determined, focused and fearless are words that come to mind after speaking with Agnieszka "Agnie" Tereba about her career path. Before Agnie came to WCC, she already had a Master of Engineering degree in Biotechnology from the University of Life Sciences in Poland. Her goal was to work in the biotech industry making products for food, including microorganisms for yogurt or beer. "I enrolled in a PhD program at the Polish Institute of Biotechnology in Posnan. I was working on GMOs…but to be employed, I really needed to be fluent in English."
"I had a lot of inspiring mentors."
Determined not to let this stand in her way, in 2002, she left her family in Poland and came to the U.S. to immerse herself in the process of learning English. She found a job working for a family and enrolled in the ESL program at WCC. When asked about how intimidating that must have been, she's no-nonsense. "You don't have a choice. You have to just do it. Learning language was something I just loved to do. My favorite was listening to Delilah on WHUD radio, and watching The Golden Girls on TV, and having people around speaking the language really helped to speed up the process."
After a year, she passed ESL and enrolled in other college courses. Although her goal was to learn the language, go back to Poland and acquire a job in biotech, the universe had different plans. In 2003, Cupid struck when she met her future husband. And, after a year, the job with the family no longer worked; her work schedule clashed with her course schedule, so she found another job that would be more amenable to her school schedule and allowed her to enroll in an associate degree program at WCC for math and science. "When I look back, I don't know how I did that. It feels impossible, but I did it somehow. I was lucky to meet nice helpful people."
It wasn't long before one of those helpful people recommended her for a position as a peer tutor in the ASC's math tutorial. She says, "Working with students was very rewarding. Seeing how they overcame challenges and how they grew and improved, I found that very rewarding. It's challenging working as a tutor, but, at the same time, it has helped me develop my skills and gave me something that I enjoyed doing. That led me to enroll at Mercy College to get my master's in education." While pursuing her masters and over the ensuing years, Agnie worked as both a volunteer and a senior tutor in the ASC math and math/physics tutorials.
Recently when the position of Science Coordinator became available, she was interested. "My goal is to help students. I worked closely with Madalena and Bishara (as a Senior Tutor) over the years and seeing what they do and how they help students even more in the role of Coordinator inspired me to apply."
Agnie looks forward to being able to accommodate every student when they come in to get help. "We have good tutors, but we don't have enough. We need more help and more tutors." And then she pauses thoughtfully and adds, "I was able to accomplish what I have thanks to all the people who have worked in the ASC. I had a lot of inspiring mentors." And these mentors include things she has learned from students as well. As an adjunct Math instructor here since 2018, her advice to her students is "If you have a big goal, break it up into smaller goals. At the end, maybe it will take you longer to get what you need, but you will get there." And against some pretty daunting challenges, Agnie got there herself. Congratulations, Agnie, for getting there and for being here in your new role!
A Goodbye Interview with Beth Holden, ASC Writing Coordinator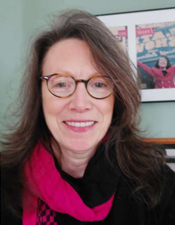 In her 15 years as Writing Coordinator at the Academic Support Center at Westchester Community College, Beth Holden has led the Writing Tutorial with creativity, vigor, and a lot of heart. Preceding that, she started at WCC as a student before returning as a tutor and professor. After announcing her retirement for the end of the Fall 2022 semester, Beth reflected on her time at the ASC with the staff of the Newsletter.
What led you to work at WCC and the ASC?
Beth: I was interested in teaching writing. At the time, I had experience as a published writer and experience running writing workshops. I was working as a freelance writer, and it wasn't long before I realized I needed to get out of the house a few days a week for some socialization. As we've all learned in the last few years with COVID, working from home can be so isolating. I remember when I was doing freelance writing, I would get excited to see another human in the form of the UPS person delivering a package. It was then that I realized I needed to get out of the house a few days a week.
Also, Westchester Community College was always special to me. College was not an option in my family, so I went into hairdressing and earned my license as a cosmetologist and did that for many years. I burned out from that profession. One of my friends at the time was a teacher at the Bronx High School of Science. That inspired me and I thought maybe I could do something else with my life, but I didn't have enough money to go to school and afford my apartment, so I answered an ad in the newspaper for a widower who needed a nanny for his four children. So, I gave up my single life, packed up my apartment in the Bronx, moved in with them, and enrolled as a student at WCC. I identify with a lot of our students for many reasons; when I came to WCC I was a 26-year-old student with all of the fears that a lot of our students have. I didn't know how to use a keyboard or use a computer. I hadn't written a paper in ten years, and I couldn't do math to save my life. I was anxious, didn't know if I could do it and I felt old. I'll be 64 in January, and I look back on that and think who was that girl who thought she was old at 26? At any rate, I wanted to give back to the college that opened so many doors for me and to encourage students that they too could do it.
What have been some of your favorite parts about working here?
Beth: The students. Most definitely. I've worked with so many of them over the years both tutoring them and working with them as co-workers. I wanted to be an inspiration and a mentor to them. I wanted to be that person I didn't have growing up so much. The person who said, "You can do this. It may not be easy, but you can do this, and it will be worth every amount of effort you put into it." Our students' stories are inspiring and humbling. It's not easy for a lot of them, but still, they persist against the odds. I never fail to get choked up at graduation when I see a student we've worked with, and I know their back story and I know how hard they've struggled to get through their courses. When I see the smiles on their faces when they walk across that stage and get their degree and their parents and relatives are beaming at them from the audience, I feel like I contributed a little bit.
I'd also be remiss if I didn't mention my colleagues both in the department in the form of coordinators and tutors and teaching and non-teaching faculty members across the campus who have helped me along the way. Before I came here and after I earned my degree from NYU, I worked in some pretty cutthroat industries, and I always marveled at how helpful everyone here was helping me learn the ropes. When I didn't know or understand something, one of my colleagues would take the time to help. Then it dawned on me—they are teachers, that's why. Sometimes it takes me awhile to get things. LOL!
What are some innovations or changes you have made since you came here?
Beth: I think one of the most helpful things I've been able to incorporate has been the collaboration I have created with Paige Ackerson-Kiely, the Director of the MFA Writing Program at Sarah Lawrence College. Every semester, we do outreach to students working on their MFA in writing and offer them tutoring opportunities. It's a great collaboration as the Sarah Lawrence students are great with writing and can relate to the struggles that go into creating a piece of writing — the process of brainstorming, drafting, etc. They work really well with our students and are also interested in teaching and building a resume. It's been a real challenge for the ASC to find tutors for a myriad of reasons and the collaboration that Paige and I have created really helps us to bridge that gap when we are looking for writing tutors.
Are there any plans for the future you would like to share?
Beth: Ha! I can't even think about that at the moment. I'm just trying to tie things up on this end. I'm not calling it retirement. I'm calling it "rewirement." This was not an easy decision for me to make and is coming a bit earlier than I expected due to a number of things. I do have some pieces I've written that I would like to find homes for and I've been working on a book project for forever. Having worked on the computer for the last three years I've developed an aversion to going near it after work hours which is a huge detriment to my own writing. After I detox from the computer in January, I would like to devote some time to my own writing and see where it lands. Publishing has changed so much from when I was freelancing, so it will be a new learning process for sure.
Anything else you would like mentioned?
Beth: Our tutors are the real unsung heroes of the Academic Support Center. We have a lot of very accomplished people working for us. Many have multiple degrees, some hold PhDs and were quite accomplished in their fields before they came to us. They work tirelessly day after day, attend training often unpaid, stay late, come in early, or fill in at the last minute for someone who is out sick. They work really hard and for the same $15.00 an hour that I was making 21 years ago when I started here. This isn't easy work. It is rewarding, but it would be great if they could be awarded more monetarily for all of the work they put in. We couldn't have a thriving tutorial without their selflessness. We salute you, Beth! You will be sorely missed.
October 20th was the National Day on Writing, a celebration of writing across the country. This day was founded by the National Council of Teachers of English back in 2009 because of how important writing is to literacy. To celebrate at WCC, the Academic Support Center asked students to share one of their favorite words. We published them in this fun word cloud.
In Fond Memory of Joanna Peters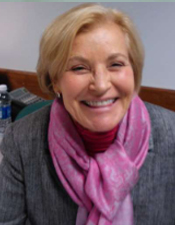 It is with great sadness that we announce the passing of Joanna Peters. Joanna served the college for thirty-two years as the ESL/Reading Coordinator at the Academic Support Center. Additionally, she taught for both the Reading and Study Skills and English departments. Joanna felt privileged and honored to serve the students, administration, faculty, union, and staff at Westchester Community College.
Thank you for everything, Joanna. Rest in peace.
Gifts in Joanna's memory are being accepted by the Westchester Community College Foundation at https://www.sunywcc.edu/about/foundation/fund-for-wcc/general-fund-for-wcc/. Please check TRIBUTE and indicate "In memory of Joanna Peters" in the comments section.
The Academic Support Center
Come find us on the ground floor of the Harold L. Drimmer Library. No appointments necessary! (Science Tutorial in Room 219 of the Science Building)
Hours of Operation
Open 9 am-5 pm, Monday through Friday
Contact Information
Phone: (914) 606-6470
Web: https://www.sunywcc.edu/academics/asc
The ASC provides tutoring in Computer Science, Economics, ESL, Math, Physics, Psychology, Reading, Writing, Science, Study Skills, and Writing. Trouble navigating Brightspace? We can help with that too.
Need help but can't come in to the Academic Support Center? Online services returning this February!
Remote Services
ZOOM sessions: Tue, Wed, & Fri from 11 a.m. – 2 p.m.
Archived Newsletter
Fall 2022 Academic Support Center NEWS
FALL 2022 NEWSLETTER
The Academic Support Center
Building Minds, Building Futures
Professor Joanna Peters: One Classy Coordinator
by Beth Holden
Any student who has ever spent any amount of time in the Academic Support Center is sure to recall the smiling face of Joanna Peters, ESL/Reading and Study Skills Coordinator greeting them, helping them sign in and out, encouraging them to succeed in their studies, or just checking in to see how they were doing. She did this no matter how busy she was, and make no mistake, she was always busy. While managing the daily activities of the ESL/Reading and Study Skills Tutorial, she remained active all over campus, teaching as an adjunct in both the Reading and English Departments, serving on DEAC, Middle States, Title V, the WCCFT Union Executive Board, the Union Scholarship Committee, and others too numerous to list. No matter what, she always made time for the students. Students were drawn to her rare combination of mentor, mother, instructor, nurturer, you-can-do-it cheerleader, task master (only when necessary), all rolled together with a sprinkle of non-conformity and a dab of mischief.
Although soft spoken and petite in stature, Joanna, a powerhouse resolute in her ideas and in her staunch advocacy for students, was always determined to cheer students on and see them through to graduation. Recently, I had the privilege to reminisce with her about her career.
"I was hired part-time by Marilee Silverman, Chair of the Reading and Study Skills Department, to be an adjunct instructor. Towards the end of that year, she felt bad she couldn't give me more than one class, so she suggested I go to the ASC to see if they would give me some hours so that I wasn't coming all the way in for just one class. Andy Wainer was the Reading Coordinator at the time, and Susan Markman, the head of the ASC, hired me to be a reading tutor." The following year, there was an opening for an overall Coordinator position. "Susan Arietta and I were hired on one line, so Andy, Susan and I shared one office on the 3rd floor of the old library. Susan and I always sat in the middle of everything, and we liked it." She laughs, "I don't know how we survived working out in the open all the time."
And although Joanna was hired as an overall Coordinator, eventually there became a need for an ESL tutorial and a Coordinator to run it.
"ESL students really didn't have a place to go and that's how we established the ESL area. It wasn't until later that reading and ESL were combined." It was a perfect fit because Joanna could relate to our ESL students on many levels. She was an immigrant who came to this country as a baby in her parents' arms after they fled the Nazis in Poland. My parents best way possible. We always talked about being 'in loco parentis.' You're taking the place of parents in some ways. It puts a tremendous burden on kids who are living in two cultures. It does mold who you are." Once settled in the Southeast Bronx, her parents had little means, but they made sure they had an Encyclopedia Britannica and Joanna and her sister had as much access to education as their parents could give them. Joanna tells me that for two girls from immigrant parents, they have fared well. "My sister is a geriatric endocrinologist, and I've had the pleasure of being at the college all these years. I understand what it means to come from nothing and work toward a goal, and I wanted to help students get to their goals, whatever they happened to be."
And like a lot of our adult students, life's twists and turns lead Joanna to a place where, as an adult, she had to go back to work full time to support herself and her small children. "It was scary, because I didn't have any support."
In true Joanna fashion, she figured out a way. "You always figure out a way. If you can't have plan A you have to have a plan B." Her plan B was to draw from her long teaching career. Prior to working at WCC, Joanna had put herself through school and had held positions as a nursery schoolteacher, an elementary schoolteacher, and an English Instructor at Hunter College. So, when the time came for her to go back to work full time and be the sole supporter of her family, she had the experience and education behind her to apply for a full-time position at WCC.
Once landing the full-time coordinator position, Joanna didn't stop pursuing her love of learning. In her early fifties, she earned her ESL degree by taking evening classes, with her colleague, Susan Arietta, at the College of New Rochelle after work. And this experience helped her to relate to our adult returning students taking evening classes while holding down full-time jobs.
Joanna's advice to students: "Never give up the pursuit of education, learn every day. Understand what's most important in life. It might be if they understand the value of education that people can be transformed like those little girls from the Bronx. I think that's a big deal, the transformative nature of our jobs. You're watching a total transformation take place. I've seen that in students across the years, and I attribute that to education and the opening of minds."
I hear the excitement in her voice as she recalls the countless student experiences she's had over the years: there was the part-time evening student in her College Reading and Study Skills class who had four part-time jobs and was the father of four boys who went on to graduate from Rensselaer Polytechnic Institute and started a career at IBM. There was the "huge six-foot, two-inch, booming man" in the Moms on the Move Program who enrolled in a doctorate program, and the student Joanna traveled to Pennsylvania with to watch her present her paper at the Beacon Conference. "I related to the obstacles and the challenges these students had returning to school. The fact that they were opening a door to a new life is what motivated me to spend more time with those students, because they were juggling a lot of balls." And Joanna was no stranger to juggling. "I did two master's degrees with a husband, two children, a dog, a home, and a full-time job, and I wondered how I did that in retrospect." She tells me she did it by putting one foot in front of the other. Not only does she instruct students to put one foot in front of the other, but she also literally puts students in a position to place both feet in the shoes of others by engaging them in experiential learning that takes place outside of the classroom. I remember her running out of the ASC one night, a stack of books and papers under her arm. She was excited. "We're going to a halfway house tonight!" I looked at her quizzically."We're doing a paper on haves and have nots." And with that she was out the door. Another time one of her students wanted to be a film writer, so she took her class to the Jacob Burns Film Center. She took students to scholarship meetings so they could see first-hand what was available to them and to motivate them to apply for a scholarship or to work hard so they could get one. "I loved doing these kinds of things. If you helped one person who was really struggling for whatever reason, then you've done some good with your life." Nicoleta Rista, one student who was struggling just to walk into the door of the ASC, remembers Joanna's kindness. "It was January of 2016 after I finished my first class. I was afraid to come into the ASC, and I just stood and looked at the entrance. I was thinking, 'How can I ask for help? My English is not good enough. I think Joanna saw that I hesitated.
She was on her way out the door, but she came to me and said, 'Do you need help?' Then she took me to the ESL tutorial and introduced me to the tutors. She was the first person who helped me, and for me it was a huge step. Because of that, I am where I am today: working at the ASC and enrolled in my final year at Lehman College. I will always be grateful to her." Aside from working with and inspiring students, Joanna says that one of the things that she really liked about working in the ASC was all the people she worked with every day and all the others that she met and collaborated with from various departments. "We were one Academic Support Center. We interacted well with the English, Math, and ESL/Reading Departments. All of them were a part of my job." And then she stops to think about the tutors she's supervised over the years. "How lucky we've been to have the quality and level of expertise that the tutors brought with them. They were pivotal in helping these students, too. The ESL tutorial started with one tutor four hours a week and then grew and grew. That was beautiful to watch." She muses about the difference between a classroom experience and a tutorial session. "A teacher has 25 students or more in a classroom and they can't possibly deal with every single student on the kind of level the tutorial can address. What an important thing it was for the tutor to bring out the student to develop the students' ideas and help them see that once they had these ideas they could put them down on paper." She pauses thoughtfully. "And that complicates things twice as much for an ESL student when they are not working in their native language." She believes tutorials are now more important than ever. "We want to give our students the best experience they can have. I think the tutors I've hired over the years have this innate desire to help others. You can't quantify that. You get that through a conversation about why they came for this job. We are so lucky to have the kind of work we've had, because we are doing a good thing and not everyone can say that about their jobs. I've listened to so many people complain about their jobs, and I think how grateful I am to have had a job that I loved. I find it really hard to disassociate with something that's been a great pleasure in my life."
Joanna says one of the things she'll miss is the energy of the ASC, "That hum of students busy doing positive things to improve their future. That's the energy I will miss the most." And we will most certainly miss Joanna's energy, but after thirty years of unwavering dedication and service to the students, the Academic Support Center, the division, and the college, it is time for her to take time for herself. Please join me in wishing her well. Long may you run, Professor Peters.
Joanna Peters Keeps on Giving and Giving!
By Janet Knight
In fall 2020, three very conscientious and dedicated students—having used the ESL/Reading tutorial frequently—won the Joanna Peters Academic Improvement Award. Those three students shared portions of a $5,000 award that will help finance their education during the fall 2022 semester. Any full or part-time student with at least 2.5 GPA, showing great improvement because of using the ESL/Reading tutorial, was eligible and encouraged to apply. Subsequently, the three winners were selected, and enjoyed assistance to cover tuition, books, miscellaneous expenses, and fees.
This scholarship award was created by the ESL/Reading tutors in honor of Joanna's retirement and her more than 30 years as Academic Support Center ESL and Reading Coordinator, constantly aiding and facilitating the needs of students. We will all greatly miss her big, bright, beautiful smiling face and warm welcome upon entering the Academic Support Center.
Congratulations to all three students, and thank you, Joanna!
Instructional Writing Videos Available on Our Website
What to Do Before You Write
Thesis Statements
Developing Your Essay Body
Intros & Conclusions Citing & Quoting
Revising & Editing
The Reading/ESL/Study Skills Tutorial Presents
Workshop Weeks
Week of September 12th: Time Management
Week of September 19: Note Taking
Week of September 26: Building Memory
Week of October 10: Test Anxiety
Week of October 24: Predict, Prepare & Take the Test
Week of December 5: Review for Finals & Projects
The Academic Support Center is a service provided by
Westchester Community College to help you achieve your very best.
Any questions? Call us at (914) 606-6470, or email us at asc-group@sunywcc.edu
Spring 2022 Academic Support Center NEWS
Spring 2022 Newsletter
Managing Editor: Beth Holden
Layout: Karen Panke
Cheers to Another 75 Years
by Beth Holden
This issue is dedicated to our students who inspire us daily and who
achieve great success, sometimes against all odds.
Westchester Community College is celebrating its 75th year educating students from Westchester, surrounding counties, and the boroughs that comprise New York City. Although the Academic Support Center hasn't been offering student tutorial services for 75 years, we do have a long-standing tradition of helping our students succeed in their coursework, continue in their degree programs, and complete their programs of study. The Academic Support Center Coordinators, tutors and staff are proud to participate in and celebrate student success. We help students with academic studies. We cheer them on when the going gets tough and we watch proudly at commencement when they receive their degrees. Whether you've been studying for 75 weeks, 75 days, 75 hours, or 75 minutes, it is important that you set yourself up for success. We offer the tips throughout this issue in that spirit.
---
Seven Steps for Student Success
by Phyllis Zahn
Whether you're taking online courses or in person courses, there are always challenges.
Developing skills and habits to manage your time and to organize has never been more important. Remember, your ability to manage your time and to organize your work will always be a work in progress. As you learn and grow, you will become stronger and more capable and the demands of your course work will increase. You will find solutions that work, and these solutions will need to be monitored and adapted.
START: Just get started. There is no perfect moment, or perfect mood. Get rid of the notion of perfect. Create a start time and stick to it.
SMALL STEPS: Create tasks that are small, specific and do-able. Large assignments can feel overwhelming. Break a large task down into a series of small steps. Start with the first small step.
STAY FOCUSED: Set yourself up to reduce or eliminate distractions.
STOP: Create a stop time. And reward yourself. Have a cup of coffee or tea. Take a walk. Chat with a friend. The reward is not meant to take the rest of the day. It's meant to make you feel good about the effort you put forth.
SPACE: Create a dedicated space to do your work when working from home. Most of us don't have a spare room, but perhaps there is a corner of a room that you can claim. Set up a table and chair that you can use to do your work. Have a place for your textbooks, binders, notebooks and backpacks.
SYSTEM: Create a file system for papers and online work that you can rely on. It doesn't have to be perfect and it is always a work in progress. It will change as you move through the semester. You need to know that you can find what you need when you need it.
SELF CARE: Often over looked, but absolutely essential. Get enough sleep. Eat well and don't overdo junk snacking. Set aside time to exercise or meditate. Have some fun; see friends and family. Create balance in your life. Don't be thinking about work all of the time.
Don't just work hard — work smart!

---
75 Tips for Student Success from your Friends at the Academic Support Center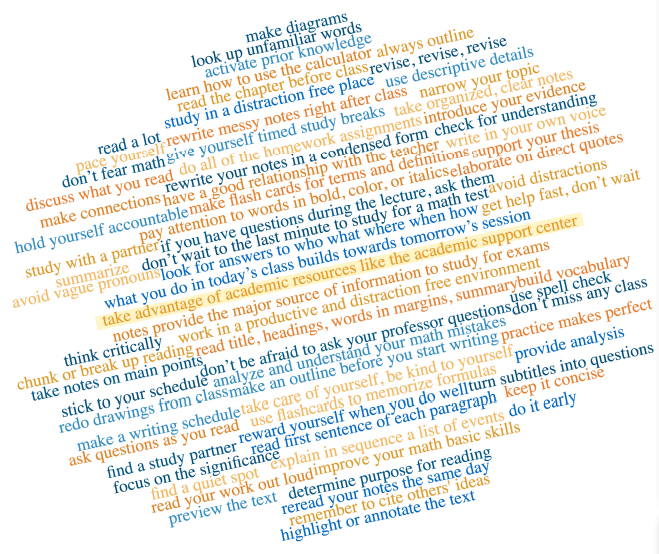 National Day on Writing
To celebrate the National Day on Writing, the Academic Support Center collected one-word responses to the question, "What does WCC mean to you?" The ASC used your answers to create this word cloud, which commemorates the college's 75th anniversary
What does WCC mean to you?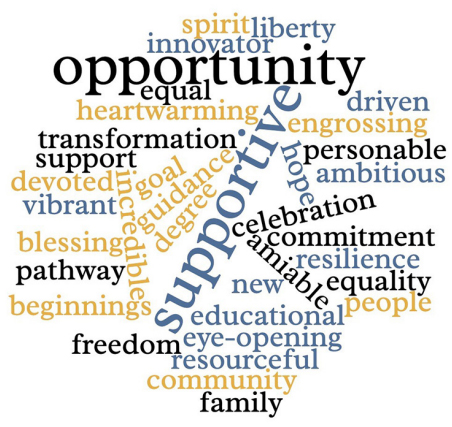 ACADEMIC SUPPORT CENTER CONTACT INFORMATION
For our hours of operation, contact the Academic Support Center at (914) 606 – 6470 or email us at asc-group@sunywcc.edu or any of the tutorials below.
Math: Askatutor-math@sunywcc.edu
Physics: Askatutor-physics@sunywcc.edu
Science: AskAtutor-sci@sunywcc.edu
Writing: Askatutor-wri@sunywcc.edu
ESL: Askatutor-esl@sunywcc.edu
Reading & Study Skills: Askatutor-read@sunywcc.edu
Economics: Askatutor-economics@sunywcc.edu
Computer Science: Askatutor-compsci@sunywcc.edu
Psychology: Askatutor-psychology@sunywcc.edu
ZOOM IN: STUDY SKILLS FOR SUCCESS, WEDNESDAYS AT 11:00 AM – 12:00 PM
Time Management & Organization: FEB 2
Note-Taking Ideas: FEB 9
Memory Skills: FEB 16
Metacognition Skills: FEB 23
Reduce Test Anxiety: MAR 2
Predict, Prepare, and Take the Test: MAR 9
Review for Finals and Projects: MAR 23
ZOOM IN: WRITING WORKSHOPS, WEDNESDAYS AT 12:00 PM – 1:00 PM
What To Do Before You Write: FEB 2
Thesis Statements: FEB 9
Developing The Essay Body: FEB 16
Intros & Conclusions: FEB 23
Citing & Quoting: MAR 2
Revising & Editing: MAR 9
WHAT OUR STUDENTS ARE SAYING ABOUT ASC TUTORS:
"It was a pleasure to work with Mia."

"Thank you so much for helping me. You're the best!"

"I really appreciate you guys!"
Fall 2021 Academic Support Center NEWS
Fall 2021 Academic Support Center NEWS

Silver Linings Pandemic Play Book: A retrospect from the ASC
By: Beth Holden
In the spring issue of the ASC newsletter, I posed the question, "Are we (students, faculty, and staff) really thriving in this (virtual) environment?" In the throes of the pandemic, I wondered. Now that we've had time to reflect I can say unequivocally, not only did we thrive as a department, but our students thrived under our tutelage as well. The entire experience was humbling. In the beginning, I likened it to everyone jumping in a life raft and rowing to keep afloat. Tutors were now in the students' shoes and learned new technologies and new ways of tutoring in different modalities. At times, we suffered from stormy weather. " I can't hear you?" "Can you hear me?" "You're muted!" "Did you have the correct link?" All of these became common phrases in our collective lexicon. Some students and tutors suffered from spotty internet connections, and got kicked out of the life boat, but they jumped right back in. Now, like a vessel that achieves stability with the proper ballast, so have we.
When I think about what we were able to do as a department—to continue to provide students with the quality tutorial support that they are accustomed to practically seamlessly –I can look back, on my question and answer unequivocally yes we did thrive as did our students. As is so often the case with students who dedicated them-selves to working with tutors in the ASC tutorials, many succeeded in their studies exemplifying the true meaning of GRIT.
Some students preferred this environment and Zoomed in to receive tutoring during their lunch hours from work. One showed up in scrubs. Others commented that they had more time to study due to less com-mute time. Others were grateful to have a little more money because they didn't have to commute to campus by train, bus or put gas in their cars.
Some students with ADHD or with Autism Spectrum Disorder were able to thrive in this remote environment where there were no distractions or sensory stimulation. Theresa Revans-McMenimon, Counselor for Students with Autism Spectrum Disorder from our Disability Services Office, tells us that, "Some of my ASD students have reported preferring the remote learning environment because it eliminated or reduced some of the sensory issues they experience on campus. The anxiety level experienced in the classroom was reduced because the students can control sensory stimuli in their own home.At the end of the spring 2021 semester, only 7 students of the 91 I worked with failed a class. Whereas comparatively, in spring 2019, 17 students out of 112 failed a class.I think the bottom line is that a great variety of teaching methods needs to be offered so students can pick the format that works best for their individual learning style."
During this time we have learned so much about ourselves and about our students. We are resilient and we will not be shipwrecked. The waters may have been a little rough at first but now our rough edges have been washed away for the most part. They have been polished like sea glass tossed about by the tempests of time and we come into the fall semester a more seasoned crew, ready to face the waters of fall 2021 whether they be fair or foul.
Below some retrospective comments from tutors and students:
"I am in awe of our students. Plain and simple awe.Some have told us they and/or their family members contracted Covid. Some have lost people dear to them. Many have lost their incomes or have been out there this whole time on the front lines while so many others were able to work from home.Some are desperately trying to use unfamil-iar technology to get the most out of their academic experiences, of-ten in a language other than their native tongues. But they persevered, stuck with us, saw their classes through to the end. Inspiring."
"What surprised me about the students was their resilience in a really trying year. Despite all the technological obstacles and the notion of Zooming into classes, I thought our students were impressively dedicated to doing their best in school and truly improving their writing skills. Especially when 'Zoomed out,' I give them credit for seeking out Zoom meetings."
"I would like to keep Zoom meetings an important part of the tutorial. I found them sometimes more helpful in some ways than an in-person meeting, and to the extent a student may be more likely to "Zoom in" than walk into a physical space, we should keep Zoom as key part of the ASC tutorials."
"ASKATUTOR service has been a tremendous support to many of us students. I speak from experience when I say that without it many students would be struggling to keep their grades up. I have always felt heard and taken care of, and the interactions are always pleasant. I can't put my gratitude into words, but thank you for providing this service!"
"I really enjoyed meeting one on one through zoom with tutors and I think that it was very convenient to have zoom meetings rather than in-person meetings. Once schools open I suggest you still have zoom meetings because it is easier for students like myself who have a busy schedule, to get help on assignments.""Keep smiling because when we are feeling down the most, tutors light up our spirit.""It was my first time using Zoom but tutors were understanding. Thank you so much for the help."
Tutoring News
After more than 18 months of working remotely, ASC tutors will be back on campus in a limited capacity for the fall semester. Tutors will be available to work with students taking courses on campus in-person by appointment from 11:00 a.m. to 3:00 p.m. Mondays through Fridays. Our remote Zoom option is also available Monday – Friday from 9:00 a.m. – 5:00 p.m.
Designated Tutor Program Continuing in Fall 2021
By now, you may have heard from some of your colleagues about ASC's the Designated Tutor Program. The program was designed to provide greater access to students for academic support and to assist in helping motivate students to use ASC services. Over the last academic year, Faculty and Adjunct Faculty members in Math, English, Reading, and ESL had a tutor assigned to a specific class one hour a week. Faculty and adjunct faculty members participated in various ways: some were interactive with the tutor, speaking to their assigned tutor weekly and organizing topics to be covered in the session; others offered a designated hour once a week for students to get additional support. In the end, ASC surveys showed that when students participated in the Designated Tutoring Program by attending Designated Tutoring Sessions or by working with their Designated Tutor, the program worked for them, and they had positive experiences. Faculty, tutors and students agreed that overall, the program was helpful for students. We invite you to become part of the program this fall by contacting the ASC coordinator in your content area for more information.
Here is what the students, tutors, and professors are saying about our Designated Tutor Program!
"Our designated tutor in our writing class was Stephanie DiMartino. She was available for open zoom for our class but also through ask-a-tutor. She was incredibly helpful to me. I learned so much. The time and effort the tutors put into their jobs at WCC is very much appreciated by all the students program was so helpful. I am so grateful for all of the help that they provided me throughout the semester."
"Since I wasn't able to make the designated weekly session due to an interfering class, I still utilized the tutor services on other days of the week. Madalena was very reachable, kind, and responsive.She always promptly scheduled appointments for me and replied quickly to emails. The tutor I worked with most frequently with was Lauren. Again, so kind, helpful and patient. Thank you everyone on the tutor team!!"
ZOOM IN | Study Skills for Success Wednesdays @ 11 AM Online (or anytime with a tutor), Fall 2021
9/22: Time Management and Organization | 9/29: Note-Taking | 10/6: Memory Skills | 10/13: Metacognition and Learning to Learn10/20: Reduce Test Anxiety | 10/27: Predict, Prepare, and Take the Test | 11/3:Review for Final Exams & Projects
ZOOM IN | Writing Workshops Wednesdays @ 12 PM Online (or anytime with a tutor), Fall 2021
9/15: What to do Before You Write | 9/22: Claims & Thesis Statements | 9/29: Developing the Body | 10/6: Effective Introductions & Conclusions | 10/13: Incorporating Sources into the Text | 10/20: Revising & Editing
ZOOM IN | Science Study Groups Fall 2021:
Contact Askatutor-sci@sunywcc.edu to reserve a time for you and your classmates
Spring 2021 Academic Support Center NEWS
Spring 2021 Academic Support Center NEWS
The ASC Newsletter is published once a semester by the Academic Support Center. Managing Editor: Beth Holden Layout/ Designer: Linda Araya
Surviving another Semester of Remote Learning By: Beth Holden I was thinking about writing an article about how to thrive in the spring semester, but I had to ask myself, are students, faculty and staff really thriving in this environment? With COVID-19 fatigue, Zoom fatigue, just plain any-oldday fatigue, kids being home, food insecurity, joblessness, illness and everything else going on, are we really thriving? So, I consulted Professor Kristy Robinson, acting Director of the Personal Counseling Department and Licensed Clinical Social Worker, to ask for suggestions on how students and faculty can make it easier on ourselves to get through another semester of COVIDinduced remote learning. Prof. Robinson reassured me that it was enough just to survive, and offered tips below.
Feel your Feelings!
On a good day, feelings and emotions can be difficult to manage, but when all of the factors present now—stress from classes, prolonged working and studying from home, financial & health strains—are added, Prof. Robinson says it's important to give yourself permission to feel what you're feeling even if those feelings aren't feeling so good. "These are not typical times. A lot of humans are struggling emotionally, so it's okay not to be okay. Give yourself permission to feel those feelings." She continues, "Saying, 'Don't be sad' is like saying don't be tired or don't be hungry. Loneliness and sadness are human experiences. It's important to validate them."
To the Dickens with Great Expectations!
Prof. Robinson says it's important for us to manage our expectations and set realistic goals, reminding ourselves that how we're going to function in today's world will look different from what it may have looked like a year ago. For example, she says, "If you are a taskmaster, you might need to change your expectations of yourself and set realistic goals, making sure that those goals are manageable." In other words, don't put too much pressure on yourself right now. Sometimes, just getting through the day is enough. And for students, this scenario may equate to grades, "You might have gotten straight A's when you were on campus and things were functioning in a different way. You might find your grades look different, and it's hard to get an A. You have to show compassion to yourself." And remember, compassionate tutors are just one email or Zoom away at the Academic Support Center tutorials. Whether you're doing well or struggling with classes, email us at asc-group@sunywcc.edu to be directed to the tutorial that corresponds with your subject.
Tick Your Tock – Throw Yourself a Dance Party!
Another thing to remember is to keep physically fit. "We can't forget that even the walk from a bus stop to a classroom is a form of movement that a lot of us aren't getting now. Any movement or activity can make a difference," says Prof. Robinson. Something as simple as standing or stretching in between Zoom sessions can be impactful. Prof. Robinsons' personal favorite way of getting exercise in is to put on your favorite song, and throw yourself an impromptu dance party. She explains, "Dancing it out increases your endorphins, which can give a boost to your mood." If dance isn't your thing, Prof. Robinson says, "There are so many home workouts that you can do in the safety and comfort of your home. Move your body, and stay as active as possible. All of these things are accessible, and they're free." So, put a song on your phone or laptop, stand, stretch or dance the night away.
Commune with Community
Although there's no replacement for that in-person feeling of being on campus, in a classroom, or hanging out with friends & family, there are things you can do to connect. Prof. Robinson tells us that getting and staying connected is critical to mental well-being, and personal counseling can help. "Some of the things we're doing in Personal Counseling is to increase the amount and frequency of virtual support groups, creating spaces for students to talk and connect with their peers around similar struggles. We've been intentionally emphasizing peer support in our area." Students can find out about Personal Counseling Department events, support groups, and programs on their website www.sunywcc.edu/personalcounseling, on their Instagram @personalCounselingWCC or by e-mailing PersonalCounseling@sunywcc.edu. "While it may be hard to take that first step, connecting in whichever way we are able is super important for mental health," Professor Robinson says. So, get involved with Personal Counseling or Student Involvement. "Student Involvement has done an amazing job making student events accessible online. Even though it's not the same as being in person, they have a robust array of programs for students to connect about interests and subject matters. Their website is always up to date at https://www.sunywcc.edu/student-services/getinvolved. Email GetInvolved@sunywcc.edu to find out about clubs and activities." So, from tutoring at the ASC tutorials to Personal Counseling and Student Involvement, you don't have to go it alone. We are here for you!
Spring 2021 Spring 2021 Common Read: Across That Bridge by John Lewis—By Joanna Peters
With all the news that happened this last year – the election, the climate change controversy, the economy, and the demonstrations, the Common Read Committee decided to focus on the issue of racial equality when it reviewed and considered books for the campus wide Common Read book selection. Across that Bridge, by the late Senator John Lewis, is the spring Common Read book. This book was selected because it: a) promotes a vision of change for the future of America, b) is very accessible and c) won the most votes in a college wide vote of faculty members. If you are already reading it in your class, wonderful, if not, please consider adding the book to your syllabus, and your reading list. There were several lead up online events in the fall. One was Howard Bryant's talk hosted by Dr. Erik Fortune, about the book, Full Dissidence on November 12 and Professor Don Simmons Jr. hosted a discussion with Ibram X. Kendi author of How to Be an Antiracist which was held on October 28th through the White Plains Library. This talk and other discussions helped set the stage for the Common Read choice this year. These discussions and the multiple and interesting events designed for the spring semester will help us focus on finding and achieving racial equality in the United States. Look for related topics to be covered through monthly symposiums, discussions, and films. The e-link for the book is currently available. Contact Margaret Eiden or Helen O'Brien for more information. ZOOM IN | Study Skills for Success Wednesdays @ 11 AM Online (or anytime with a tutor), Spring 2021
Avoiding Zoom Gloom – By Beth Holden
It's fifteen minutes before class. You're searching through your email box — a tangle of messages for all of the classes or meetings you have that day. Where is it? You thought you had it. Your heart pounds. Your palms sweat. Finally, you find it. You click. It's not connecting. Wait! It's working now. You're plopped unceremoniously into a class or meeting. Your face stares out into a sea of other faces. You see yourself and notice that your hair's a mess. Your child darts across the room behind you and shrieks, "Where is my bunny?" The faces are chuckling. Should you turn the camera off? Would that be rude? And all of this is happening before the class or meeting. It's exhausting. So exhausting in fact, that neuroscientists have been studying it since the pandemic began and have coined a term for it "Zoom fatigue." It's just one of the many new words that have been added to our collective lexicon since COVID crashed our planet. So, how do you refresh yourself? Again, we turned to Professor Kristy Robinson, Acting Director of the Personal Counseling Department, and Licensed Clinical Social Worker for some answers.
"The fatigue is real. The brain is working harder when we are on camera calls than when we are in person. It's more work for your brain to process. There are tech issues and mishaps. It's more exhausting on our brains, and the exposure to the screen light is also tiring on the eyes. It can give you headaches."
Class after class, meeting after meeting and then socializing with friends and family at night after being on a screen all day is enough to give anyone a headache, so what's a Zoomer to do? Professor Robinson says be strategic about your schedule and recommends scheduling breaks between Zoom sessions if you can. She says that, "Even if it's just two minutes in between your class and your meetings, it can make a big difference," and adds, "We forget how important transition times from class one to class two are during our days. Those little transitions are mental breaks that we need to go from one place to another. Having those breaks can give the feeling of those transitions." Some of her students have even scheduled "mock commutes" as part of their morning routines. "I thought it was amazing — having that time where they would make their coffee and sit on the couch like they would sit on the bus. That time is an important part of our daily lives that we forget about and maybe don't give enough credit."
She also encourages students to advocate for themselves. "Check in with your professors and club advisors. See what the expectation is about having the camera on. If you are in a class or a club meeting or some type of call where the expectation is that you don't have to have the camera on, turn it off, and have that time to not be "ON." She recommends checking in with yourself too. "Students taking that moment to check in with themselves to see what they need and what the appropriate response is such a powerful mental health tool." Also, remember that although we are in a Zoom Boom where everyone is Zooming from here to there, we do have other methods of communication that can serve us just fine. "Limit unnecessary video calls. If something can be completed in an email, phone call or a text make sure that you are exploring alternative options so you don't feel like you are tied to one technology all the time."
Designated Tutor Program Spring 21—By Joanna Peters
By now, you may have heard of the Designated Tutor program in the ASC. The program was designed to provide greater access to students for academic support and to assist in helping motivate students to use ASC services. This last fall, forty-four sections including Math, English, Reading, and ESL had a tutor assigned to a specific class one hour a week. Faculty members participated in various ways: some were interactive with the tutor, speaking weekly and organizing topics to be covered in the session; others offered the extra hour for students to get additional support. In the end, ASC surveys showed that students were hesitant to come to these sessions, but when they did, it worked for them, and they had positive experiences. Faculty, tutors and students agreed that overall, the program was positive for students. Judy Marano tells us, "Having Phyllis as my DT has been a wonderful experience. Many of my students stayed on each week, as Phyllis reiterated the points discussed in class and the next steps for them. Having this supported teaching has helped many of the students find success." This spring we are suggesting a first come, first served approach for faculty to be part of the program, and the deadline is the second week of the semester. For further information, please contact Joanna.Peters@sunywcc.edu, or your ASC coordinator for more information.