Message from Dr. Belinda S. Miles: Serving our Community December 13, 2019

December 13, 2019
Colleagues,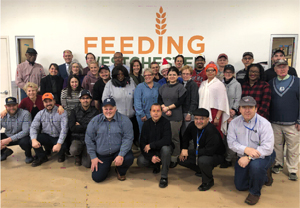 During this season of sharing, giving, spending time with loved ones, and all that is meaningful to you, we are especially proud of the many ways that the college is serving our community. For example, Student Involvement, Student Support Services, and the Student Government Association recently sponsored the UNHunger Games Food Drive benefitting our students and our food pantry. WCC's Staff Council Helping Hands is collecting donations on behalf of Hope's Door, an organization supporting families healing from the trauma of domestic abuse. TRIO Student Support Services is collecting donations on behalf of Toys for Tots. And just this morning, it was a great pleasure to work alongside members of our Strategic Administrative Leadership Team volunteering at the Feeding Westchester food bank to pack approximately 825 bags of produce for local senior citizens. Service projects such as these do so much to unite us as a community and add value to our college and our community. Your commitment to helping others represents the college and our values in meaningful ways for many. Thank you!
Yesterday the college community celebrated the achievements of December completers, including our very first P-Tech graduates and Viking Roads graduates! All of our latest graduates are well prepared for the workforce or for transfer to a four-year college due to the important and impactful work all of us do every day.
With 41 days left to the start of the spring 2020 semester, there are fewer students enrolled for spring classes compared to the same time last year. Although the Strategic Enrollment Management office is working with the Marketing and Communications office to reach out to both new and continuing students who have not yet registered for spring classes, attracting and retaining students is something each of us can do. Accordingly, as you are out in your communities over the semester and holiday break, please share information on the many programs we offer and help get the word out about the value of higher education – especially for good paying jobs and as a great launch to bachelor degree attainment.
Chancellor Kristina Johnson and SUNY System have placed critical attention on system-wide enrollments because we cannot sustain declining enrollments in the State of New York. Our Westchester Community College registration activities for spring 2020 will be ongoing including two upcoming Saturday registration dates. Be sure to guide others to join our college community and work toward life-changing academic and career goals.
Dr. Belinda S. Miles
Preside