Digital Badge
New: Now awarding Digital Badges for TESOL!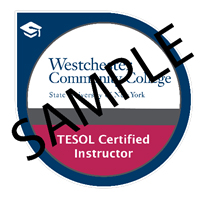 What are Digital Credentials?
In order to make our alumni more competitive in the job market, the TESOL Certificate Program at Westchester Community College now awards its graduates both printed certificates and digital badges. Digital badging provides additional, digital, documentation along with our standard paper-based certificates. Digital badges can be shared in a secure and verifiable way electronically and can be added to social media or professional profiles so colleagues and prospective employers can view accomplishments and gain insights about credentials. The badges are not only a great visual image, but they are embedded with information about the type of coursework completed, skills gained during training and more.