ESL Training for NY-area Whole Foods Market Employees
Part of Pilot Program in NY, Miami & Houston, Led by the National Immigration Forum in Partnership with the Community College Consortium for Immigrant Education, for Retail Employees for Whom English is a Second Language
Valhalla, N.Y. (June 30, 2016) Employees from three Whole Foods stores in Westchester County recently graduated from a English language training program at Westchester Community College. This 12-week course, which is part a pilot program led by the National Immigration Forum, in partnership with the Community College Consortium for Immigrant Education and Miami Dade College, is designed to increase English language skills among retail sector employees for whom English is a second language.
"We're very pleased to be part of this national partnership to provide an innovative English language instruction program, which is critical for advancing the skills and career opportunities for Whole Foods employees in our region," says Dr. Belinda S. Miles, President of Westchester Community College, which hosts and leads CCCIE, a national network of community colleges focused on expanding programs and services for immigrants. "Developed to improve the capabilities of Whole Foods staff, the program fits perfectly with the workforce development focus of our mission and it strengthens our community," she says.
Funded by the Walmart Foundation, this national initiative, known as Skills and Opportunity for the New American Workforce, is being offered at no cost to these employees. The training focuses on workplace-specific vocabulary and conversational skills that can increase employees' promotional opportunities and their prospects for career advancement in the retail sector and other middle skills jobs.
Working together, the Forum, Miami Dade College and CCCIE are designing and implementing this contextualized English language learning program that utilizes both online and classroom instruction and is being piloted in Houston, Miami and the New York/New Jersey metro area, with a goal of training 750 retail employees.
Two classes at Westchester Community College have  included Whole Food employees from the White Plains, Yonkers and Port Chester stores. About 25% of the Westchester County population is foreign born and about 33% speak a language other than English at home.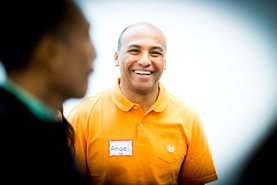 Angel Lopez works as a grocery clerk at the Whole Foods store in White Plains, NY. Originally from Peru and a native Spanish speaker, Angel has worked at Whole Foods for 8 years. Currently he is participating in the course offered by his employer at Westchester Community College. Angel joined the program to improve his English grammar and pronunciation through language training that is specifically tailored to help him in his job. He says, "knowing English is very helpful in the store and I want to become more comfortable communicating with customers, team leaders and co-workers."
In the New York/New Jersey metro area, ESL training for Whole Foods employees is being offered at LaGuardia Community College and Bergen County Technical Schools in addition to Westchester Community College. Classes are also underway in Miami and Houston.  Miami Dade College and Lone Star College are offering ESL training with employer partners Publix and Kroger supermarkets, respectively.
The Power of English Language Training and the Vital Role of Community Colleges 
Mark Wilkins, in New York-area leadership of Whole Foods Market, said of the project, "We at Whole Foods are excited to partner with the National Immigration Forum, Westchester Community College, LaGuardia Community College and Bergen County Technical Schools to offer our team members the opportunity to improve their language skills, further enhancing their ability to interact with and serve our shoppers while supporting their families and taking part in the communities where they live and work." 
"We started this training program because the retail sector has one of the highest levels of limited-English-proficient workers, at nearly 1.5 million, approximately half of whom are women," said Ali Noorani, Executive Director of the National Immigration Forum. "Retail companies are eager to get involved, because they understand the profound impact that improved access to educational opportunities can have on advancement, retention, improved work quality and economic success."
"Community colleges play a vital role in supporting their communities through programs that build the skills of immigrant workers and benefit the businesses that employ them," said Teresita Wisell, Executive Director of the Community College Consortium for Immigrant Education and Vice President of Workforce Development and Community Education at Westchester Community College. "CCCIE is proud to be a partner in this initiative to build a replicable model that can be scaled nationwide, with the opportunity to support retail employees' personal and career growth and contribute to increased productivity and effectiveness among retailers and the sector as a whole."
Westchester Community College: Largest Provider of ESL Instruction in the County
Westchester Community College services over 5,000 ESL students each year, more than any other educational institution in the county. ESL courses are offered through the college's English Language Institute, which features an English immersion approach to maximize learning and has previously offered ESL training in partnership with local retailers, including Whole Foods Market.
The English Language Institute is housed in the Gateway Center, which features an innovative learning environment providing programs and services to both immigrant and native-born students and promoting activities that foster increased cultural understanding and awareness among all students. The Center houses programs to enable new Americans to advance in their careers and participate more fully in the community. Gateway programs include language and cultural exchange, specialized job and career development, entrepreneurship, U.S. citizenship and cultural skills for the work environment. Language programs are infused with content-based curricular material.
Employees in this retail-focused program are in non-supervisory positions, such as cashiers, stockers and greeters, where Limited English Proficient individuals are most concentrated. The training integrates English language training with skills needed in the workplace such as active listening, industry-specific vocabulary and spontaneous conversation skills. Training will be focused on building the vocabulary and context employees need to be successful at their jobs at Whole Foods Market, increasing customer satisfaction, improving communication with their colleagues and supervisors, and improving safety.  
About Westchester Community College
Westchester Community College provides accessible, high quality and affordable education to meet the needs of our diverse community. We are committed to student success, academic excellence, workforce development, economic development and lifelong learning.  In addition to the main campus in Valhalla, New York, the College operates full extension sites in Mount Vernon, Yonkers, Ossining and Peekskill. As the largest educational institution in the county, Westchester Community College serves over 24,000 students each year and offers more than 60 associate degree and certificate programs leading to employment or transfer opportunities at some of the country's leading colleges and universities. However, its scope goes beyond this primary purpose to include its role as a cultural mecca and a means toward connecting to the place where we live—a true resource for community involvement.
About the National Immigration Forum
The National Immigration Forum is one of the leading immigrant advocacy organizations in the country, with a mission to advocate for the value of immigrants and immigration to the nation. As a part of these efforts, the Forum runs a national program, New American Workforce, that partners with hundreds of businesses to offer their employees citizenship services and English training at the worksite. Skills and Opportunity for the New American Workforce was launched Fall 2015 as a part of this partnership with business, through New American Workforce.
About the Community College Consortium for Immigrant Education
The Community College Consortium for Immigrant Education is a national network of community colleges and other professional organizations that have joined forces to increase educational and career opportunities for immigrant students. CCCIE's mission is to build the capacity of community colleges to accelerate immigrant and refugee success and raise awareness of the essential role these colleges play in advancing immigrant integration in our communities. CCCIE is hosted and led by Westchester Community College in Valhalla, N.Y.
Media Contacts
Westchester Community College:
Mark Stollar, Director of College Community Relations, 914-606-6638, mark.stollar@sunywcc.edu
National Immigration Forum:
Cathleen Farrell, Director of Communications, 202-403-4190; cfarrell@immigrationforum.org  
Community College Consortium for Immigrant Education
Jill Casner-Lotto, CCCIE Director, (914) 607-5644; jill.casnerlotto@sunywcc.edu