Franklin K Asante, CPA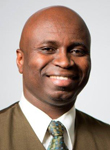 Phone: (914) 606-6791
Fax:
Office location:  Class Room Building / Rm #40
Email: franklin.asante@sunywcc.edu
Title(s): Full-Time Faculty
Department/Division: Business and Professional Careers/Accounting
Degree Information MS Taxation, Long Island University-Brooklyn Campus: BBA-Accounting, Baruch College-CUNY
Courses Taught
Financial Accounting
Managerial/Cost Accounting
Individual Taxation
Bio:
Franklin Asante currently is the Director of Tax and Accounting for FKA Tax and Business Services, small CPA firm and holds  BBA, Accounting from Baruch College – CUNY , an MS in Taxation from Long Island University (Brooklyn Campus). He is active CPA licensed to practice tax and accounting in New York State.
Franklin Joined KMPG after graduation in 2002 as an Associate of the Assurance Group and has since worked with several mid to small size public accounting firms including ERE LLP now part of MBAF, Amex Tax & Business Services, now part of RSM Mcgladry,  LH Frishkoff & Company LLP in the New York City area as Staff Auditor, Tax Accountant, Senior Tax Accountant and Manager of Tax Accounting. He also worked in non-public accounting, serving as Manager of Tax Accounting for David Yurman, a luxury Jewelry company in New York City from September 2008 until April 2016, where he oversaw all corporate tax activities including indirect taxes (sales, property and HST/PST) as well as coordinating and reviewing all corporate tax filings with outside accountants for both U.S. and Canada operations. Currently, Franklin Asante is serving as Director of Tax and Accounting for FKA Tax & Business Services providing tax and accounting services to small businesses in and around Bronx area. He helps clients streamline their accounting, bookkeeping, and payroll activities. He provides compilation and write-up services as well.
Franklin is also an Adjunct Lecturer at the Borough of Manhattan College (BMCC)-CUNY, where he has taught Accounting and Tax classes since Spring 2007. Some of the classes include Accounting principles, Cost Accounting, intermediate and Individual Taxation. Franklin has a passion for teaching and considers it to be a calling.
Franklin Asante is a member of several professional associations including the American Institute of Certified Public Accountants (AICPA).