Criminal Justice Police
For students interested in a law enforcement career, this program is designed to provide a comprehensive understanding of the criminal justice system and its various components, including law enforcement, courts, and corrections, while developing critical thinking skills and an appreciation for the complexities and nuances of the justice system. This program also provides a comprehensive overview of the history and evolution of criminal justice, as well as current issues and challenges faced by the criminal justice system. This includes an understanding of the causes of crime, the rights of criminal defendants, the various ways in which crimes are punished, and the role of technology in criminal justice and its impact on law enforcement and the legal process.
Individuals completing these programs are prepared to enter many law enforcement agencies at the federal, state, and local levels, as well as private sector companies.
Get Ready to Apply
To learn about your next steps for the Criminal Justice Police program, start your application:
Information about the chair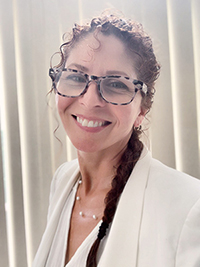 Dr. Rebekah Zwick holds a BA in Sociology from Johnson State College, an MA in Sociology from Boston University, and a PhD in Criminal Justice from Nova Southeastern University. Her academic focus remains criminological theory and policing methodologies. She was previously a Supervising Investigator with the New York City Civilian Complaint Review Board, and a Compliance Manager for MTA. Her research has included police procedure and training as well as studies of social support networks for incarcerated men, and she maintains a NYS Private Investigator license. In over a decade of instruction, she has taught all courses within the sociology and criminal justice curriculums, and currently teaches Introduction to Criminology, Juvenile Delinquency, and Seminar in Criminal Justice Issues in addition to co-chairing the Criminal Justice Club and serving as a student mentor.
Rebekah Zwick, PhD
Department of Criminal Justice and Paralegal
Loading...
Program Requirements
Program Map
Program Learning Outcome
More Information
About Westchester Community College
Financial Aid
Nearly 33% of Westchester Community College students receive some form of financial aid. Financial Aid is available to students who qualify. In addition, the Westchester Community College Foundation offers $1.6 million in scholarships annually.
Sports
The Westchester Community College Athletic Department sponsors thirteen different intercollegiate athletic teams in various sports. The roster of sports offered includes Men's Baseball, Women's Softball, Men's and Women's Basketball, Men's and Women's Bowling, Men's and Women's Cross Country, Men's Golf, Men's and Women's Track and Field, Men's Soccer, and Women's Volleyball. Visit the Vikings Athletics website for schedules, reports, and more.
Locations
We're accessible: Public transit-friendly main campus and extension locations. Online classes for wherever you are. Valhalla (main campus); extension sites in New Rochelle, Mount Vernon, Yonkers, Shrub Oak, Mahopac, Ossining, Port Chester and Peekskill (Center for the Digital Arts) and White Plains (Center for the Arts).
Transfer Pathways
Transfer agreements vary by school, details are available online. After successfully completing your studies at Westchester Community College, you can transfer almost anywhere, in-state or out-of-state. NYS residents are also guaranteed admission to a SUNY four-year campus.
Contact Information
Get More Information
Interested in learning more about Westchester Community College. Fill out this form: