ACCUPLACER Study App
Next-Generation ACCUPLACER placement tests more effectively help institutions place students in classes that match their skill level.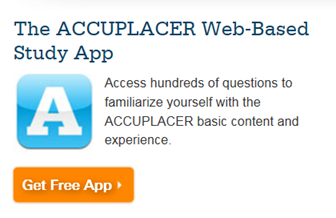 The ACCUPLACER Web-Based Study App features practice tests in Arithmetic, Elementary Algebra, College-Level Math, Reading Comprehension and Sentence Skills. You can access the site from your computer, tablet, or Smartphone (see supported browsers & mobile O/S below) and familiarize yourself with the basic content areas of ACCUPLACER tests. The Study App site includes the following features:
"Learn As You Go" tests provide you with explanation of the correct or incorrect responses
Sample Tests help you experience what a real test may be like on test day
Save your work and process, and resume practicing at a later time
Review your score history to identify areas of strength and weaknesses
6 months of access to the ACCUPLACER Web-Based Study App
Supported Browsers
Safari 6.0.x
Firefox 16.0.x
Internet Explorer 8.0.x or later
Google Chrome 22.x or later
Supported Mobile Operating Systems
IOS version 5.0 or later
Android version 2.3 or later
ACCUPLACER is a suite of tests that determines your knowledge in math, reading and writing as you prepare to enroll in college-level courses. ACCUPLACER is used to identify your strengths and weaknesses in each subject area and to help you improve your skills through interactive online learning tools. The results of the assessment, in conjunction with your academic background, goals and interests, are used by academic advisors and counselors to place you in the appropriate college courses that meet your skill level.