Respiratory Care Program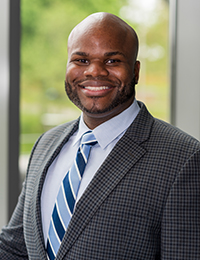 I would like to take this opportunity to welcome you to the Respiratory Care Department. We offer a fully accredited (CoARC) Respiratory Care program whose goal is "To prepare graduates with demonstrated competence in the cognitive (knowledge), psychomotor (skills), and affective (behavior) learning domains of respiratory care practice as performed by the registered respiratory therapist (RRT)".
We have exceeded accreditation thresholds for job placement, employer satisfaction & success on credentialing exams. On many occasions our graduates, besides becoming outstanding clinicians, have continued their education to become Physicians, College Professors, Hospital Administrators, Perfusionists & Nurse Practitioners.
To prepare you for a career in Respiratory Care we have a state-of-the-art laboratory, outstanding clinical affiliates, and exemplary faculty in class, in lab & in our clinical affiliates all with advanced credentials and a plethora of clinical experience. We also have outstanding physician input spearheaded by Board Certified Pulmonologists. Our clinical rotations cover all facets of our profession from premature infants to the geriatric population, from acute care to long-term care.
We foster an atmosphere of support to enhance the learning environment including Peer Tutoring & Faculty Tutoring. I wish you all the best in your academic journey and I encourage you to stop by and meet our faculty in the Health Science Building.
Cordially,
Patrick Barrette, MBA, RRT-ACCS, NPS, RPFT
Department Chair, Respiratory Care
Patrick.Barrette@sunywcc.edu
Frequently Asked Questions - Applicant Inquiry Response
If you are not a WCC student, you need to work directly through the Admissions Office.
If you are currently a WCC student, you need to work directly with the Counseling Office.
There is no deadline for applying as we  do rolling admissions
A GPA of 2.50 & successful scores on the standardized WCC placement test indicating readiness to take College Algebra & College English (or successful completion of the aforementioned) is required.
When eligible you will be placed on the wait list as the upcoming Fall class is already filled.
The length of the wait list is unpredictable as many students sign up & change their minds without withdrawing their names from the list. We update the list every Summer.
Students on the wait list take courses (other than the actual respiratory care courses) required for graduation while they wait thus the wait time is productive towards the degree.
While on the wait list you must take both Anatomy & Physiology classes if you have not already done so
Foreign transcripts must be evaluated by an independent agency in conjunction with our Admissions Office
We have no time limit on courses you have taken in the past
A maximum of 34 credits may be transferred in if the grade is "C" or better AND they are equivalent to our required courses.
Once your number is called the program takes two years to complete
There is no fast track option
It is a traditional daytime program with classes scheduled from Mondays through Fridays
Tuition, fees, estimated costs are available on our website
The program may be completed either full-time or part-time
There are no evening or weekend Respiratory Care classes
There are two 5-week Summer Clinical classes: one after the first year & one after the second year
Upon completing our program, you will receive an A.A.S degree in Respiratory Care. This qualifies you to take the Board Exams administered by the NBRC. Upon successful completion of the RRT Board exam, you can apply for state licensure. Upon receiving your license, you may be employed as a respiratory therapist.
Questions about Board exams: https://www.nbrc.org/crt/Pages/default.aspx
Questions about New York Licensure: http://www.op.nysed.gov/prof/rt/rtlic.htm (also view the Licensure Application form on this web site)
Thank you for your interest.
Cordially,
Respiratory Care
For complete program description, requirements, career path and transfer opportunities:
Helpful Links
Respiratory Therapist Named a "Best Job" by U.S. News
U.S. News Tags Respiratory Therapist as a Hot Job
Respiratory therapist is in the top 25 of the best 100 jobs for 2013 named by U.S. World and News Report.
Tim Myers, MBA, RRT, FAARC, Associate Executive Director of the AARC, was interviewed by the magazine, which annually ranks the best jobs on the short term horizon. Myers said, "We like to call ourselves the Rodney Dangerfield of healthcare." He said it's not because we get no respect, but that "people don't know about respiratory therapists. We're often confused with nurses."
The annual ranking by the magazine lists several health care jobs as good bets for today's workforce.
The Respiratory Care program # 200105 offers an AAS degree and is fully accredited by the Commission on Accreditation for Respiratory Care.
CoARC accredits respiratory therapy education programs in the United States. To achieve this end, it utilizes an outcomes-based process. Programmatic outcomes are performance indicators that reflect the extent to which the educational goals of the program are achieved and by which program effectiveness is documented. For more information on outcomes data, please refer to the following links: