About Us
For more information call 914-606-6644
---
Features & Family Events:
Scholastic Book Fair (twice yearly) Fall & Spring
Footsteps in the Garden (Fundraiser Family Event)  in May
Children's Center Art Exhibition (June through July)
Potluck Dinner (summer)
Infant, Toddler & Preschool Parent Nights
Parent Teacher Conferences
---
Observations from a preschool classroom
Susan Zucker, Director of The Virginia Marx Children's Center
What I Know About Susan…
"I come to school and I say good morning to her…"
"She let my brother do a magic show…"
"She is the director of the school…"
"She treats me nice…"
"She keeps people safe so they do not get hurt…"
"She talks to my Mom…"
"She smiles at me…"
"I like my friends to see her office…"
"She blinks her eyes…"
"Her job is to write letters. She goes to the computer. She goes to work to play. There is nothing else that she could do…"
"She works, she talks, and umm…she draws pictures, she cleans. Her job is to direct people…"
"She plants flowers, watermelon; she works on the computer. She talks to Sara…"
"Every time I come to school, I see Susan; then when I'm outside I can see her in the window…"
"She is in her office all the time…"
"She has silver hair…"
"She is my friend…"
"She visits my classroom…"
"Her hair is not black…"
"She is the boss…"
---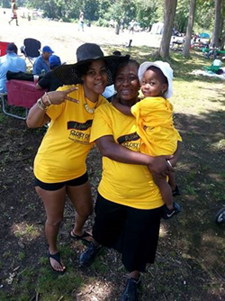 Testimonial
When I enrolled my daughter, Faith, in Virginia Marx Daycare Center, a year and a half ago,I had no idea of the treasure I had found.  The smiling faces and warmhearted staff instantly made me feel at ease, about leaving my precious little cargo on uncharted territory. In no time at all, my daughter and I became familiar with everyone and impressed enough to have made a family-orientated bond with this amazing community. Virginia Marx is a Five Star daycare center working diligently and performing miracles on the front line of educational platforms for our children. It has been an honor and a privilege to be a part of the family,"my family", here at Virginia Marx Daycare Center. Now that it is time for us to move on, I'm an emotional wreck because we don't want to go. I wish we could just stay forever.
I want you all to know how much of a positive impact you guys have made on our family. Thank You Virginia Marx Daycare for the above and beyond quality of care giving, educating, nurturing and just overall fun you have so freely given to Faith.
You will always have a special place in our hearts. We will keep in touch, as we look forward to proudly claiming an alumni status of the best daycare in the world.