News
STEM Research Academy Students Awarded at MACUB Conference for Their Native Garden Research
Two Westchester Community Summer STEM Research academy students presented their research posters in partnership with two Mercy College students at the 53 Annual MACUB Conference held virtually at St. Francis College on Saturday October 31, 2020.
At the MACUB conference, Marisa Rodriquez (WCC) and Bianca Jimenez (Mercy College) were awarded a prize honoring their research presentation. The students worked as a team on project design, background research, data collection (in gardens in both of their backyards), poster creation, and presentation. Their research, titled "Do Native Gardens Mitigate Pollinator Decline?" continues at the Native Plant Center, WCC Valhalla Campus. Rodriguez is pictured at the Native Plant Center gathering data on native gardens and pollinators.
Do Native Gardens Mitigate Pollinator Decline?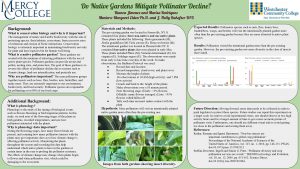 Click to view the research poster at a larger size.
What is conservation biology and why is it important?
The management of nature and Earth's biodiversity with the aim of protecting species, their habitats, ecosystems, from excessive rates of extinction and erosion of biotic interactions. Conservation biology is extremely important in maintaining biodiversity not only for plant and insect species but for human well-being.
What is a native pollinator garden?
These gardens are created with the intension of attracting pollinators with the use of native plant species. Pollinator gardens can provide nectar and pollen, nesting sites, and protection. The goal of the gardens is to reverse the effects of pollinator decline due to reasons such as climate change, land-use intensification, and pesticide use.
Why are pollinators important?
The term pollinators groups together insects such as bees, flies, beetles, ants, butterflies, and many more. They are extremely important to our environment, biodiversity, and food security. Pollinator species are responsible for pollinating over 60% of our food crops.
Expected Results
Pollinators species such as ants, flies, honey bees, bumblebees, wasps, and beetles will visit the intentionally planted garden more often than the pre-existing garden because they are more attracted to native plant species.
Results
Pollinators visited the intentional garden more than the pre-existing garden. However, the pre-existing garden saw more diversity in the class of insects that visited.
Future Direction
Moving forward, more data needs to be collected in order to push legislature to protect these species. Future studies can repeat this experiment on a larger scale.
"We are so excited about this, and huge congratulations goes out to everyone involved, including our faculty leaders, professors Eiden and Bukofser", said Provost Morest, Vice President of Academic Affairs.
The mission of the School of Mathematics, Science, and Engineering is to prepare students for careers across a broad range of science, engineering, mathematics, and technology disciplines; and to activate students' thirst of knowledge in science and mathematics.
To accomplish its mission, the school maintains a nurturing academic atmosphere conducive to excellent in teaching and expects high standards of performance for faculty and students.
About WCC
Westchester Community College provides over 24,000 full-time and part-time students with an award-winning education at one of the lowest tuition rates in New York State. The college offers over 60 degree and certificate programs, including innovative programs in such high-demand fields as cybersecurity, health information technology, respiratory therapy, and digital filmmaking. The college reflects the rich diversity of its region, and was the first SUNY campus to be designated a Hispanic Serving Institution.