Online Learning Student Resources
New and Prospective Online Learning Students
Getting Started
To find specific online classes using the Westchester Community College search feature, visit the MyWCC homepage
Under Registration Information click on Search for Classes


Select the desired term and subject and then click on Additional Search Criteria to expand the menu. Change Mode of Instruction to Online and then click on Search.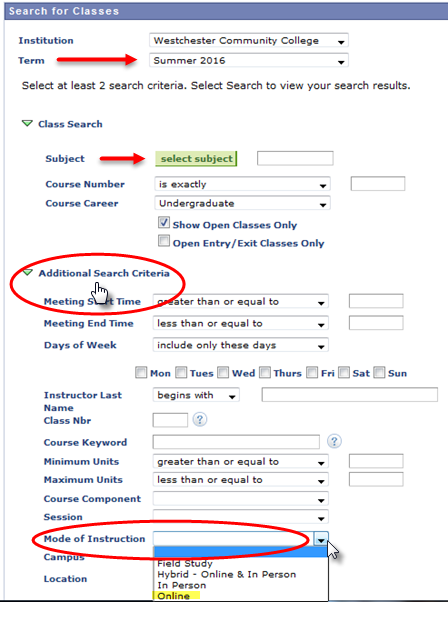 How to Apply
Complete an application: all students, including online and visiting students, must apply to WCC by submitting an Online Application on the Apply page. You will be notified by Admissions when you are accepted. Notification of Admission Status is sent approximately one week after applications are processed.
Admissions Information
Visit the Admissions Information page for information on the admissions process and contact information.
If you are a returning student who attended WCC less than seven years ago, you must contact the Registrar's Office at Registrar@sunywcc.edu to reactivate your records. If you attended WCC more than seven years ago, you must visit the Admissions Office to submit a new application and transcripts.
Tuition & Fees
Visit the Tuitions and Fees page for information on tuition and fees.
How to Register
After receiving a MyWCC ID from the Admissions office, you will need to activate your account. Visit the MyWCC homepage and click on New Students underMyWCC Account Activation.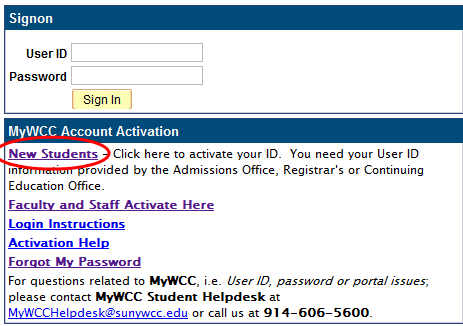 Once your account is activated, view the How to Make Your Schedule Online PDF for instructions on registering for classes.
You can find more information on how to register, make payments and drop and/or swap courses on the Registering for Classes page.
Email
One hour after you have created your MyWCC Account, your WCC Email Address will be activated. View the How to Access Email PDF for detailed instructions on activating and accessing your student email.
This account, hosted by Microsoft Office 365 Pro, offers e-mail, 1 TB of online file storage via OneDrive, Office Online, Office Mobile, and the latest versions of Word, Excel, OneNote, and PowerPoint – all for free with a Westchester Community College student email account.
Important information about online learning
Counseling and Academic Planning
Need to pick courses, check transfer credits, or plan a semester for degree completion?  The counseling office can help answer your academic questions: Counseling page.
Remember to review the Academic Calendar for important deadlines, such as application, registration, add/drop, refunds, and withdrawals.
Course Information
Each division office governs the creation, instructor, and cancellation (if applicable) of their online classes. For more information about the course you should contact the department which offers it. For more information about a specific course or program of study, search the Online Course Catalog.
State Authorization
What is State Authorization
State laws and regulations require out-of-state educational institutions to obtain approval before enrolling students. Requirements to obtain authorization vary greatly from state to state, as do the application processes and the cost to comply. State Authorization is simply the term used to cover all aspects of an institution's process for obtaining approval to operate in an out-of-state location through either online education, practicums, clinicals, or face-to-face instruction.
What does it mean for students?
State regulations, authorization requirements, costs, and application processes vary greatly. Therefore, there course that WCC offers online that are not available in every state or location. Students should check the authorization status of their state of residence and program choice prior to applying to Westchester Community College. Visit the Information for Out-of-State Students page for more information.