Student Involvement
UPCOMING EVENTS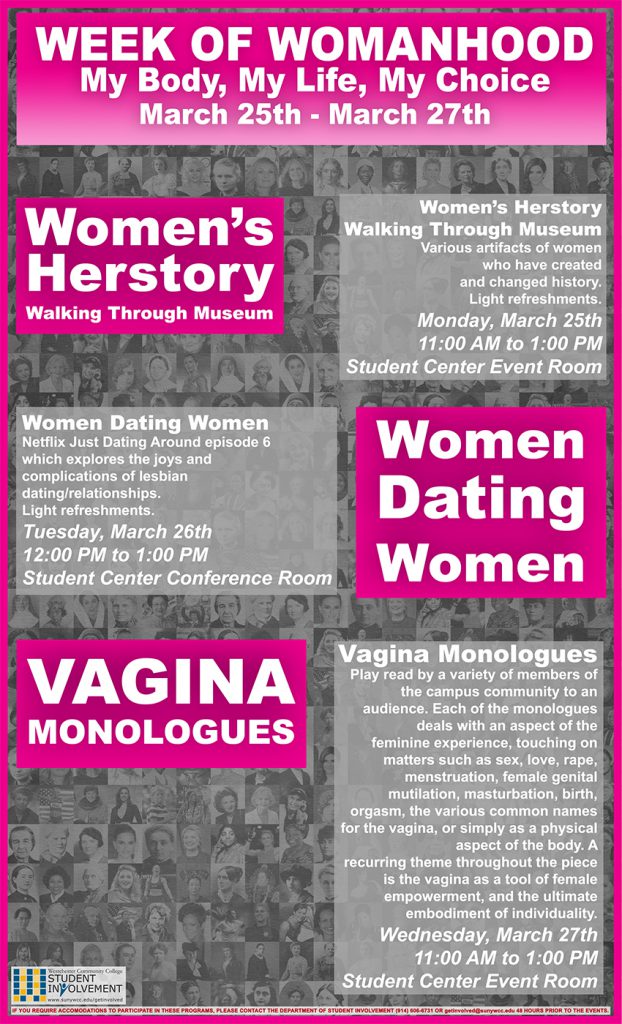 Women's Herstory Walking Through Museum
Various artifacts of women who have created and changed history. Light refreshments.
Monday, March 25 / 11:00 AM to 1:00 PM / Student Center Event Room
Women Dating Women
Netflix Just Dating Around episode 6 which explores the joys and complications of lesbian dating/relationships. Light refreshments.
Tuesday, March 26 / 12:00 PM to 1:00 PM / Student Center Conference Room
Vagina Monologues
Play read by a variety of members of the campus community to an audience. Each of the monologues deals with an aspect of the feminine experience, touching on matters such as sex, love, rape, menstruation, female genital mutilation, masturbation, birth, orgasm, the various common names for the vagina, or simply as a physical aspect of the body. A recurring theme throughout the piece is the vagina as a tool of female empowerment, and the ultimate embodiment of individuality.
Wednesday, March 27 / 11:00 AM to 1:00 PM / Student Center Event Room
Be sure to LIKE and FOLLOW Student Involvement on social media to learn the latest ways to get involved at Westchester Community College!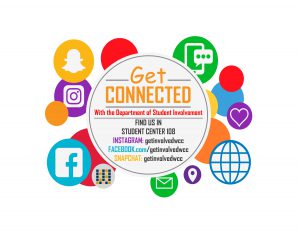 The Department of Student Involvement is committed to providing comprehensive and meaningful educational experiences for students in the co-curriculum. Through the creation of intentional learning environments, the Department of Student Involvement helps students acquire leadership and other transferable skills that can be utilized throughout their academic and professional careers.
Engagement outside of the classroom contributes to a well-rounded college experience. Along with a solid academic record, jobs and four-year colleges want to see how productive you were with your time outside the classroom. Not only that, getting involved is a great way to discover who you are, what you want to be, and meet lifelong friends! With over seventy student clubs/organizations, dozens of on- and off-campus events each semester – there are a variety of options to help you be successful now and in your future! There are opportunities available to every student, regardless of your availability, course schedule, age, interests, etc. Take a chance and get involved.  Discover some of the unique opportunities available at Westchester Community College. A fun, friendly, and always active department, be sure to stop by Student Center, Room 108 and see what opportunities await you at Westchester Community College.
Hours of Operation: Monday – Friday: 8:30am 4:30pm
Email: getinvolved@sunywcc.edu
Phone Number: (914) 606-6731