Newsletter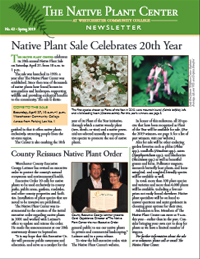 Native Plant Sale Celebrates 20th Year
The native plant center celebrates its 20th annual Native Plant Sale on Saturday, April 27, from 10 a.m. to 1 p.m. The sale was launched in 1999, a year after The Native Plant Center was established. Since then tens of thousands of native plants have found homes in area gardens and landscapes, supporting wildlife and providing ecological benefits to the community. The sale is distinguished in that it offers native plants exclusively, attracting people from the tri-state region. The Center is also marking the 10th year of its Plant of the Year initiative, through which a native woody plant (tree, shrub, or vine) and a native perennial are selected annually as representative species to promote the use of native plants.
Click the thumbnail to the right to view or download the Fall Newsletter
For further information or to volunteer, please call or send an e-mail to The Native Plant Center.
Past Newsletters in PDF format