Students/Alumni – Career Services
Exploring Majors & Careers
The oxford dictionary defines career as "an occupation undertaken for a significant period of a person's life and with opportunities for progress; working permanently in or committed to a particular profession".
Life is about change and making career decisions that are fulfilling. College students often feel overwhelmed by this decision, are sometimes not sure where to begin and what to research and are busy with coursework, assignments and a part time job. But studies show that students who begin early exploring options and learning about their strengths and how they relate to career option, are more likely to finish their educational plan and ultimately begin a successful career.
We invite you to get engaged in the process and actively participate in working on your career plan (with our guidance of course!). Visit Career Services and take advantage of the tools and advice that can help you in your career exploration process.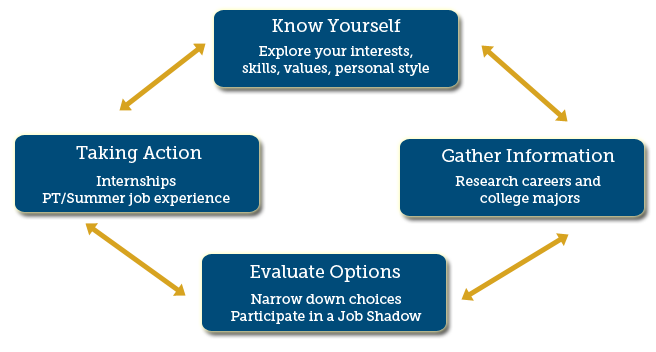 Career planning is the continuous process of:
thinking about your interests, values, skills and preferences
exploring the life, work and learning options available to you
ensuring that your work fits with your personal circumstances
continuously fine-tuning your work and learning plans to help you manage the changes in your life and the world of work.
You can revisit and make use of this process all the way through your career.  Not all students will need to start at the very beginning. 
---
Career Advising
So let's work together and start from the beginning: Get to know yourself first.
What does that mean? In essence, it means learning what you enjoy doing (your interests); what you're good at doing (your skills); what's important to you in a future career (your values); and what makes you, well, you (your personality). 
---
Know Yourself
There are a variety of tools available for career assessment:

Career & Educational Planning System

 Interest Inventory

Personality Style Inventory
A Career Counselor can help you determine which tool is the best place to start, help you understand the results and develop a strategy for the next steps. Call or email Career Services to get the log in information for our assessments.
careerservices@sunywcc.edu 
(914) 606-6760  
STC 2nd fl. 
---
Gather Information  Evaluate Options
Once you feel you know enough about your interests, skills, work values, and personality, start investigating majors and career possibilities that seem to be a good fit. Here are some ideas how:
Learn about Westchester Community College's programs of study by reading the catalog and talking to faculty in programs that sound interesting.
Meet with a counselor in Career Services to learn how programs of study and majors can prepare you for specific careers.
Visit the Career section of the Westchester Community College library to look for books and reference materials
Use our new tool http://whatcanidowiththismajor.com/major/
Learn about careers and get occupational information at www.ONetonline.org the US Department of Labor tool for career exploration.
Read job descriptions in the U.S. Department of Labor's Occupational Outlook Handbook.
For information on the outlook for various occupations in New York State and earnings in the New York Metropolitan area the best site is the U.S. Department of Labor's Career InfoNet
Talk to people who are working in careers that intrigue you. This is called Informational Interviewing. How did they prepare—both academically and experientially—for their jobs? What advice do they have for you? If you don't know anyone, our career counselors can help.
Participate in our LACI Job Shadowing Program and go to work with a professional for a day or two.
---
Take Action/Get Experience
As you progress through your program of study, you should also consider gaining experience in your field of interest. You will want to move from a job just for pay into your first career-oriented position. By the time you graduate and look for a full-time position, employers will expect that you have some experience in the field.
At Westchester Community College, your professional career counselors have expertise in the job search process and years of experience in helping with a job search and the tools to be successful.
It takes more than just earning a college degree to find a meaningful job–you also need experience in your field. You can develop your skills and a great resume by getting experience before you graduate from WCC. Career Services counselors can help you with options for getting that experience.
---

Register on our WCC job Board CCN
www.collegecentral.com/sunywcc
Search jobs/internships posted exclusively for Westchester Community College students and alumni
Build a résumé with Résumé Builder, or upload a résumé file to Resume Central® so it can be searched by employers
Manage your job search history. Report offers/hires
Receive e-mails about programs, services and job-related topics
Gain access to announcements, upcoming events, career advice documents, career advice videos, podcasts, and career articles
Build an online portfolio to support your résumé and demonstrate your best work to employers
---
Apply for the Co-op/internship Program
Interested in "real world" experiences related to your interests and career goals? Then this program is for you! The Cooperative Education/Internship Program at Westchester Community College is an experiential learning program that provides opportunities to gain career related work experiences while completing a degree. The Program bridges the gap between theory and practice and has prepared students for success in their chosen profession since 1994. Contact the program coordinator for more information on this program- 914 606-6760.
Develop a Job Search Toolkit
Develop a resume and cover letter, either on your own or with a career counselor's help, and learn how to tailor each document to the specific needs of specific employers. You'll find the Career & Transfer Center's Resume Guidelines a big help in this regard.
Start researching companies or organizations you might like to work for, in the future.
Attend Westchester Community College's job fairs to gain experience speaking with company recruiters.
Pick up a copy of the Interview Training from the Career & Transfer Center or download here.
Attend an Interviewing Skills workshop and practice interviewing with a career counselor to become comfortable answering and asking employment-related questions. Put the finishing touches on your resume and cover letters.
Use College Central Network, Westchester Community College's official on-line job board, www.collegecentral.com/sunywcc, newspapers, your network of connections and other job boards to find job openings.
Research companies and organizations with whom you have scheduled interviews. Thorough preparation will help you to land the job you want!
Online Resources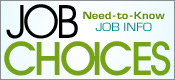 View the online version of this very useful magazine for college students.  Career/ and Job resources, information about companies and career/hiring trends.

The ultimate career, job, and college site, offering comprehensive free expert career and job-hunting advice (through articles, tools, tips, samples, and tutorials), as well as links to all the best job sites. Special sections for teens, college students, and all other job-seekers (by industry, geography, and job-seeker type) make this site a comprehensive resource for all.

The largest job listing & resume database for college students & alumni.

CollegeGrad.com is the #1 entry level job site, with extensive information on careers, resumes, cover letters, interviewing, salary information, employer research and entry level job postings.

CareerZone is a free, career exploration and planning system designed especially for New York State students. The CareerZone website brings together multiple sources of career and labor market information to make career exploration and planning for the future a little easier. The CareerZone system is a product of the New York State Department of Labor and is currently hosted by AT&T.

On-line resource for researching companies and industries, Job search advice and salary information.

AfterCollege™ is a network for college students and recent grads who are looking for entry level jobs, internships, and other opportunities.

The premiere information source for college students, grads and recent graduates who are seeking employment, continuing education and business opportunities.

Provides useful advice on university and college majors for first year college students.

FREE information on health careers, enrichment programs & educational funding for minority and low income students.
NACE Salary Calculator Center
The National Association of Colleges and Employers offers the most accurate compensation data available. Click here to access the NACE Salary Calculator Center.