About SUNY WEOC
Who We Are
The SUNY Westchester Educational Opportunity Center (WEOC) provides tuition-free academic and vocational training, college preparation, and workforce preparation programs and services to adults who meet income and education eligibility guidelines to help them obtain the skills and credentials they need to pursue higher education and/or to secure career-oriented employment.
Funded by the State University of New York, University Center for Academic and Workforce Development, and administered by Westchester Community College, WEOC improves the area's workforce by enhancing the academic preparedness, vocational skill competency levels and work readiness skills of adult learners.
   SUNY Westchester Educational Opportunity Center
26 South Broadway
Yonkers, NY 10701
Admissions Office
914-606-7621
---
Our Vision
The SUNY WEOC is the premiere adult education institution in the county and the center of influence for training and career development.  WEOC provides access to quality education and serves our students and the community with passion, commitment, and pride.
---
What We Do
Whether you want to get certified as a Nurses Assistant, prepare to go to college, become an Emergency Medical Technician, obtain your high school diploma or improve your English language skills, the WEOC has day and evening classes and caring professionals to help you along the way.
Developmental Programs
WEOC's developmental programs are designed to meet students where they are and assist them to reach their desired level of proficiency.  Through these classes, students can progress at their own rate and realize educational gains by improving their basic skills in math, reading, writing, and critical thinking, or they may become proficient in workplace or career level English.  Students who successfully complete our developmental courses will typically enroll in a vocational or more advanced academic programs.  We offer both day and evening English language courses to accommodate working adult schedules.
Academic Programs 
Our academic programs help students to acquire the reading, writing, math and critical thinking skills they need to take and pass the HSE exam, and/or to successfully place into college-level courses upon enrollment.  We offer both day and evening high school equivalency classes to accommodate working adult schedules.
---
Vocational Programs 
WEOC's vocational program offerings are designed to prepare students for careers in healthcare, business, and the knowledge economy. In addition to receiving occupational skills training for specific careers, many of our vocational students also obtain industry or state certifications in their field of study throughtesting. Vocational students also often acquire practical experience in a work setting before completing training, by participating in unpaid clinical rotations, internships or externships.
---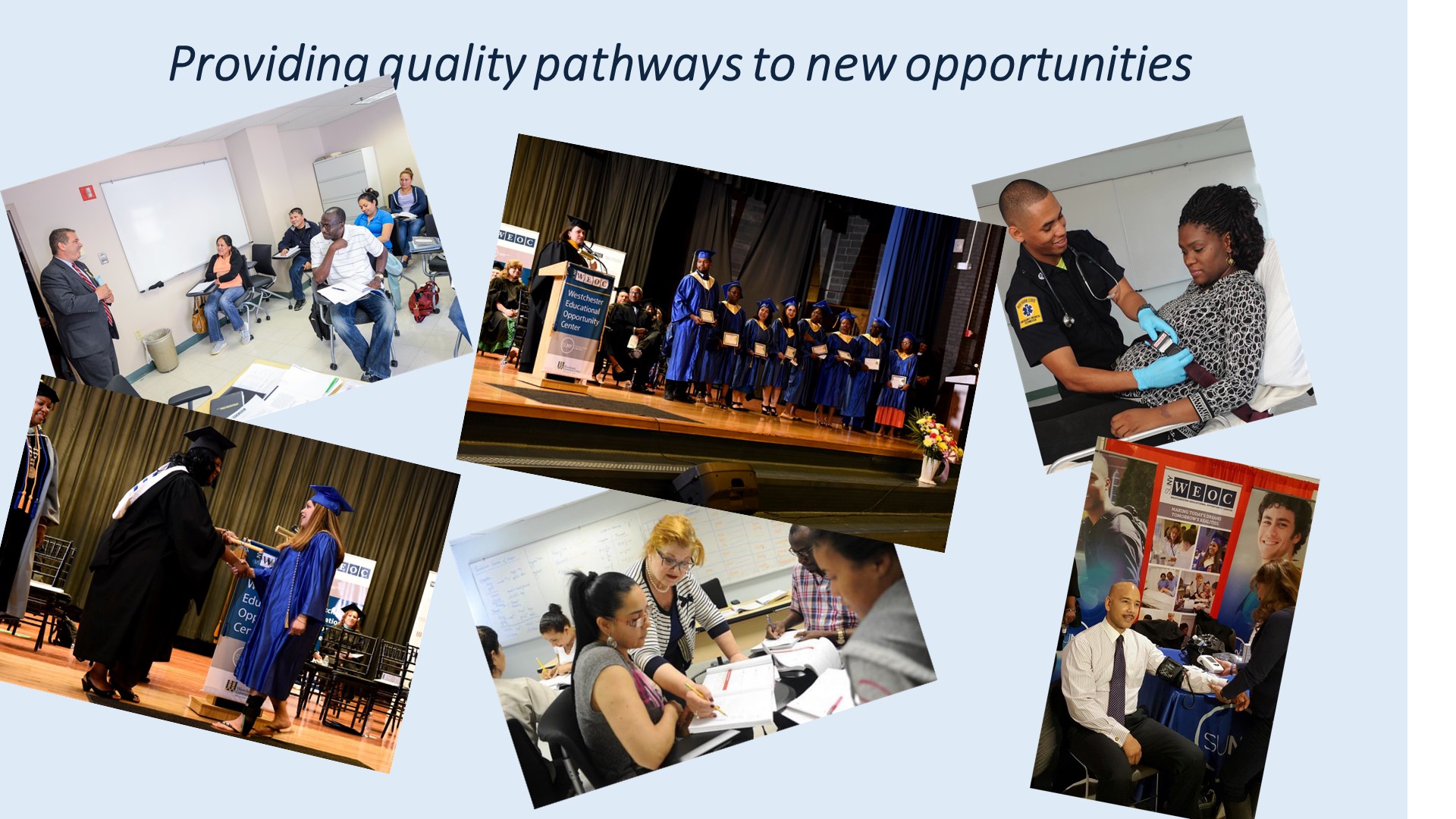 ---