Cultural Events
LET SMART ARTS INTO YOUR HEART …as you connect with dance, theatre, music, and more. This intimate setting provides for the perfect cultural journey, as guests come aboard to enjoy mini-lectures and displays, and depart by hob-nobbing with celeb artists. Where performance entertains, Smart Arts edu-tains. This season discover the Ariel String Quartet (Israel), NS Danza's ConTrastes, The Second City's Best of The Second City, National Players' The Giver, Ballets with a Twist's Cocktail Hour: The Show, Cirque-tacular's Snowkus Pocus, Grande Romanza's Scenes of Love and Passion from Opera, Operetta & Broadway, the Russian String Orchestra's Around the World in 18 Stops, Walnut Street Theatre's Last of the Red Hot Lovers, Russian Seasons Dance in Celebration of World Dance, Magic of Motown, National Players' Hamlet, and the Camerata Chamber Players—all at Westchester Community College!
Smart Arts is just that: first-rate, affordable, and conveniently located with ample free parking and ticket discounts for children, students, and seniors.
---
Ticket Purchase Options:
Mail-in: Make CHECK payable to FSA/Cultural Affairs and mail  to (include  a stamped, self-addressed envelope):  Office of Cultural Affairs, Hankin Academic Arts Building, Westchester Community College, 75 Grasslands Rd, Valhalla NY 10595.
At the door: CASH ONLY – Available 30 minutes prior to show time.
Online: CREDIT CARD - Click on the "Buy Tickets" link below. (Print out and bring emailed purchase confirmation for admission)
---
Tickets for Smart Arts events can now be purchased online. Click here to purchase tickets. Click here to view the seating chart for the Academic Arts Theater.
Click here to download the entire Smart Arts brochure.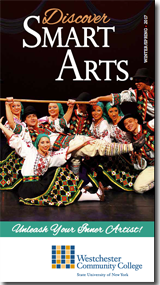 ---
Want to be part of the team that selects college events? Become a member of the Cultural Arts Advisory group. Email paula.rubenstein@sunywcc.edu.