Cultural Events
Let Smart Arts into your heart as you connect with dance, theatre, music, and more.This intimate setting provides for the perfect cultural journey, as guests come aboard to enjoy mini lectures and displays, and depart by hob-nobbing with celeb artists.Where performance entertains, Smart Arts edu-tains.
This season discover National Players' To Kill A Mockingbird, Ladies of Laughter's Funny & Fabulous Tour, Caladh Nua's St. Patrick's Celebration, Cashore Marionettes' Life in Motion, Moscow City Ballet's Swan Lake, Carolyn Dorfman Dance Company, and the Camerata Chamber Players — all at Westchester Community College!
Smart Arts is just that: first-rate, affordable, and conveniently located with ample free parking and ticket discounts for children, students, and seniors.
---

Tickets for Smart Arts events can now be purchased online. Click here to purchase tickets.  Click here to view the seating chart for the Academic Arts Theater.
Click here to download the entire Smart Arts brochure.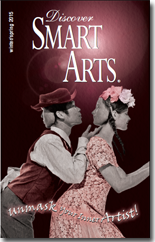 ---
Want to be part of the team that selects college events? Become a member of the Cultural Arts Advisory group. Email paula.rubenstein@sunywcc.edu.