Dr. Belinda S. Miles's Bio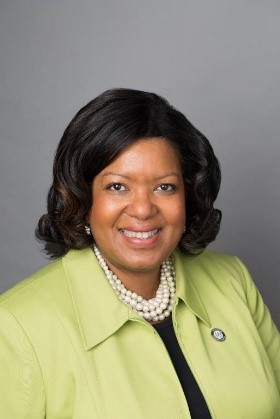 As president of Westchester Community College (WCC), Dr. Belinda S. Miles leads the largest college in Westchester County, New York serving more than 26,000 students annually. Since her arrival in January 2015, Dr. Miles' leadership has resulted in increased graduation rates, the largest graduating class in the institution's 70-year history, and membership in Achieving the Dream–the national reform network of community colleges committed to improving student success. WCC is SUNY's first federally designated Hispanic Serving Institution.
Dr. Miles is a board member at the Business Council of Westchester, the Westchester-Putnam Workforce Investment Board, the Westchester County Association Education Committee, and the Westchester Medical Center Healthcare Transformation Workforce Committee. Dr. Miles also serves on the American Association of Community College's President's Academy Executive Committee (PAEC), the American Association of Colleges and University President's Trust, the National Junior College Athletic Association Presidential Advisory Committee, the Board and faculty at the Higher Education Resource Services (HERS), and faculty at the Lakin Institute for Community College Leadership.
Among the numerous awards and recognitions Dr. Miles has received are:
United Way of Westchester/Putnam "Spirit of Caring"
Delta Sigma Theta Sorority, Inc. Bronx Alumnae Chapter "Community Service"
Port Chester/Rye NAACP "Leadership"
Westchester County Association "Women at the Wheel"
Bronx Community College Men of Color "Leadership and Empowerment"
Dr. Miles provides community service as a member of the Links Incorporated, Westchester (NY) Chapter and is a lifetime member of the National Council of Negro Women Cuyahoga (OH) Section.
Prior to joining Westchester Community College, Dr. Miles served as provost and executive vice president of Access, Learning, and Success at Cuyahoga Community College with oversight of four campuses and multiple extension sites serving 60,000 students in the Greater Cleveland, Ohio area. Her other roles at Cuyahoga included president of the Eastern Campus, dean of Academic Affairs, and assistant dean of Liberal Arts. Additional prior positions include faculty and administrator roles at LaGuardia Community College, Nassau Community College, and Columbia University.
Originally from Queens, New York, Dr. Miles attended public schools including York College City University of New York (CUNY), earning a Bachelor of Arts in Political Science. She attained a Master of Arts in Educational Psychology and a Doctor of Education in Higher Education Organization and Leadership Development from Columbia University Teachers College. She is married to Keith Miles and they have an adult son.