News
Sharing Best Practices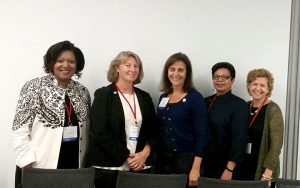 Westchester Community College presented at the COMBASE 2017 Community Colleges: Building the Future to Economic Prosperity conference hosted by Borough of Manhattan Community College, CUNY. COMBASE, (abbreviation for COMMUNITY BASED), is a consortium of many leading community and technical colleges dedicated to sharing innovative solutions to meet the challenges of our nation's rapidly changing economy. Westchester Community College, a leading college of innovation in the lower Hudson Valley, is a member of COMBASE.
Dr. Belinda Miles, President; Dr. Vanessa Morest, Provost and Vice President of Academic Affairs; Teresita B. Wisell, Vice President and Dean, Workforce and Community Education; Dr. Carmen L. Martinez-Lopez, Dean, School of Business and Professional Careers; and Dr. Laurie Miller McNeill, Director, Institutional Advancement, presented Building Capacity of Students and Colleges to Meet 21st Century Opportunities.
The interactive presentation allowed panelists to share insights on how to retool and build capacity to serve students and support economic growth in the 21st century. To shape the discussion, panelists asked participants to reflect on their own institutional practice:
What kind of activities most effectively connect your institution to the business community?
What institutional changes do you need to transform the student experience?
What leadership and cultural attributes are needed to help your institutions to adapt to these changes?
Senior leadership from national and local community colleges, including presidents and chancellors, engaged in this important and timely discussion. "Transforming how we serve students takes collaborative effort and a shared mission. To facilitate student success there has to be a strategic alignment of resources with institutional goals and an investment in the people who serve our students," stated President Miles.
For additional information contact Patrick Hennessey, Director of College Relations at Patrick.hennessey@sunywcc.edu.