Viking News

The Viking News 
The Viking News is the student-run newspaper serving SUNY Westchester Community College. Led by an editorial board, the paper reports on campus happenings, and community events, and reflects student voices. There are opportunities for students to participate as section editors, staff writers, photographers, social media, and layout editors.
Where You Can Find Us:
On-Campus Location: Newsroom (Student Center, Room 286)
Social Media: Instagram @thevikingnews
Read about what's happening at SUNY WCC
The Viking News articles highlight campus life, events, and the world around us. Each article is written by current SUNY WCC Students with the support of professional staff. To read current and past articles please visit our website.
Viking New's website: www.vikingnews.org
The Viking News' Board: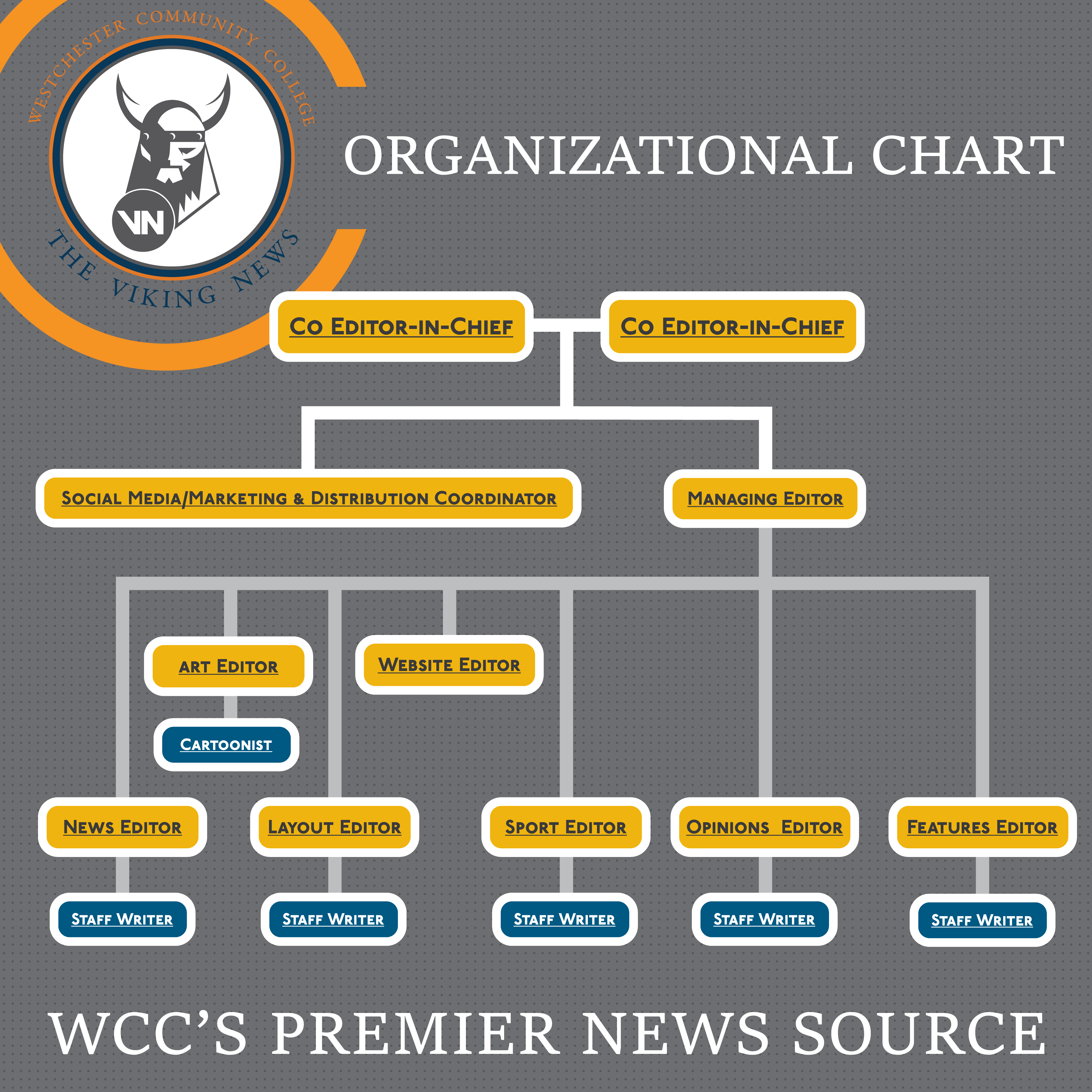 Be Part of Newspaper:
Want your voice heard? Do you have a creative eye? Is holding a leadership role and being a student leader part of your future? You're in the right place! The Viking News is recruiting writers, editors, and artists to be a part of the student-run newspaper!
Requirements: Under the Club & Organization 2020 Policies & Procedures:
In order to be eligible to participate, students must meet the following criteria, unless approved by the Director of Student Involvement:

Remain in both good judicial and academic standing.
Maintain a cumulative GPA of at least 2.0
Be enrolled in at least one (1) credit-bearing course at the college.
Viking News Advisors

Dana Hirsch (she/they), Staff Advisor
Email: dana.hirsch@sunywcc.edu
Rachele Hall (she/her), Staff Advisor
Email: rachele.hall@sunywcc.edu
Joseph Sgammato (he/him), Faculty Advisor
Email: joseph.sgammato@sunywwc.edu
Accommodations
If you require accommodations to participate in any programs, please contact the Department of Student Involvement, at (914) 606-6731 or at Getinvolved@sunywcc.edu