Commit to Change Leadership Development Program
Discover Your Leadership Potential

Make A Positive Change In Society
The Commit to Change Leadership Development Program is an experience that is guaranteed to be like no other offered at Westchester Community College.  As a member of this highly selective program, participants will: (a) learn about and use leadership skills one never knew one possessed; (b) work with peers to create positive social change at Westchester Community College and the community as a whole; (c) bond and become close friends with the members of the cohort; and (d) have the opportunity to apply for and attend the highly prestigious Clinton Global Initiative University.
All Westchester Community College students with an open mind and an eagerness to discover their potential as leader are welcome to participate in Commit to Change. Participants must commit to the full 12 week series. In order to graduate from the program, student must complete all sessions.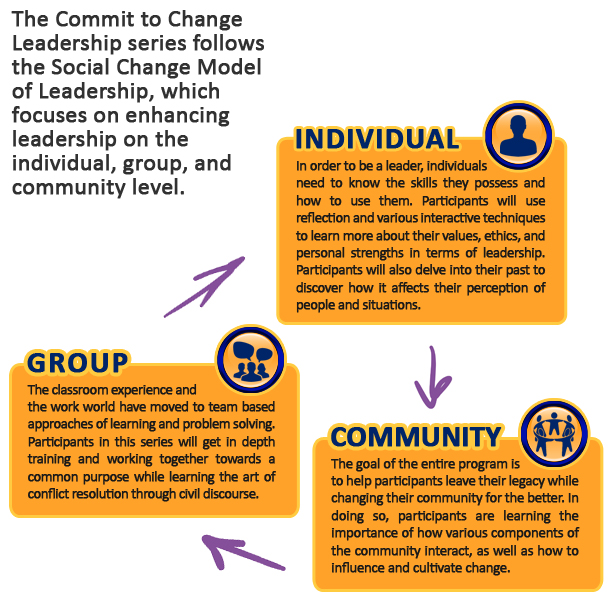 Here is what some of the past members of the Commit to Change program have said about their experiences:
"I think it is an enlightening program; it shows you that change is possible. It guides you so that you can act upon the change you want to see in the world. "
– Adil Rahman, Fall 2013 Cohort
"I believe that Commit to Change is a program that all students should take the risk and try, no matter what age, major, or background they have! Commit to Change is a learning opportunity and a chance for personal growth. This series has allowed me to challenge my way of thinking, open new perspectives, communicate effectively with my peers, and ultimately make an effort to give back to my community at large- one step at a time."
– Jessica Gramajo,  Fall 2013 Cohort
How Do I Apply?
Click on the link below to download the application in Microsoft Word:
Questions?
For more information, or if you have any questions email Tiago Machado at tiago.machado@sunywcc.edu or call the Department of Student Involvement at 914-606-6731.