Food Pantry
Westchester County Food Pantries
| | | | |
| --- | --- | --- | --- |
| City | Associated Agency Name | Physical Site Address | Specific Hours |
| Cortlandt Manor | CHURCH OF THE HOLY SPIRIT | 1969 Crompond Road | One Monday 6:30 pm-8:00 pm and one Wednesday 10:00 am-12:00 pm a month |
| Croton-on-Hudson | CORTLANDT EMERGENCY FOOD BANK | 15-17 Old Post Road South | Saturday 10:00 am-12:00 pm |
| Dobbs Ferry | SACRED HEART CHURCH (DOBBS FERRY) | 18 Bellewood Avenue | Saturday 8:30 am-9:45 am |
| Harrison | HARRISON COMMUNITY SERVICES | 1 Heineman Place | |
| Katonah | COMMUNITY CENTER OF NORTHERN WESTCHESTER | 84 Bedford Road | |
| Mamaroneck | MAMARONECK COMMUNITY ACTION PROGRAM (CAP) | 134 Center Avenue | |
| Mamaroneck | LARCHMONT-MAMARONECK HUNGER TASK FORCE | 134 Center Avenue | Tuesday 7:00 pm- 8:30 pm and Wednesday 9:00 am-10:30 am |
| Mamaroneck | SAINT THOMAS CHURCH | 168 West Boston Post Road | Tuesdays 11:00 am-12:00 pm |
| Mohegan Lake | SAINT MARY'S MOHEGAN LAKE | 1836 East Main Street | Food Pantry: Saturday 9:30 am-11:00 am / Emergency Food: TuesdayFriday 9:00 am-2:00 pm |
| Mount Kisco | BETHEL BAPTIST CHURCH (MOUNT KISCO) | 37 Maple Avenue | Every other Friday 4:00 pm-6:30 pm |
| Mount Kisco | MOUNT KISCO INTERFAITH FOOD PANTRY | 300 East Main Street | Tuesday 5:30 pm-7:00 pm, Wednesday 9:30 am-11:00 am |
| Mount Vernon | ALLEN MEMORIAL CHURCH OF GOD IN CHRIST | 132 Crary Avenue | Food Pantry: 3rd Friday 10:00 am-12:00 pm / Soup Kitchen & Clothing Bank: 3rd Wednesday 6:30 pm |
| Mount Vernon | FIRST REFORMED CHURCH | 135 South 6th Avenue | Food Pantry: 4th Wednesday 10:00 am-12:00 pm / Soup Kitchen: Mondays 5:00 pm-7:00 pm |
| Mount Vernon | FIRST UNITED METHODIST CHURCH (MOUNT VERNON) | 227 East Lincoln Avenue | 2nd and 4th Tuesday 9:30 am-11:00 am (call to confirm) |
| Mount Vernon | GRACE BAPTIST CHURCH | 52 South 6th Avenue | 3rd Wednesday 1:30 pm-4:00 pm |
| Mount Vernon | MOUNT OLIVE CHURCH OF CHRIST FOOD PANTRY | 60-62 Martin Luther King Blvd. East | 2nd Wednesday 10:00 am-1:00 pm |
| Mount Vernon | SACRED HEART CHURCH (MOUNT VERNON) | 115 Sharpe Boulevard South | Seniors or people with disabilities: 1st Thursday 9:30 am-12:00 am / Families: 4th Thursday 9:00 am-11:00 am |
| Mount Vernon | SAINT MARY'S CHURCH (MOUNT VERNON) | 23 South High Street | Friday 4:00 pm-6:00 pm (closed August) |
| Mount Vernon | SAINTS JOHN, PAUL AND CLEMENT CHURCH | 126 South Ninth Avenue | Friday 8:30 am- 10:00 am (closed July) |
| Mount Vernon | TRINITY EPISCOPAL CHURCH (MOUNT VERNON) | 335 South 4th Avenue | Saturday 8:00 am-10:00 am |
| New Rochelle | HOPE COMMUNITY SERVICES | 50 Washington Avenue | Soup Kitchen: Tuesday, Wednesday, Friday and Last 2 Mondays: 2:00 (Doors open for snacks), 5:00 (meal is served) / Food Pantry Registration: Tuesdays 2:00 pm-4:00 pm / Food Pick-up: every other Wednesday 9:00 am-12:00 pm |
| New Rochelle | MASTER'S HELPING HAND | 70 Church Street | 2nd and 4th Friday 10:00 am-1:00 pm |
| New Rochelle | NEW ROCHELLE COMMUNITY ACTION PROGRAM (CAP) | 95 Lincoln Avenue | Food Pantry Hours: Monday-Friday 2:00 pm-4:00 pm / Soup Kitchen Hours: Monday and Thursday 5:00 pm-6:00 pm |
| New Rochelle | SAINT PAUL REFUGE TABERNACLE CHURCH | 58 Plain Avenue | 2nd and 4th Tuesday 5:00 pm-7:00 pm |
| New Rochelle | SALVATION ARMY NEW ROCHELLE CORPS | 22 Church Street | Register: Tuesday and Thursday 11:00 am-3:00 pm |
| New Rochelle | SHILOH BAPTIST CHURCH (NEW ROCHELLE) | 185 Lincoln Avenue | 3rd Saturday 9:00 am-12:00 pm |
| New Rochelle | UNION BAPTIST CHURCH (NEW ROCHELLE) | 438 Main Street | Food Pantry: 2nd and 4th Friday 4:00 pm-6:30 pm / Soup Kitchen: Friday 6:00 pm-7:30 pm |
| New Rochelle | UNITED COMMUNITY CENTER OF WESTCHESTER | 360-362 North Avenue | |
| Ossining | OSSINING FOOD PANTRY | P.O. Box 869 | Thursday 6:30 pm-8:00 pm and Friday 10:00 am-12:00 pm |
| Ossining | OSSINING COMMUNITY ACTION PROGRAM (CAP) | 81 Croton Avenue, 2nd Floor | Last Friday of the month |
| Peekskill | MOUNT LEBANON BAPTIST CHURCH | 648 Harrison Avenue | Friday 10:00 am-12:00 pm |
| Peekskill | SALVATION ARMY PEEKSKILL CORPS | 117 Nelson Avenue | |
| Peekskill | CHOP (CARING FOR THE HOMELESS OF PEEKSKILL) | 200 North Water Street | Saturday 9:30 am-11:00 am |
| Pleasantville | PLEASANTVILLE INTERFAITH EMERGENCY FOOD PANTRY | 70 Bedford Road | Thursday 1:00 pm-2:30 pm and Saturday 9:30 am- 11:00 am |
| Port Chester | DON BOSCO COMMUNITY CENTER | 22 Don Bosco Place | Soup Kitchen: Monday-Friday 11:00 am-2:00 pm / Food Pantry and Open Closet: Tuesday and Saturday 8:30 am-10:30 am |
| Port Chester | PORT CHESTER CARVER CENTER | 400 Westchester Avenue | |
| Port Chester | SALVATION ARMY PORT CHESTER CORPS | 170 North Regent Street | |
| Port Chester | SUMMERFIELD UNITED METHODIST CHURCH | 225 King Street | Saturdays 2:00 pm-4:00 pm, Wednesday for food emergencies only |
| Scarsdale | IMMACULATE HEART OF MARY CHURCH | 8 Carman Road | Monday-Friday 12:00 pm-5:00 pm |
| Tarrytown | COMMUNITY OPPORTUNITY CENTER OF THE TARRYTOWNS | 105 Wildey Street | Call for day and times |
| Tarrytown | NEW HOPE INSTITUTIONAL BAPTIST CHURCH | 80-82 Central Avenue | |
| Tarrytown | SALVATION ARMY TARRYTOWN CORPS | 115 Wildey Street | |
| Tuckahoe | EASTCHESTER COMMUNITY ACTION PROGRAM (CAP) | 142-144 Main Street | |
| White Plains | ALLEN A.M.E. CHURCH | 65 Fisher Avenue | Soup Kitchen: 4th Saturday 3:00 pm-5:00 pm |
| White Plains | ECUMENICAL EMERGENCY FOOD PANTRY OF WHITE PLAINS | 2 Fisher Court | Food Pick-up: Friday 8:00 am-10:30 am |
| White Plains | FIRST SEVENTH DAY ADVENTIST CHURCH | 180 Juniper Hill Road | 3rd Thursday 12:00 pm and 3rd Saturday at sunset |
| White Plains | GREENBURGH/ELMSFORD COMMUNITY ACTION PROGRAM (CAP) | 32 Manhattan Avenue, 2nd Floor | Tuesday-Thursday 10:00 am-4:00 pm |
| White Plains | SALVATION ARMY WHITE PLAINS CORPS | 16 Sterling Avenue | Food Pantry: Every Tuesday |
| White Plains | THOMAS H. SLATER CENTER | 2 Fisher Court | Friday 8:30 am-10:30 am |
| White Plains | WHITE PLAINS COMMUNITY ACTION PROGRAM (CAP) | 70 Ferris Avenue | |
| White Plains | HUDSON VALLEY PET FOOD PANTRY | 12 Ridgeview Avenue | Two Satudays per month 12:00 pm-2:30 pm |
| Yonkers | FIRST ARABIC BAPTIST CHURCH | 98 Waverly Street | Soup Kitchen/Food Pantry: Thursday 2:00 pm-4:30 pm / Homebound Food Delivery: Thursday 4:00 pm-5:30 pm |
| Yonkers | PRESSLEY MEMORIAL FOOD PANTRY AND SOUP KITCHEN | 38 Warburton Avenue | Soup Kitchen: 2nd and 4th Saturdays 12:00 pm-3:00 pm / Food pantry: 4th Saturday 11:00 am- 2:00 pm |
| Yonkers | SAINT ANDREW'S CHURCH | 22 Post Street | 1st and 3rd Monday 10:00 am- 2:00 pm |
| Yonkers | SAINT PETER'S CHURCH | 91 Ludlow Street | Tuesday and Friday 10:00 am-11:00 pm |
| Yonkers | SALVATION ARMY YONKERS CITADEL CORPS | 110 New Main Street | Seniors and Single Adults: Tuesday 10:00 am-1:00 pm / Families: Thursdays 10:00 am-1:00 pm |
| Yonkers | RIVERDALE SEVENTH DAY ADVENTIST CHURCH | 165 Riverdale Avenue | Food Pantry: 2nd and Last Sunday 11:00 am-1:00 pm / Soup Kitchen: Sundays 11:00 am-1:00 pm |
| Yonkers | YONKERS COMMUNITY ACTION PROGRAM (CAP) | 164 Ashburton Avenue | Seniors Food Pick-up: 2nd and 4th Wednesday 9:00 am-11:00 am / Non-Seniors Food Pick-up: 2nd and 4th Friday 9:00 am- 11:00 am / Home Delivery: Last Thursday of month |
| Yonkers | YONKERS SEVENTH DAY ADVENTIST CHURCH | 793 North Broadway | Wedneday 11:30 am-12:30 pm |
| Yonkers | YWCA OF YONKERS | 87 South Broadway | 1st and 3rd Wednesday, 1:00 pm-3:00 pm |
| Yonkers | WESLEY AND FRIENDS FOOD PANTRY | 11 North Broadway | 1st Wednesday 10:00 am-12:00 pm |
| Yonkers | LIVING TRANSFORMATION INTERNATIONAL CENTER | 28 Lawrence Street | Monday-Thursday 10:00 am-12:00 pm |
| Yorktown Heights | FIRST PRESBYTERIAN CHURCH (YORKTOWN) | 2880 Crompond Road | 2nd and 4th Saturday 9:00 am-11:00 am |
| Yorktown Heights | YORKTOWN COMMUNITY HELP | 1974 Commerce Street | 3rd Wednesday 5:30 pm-7:00 pm |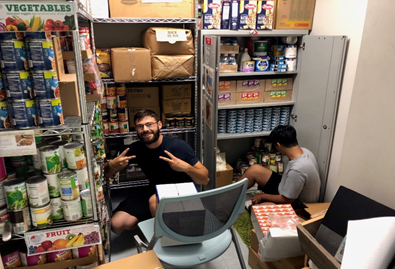 About the Food Pantry
The Westchester Community College Food Pantry is coordinated through the Office of Student Support Services. It is made possible by the generosity of Westchester Community College students, faculty, staff, community members and donors.
Mission
In addition to helping alleviate hunger within our student community, the Westchester Community College Food Pantry provides emergency food and referrals primarily to students in times of need helping them to stay in school and meet their educational goals.
Support the Food Pantry
Food donations
Monetary donations
Volunteers
Contact Us
914-606-6122
WCC Food Pantry Location: Student Center, 206
Email:studentsupportservices@sunywcc.edu
Services
The Westchester Community College Food Pantry will provide anyone in need with a few days of emergency meals once a week. For questions, contact
studentsupportservices@sunywcc.edu
or (914) 606-6122.
Anyone needing longer-term food assistance will also be given contact information for pantries near campus and/or information about long-term food assistance programs.
Food pantry volunteers may also refer pantry recipients to campus or community programs and agencies that can assist with other needs they may have. The Westchester Community College Food Pantry cannot guarantee the quality of or qualification for any outside programs or services.
Food Pantry Hours

Monday to Friday
10:00 a.m. to 3:00 p.m.

For emergencies or assistance while the pantry is closed, please visit the Office of Student Support Services in STC 013 or call 914-606-6122, and a staff member will be happy to assist.
Items Needed In Pantry
Any non-perishable items:
Variety of canned fruits, vegetables, soups, pasta meals, meats (canned chicken, spam, ham), fish (canned tuna and salmon), tomato sauces/spaghetti sauces, and beans.
Vienna sausages (with pull top lids)
Single serving Chef-Boy-R-Dee items, ravioli/spaghetti-os, ramen noodles, mac and cheese.
Single serving soups (with pull tab openings)
Coffee, Oatmeal/individually packaged oatmeal, cereal, breakfast bars, power bars, granola bars, snack bars, pop tarts, individually packaged chips/pretzels/popcorn/Goldfish, juice/juice boxes, packaged nuts, trail mix, peanut butter, jelly, applesauce, and crackers.
Powdered milk/ Shelf stable milk and alternatives (rice, soy, etc.), pancake mix, pancake syrup, muffin mix, cookie mix, sugar, cornmeal, rice, dry beans, pasta, instant boxed mash potatoes, instant boxed grits, oil, shortening, baking soda and powder.
Vanilla extract and seasonings of all kinds are always welcomed. Garlic, pepper, salt, chili powder, etc. can make a meal much more palatable.
Items to avoid
Items that can be easily broken in transit.
Items that need can openers or special equipment (pull top lids for veggies, meat or fruit–are preferred).
Please visit or contact the Office of Student Support Services for more information on donating to our Food Pantry.
Student Support Services
STC 013
914-606-6122
Special Thanks