PepsiCo Foundation Uplift Scholarship
PepsiCo Foundation and WCC Partnership:
Education Is What I Like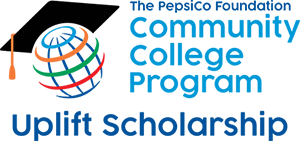 The PepsiCo Foundation has partnered with Westchester Community College to support Black and Hispanic students pursuing a degree or short-term workforce training in IT fields. This exciting scholarship opportunity is available at only a few community colleges in the U.S.
The Challenge:
Black and Hispanic students are 50% less likely to earn a bachelor's degree in a STEM field than are White students.
Black and Hispanic representation in STEM fields is 50% lower than the overall rates of US working professionals.
The Opportunity:
PepsiCo Foundation is supporting two scholarship programs to address minority underrepresentation in high-demand fields.
The Uplift Scholarship targets students of color pursuing IT career track training.
Scholars will receive additional support services from faculty coaches and navigators, as well as have access to student support services and emergency funds as needed.
---
40 scholarships of up to $2,500 each available annually in each of two program tracks:
Looking to earn an Associates Degree?
Majors:
Cybersecurity
Computer Information Systems
Interactive Technologies
Requirements
Must be registered full time
12 – 15 credits per semester
Incoming students – 85+ average
Current students – 3.0+ GPA
DEADLINE TO APPLY:
 June 1st

Scholarships will be awarded for a full year beginning Fall Session
For more information:
Looking for Short-Term Workforce, Professional Credentials?
6 – 12 week programs
leading to industry certifications
Program Tracks:
IT Help Desk Technician
Data Scientist; Data Analyst
Software Developer
And More!
Limited scholarships available
Awarded on a rolling basis
Short term workforce program listings
For more information:
Student Testimonials