College Scheduler
Selecting Your SUNY WCC Course Schedule Is Now Easier Than Ever!
SUNY WCC has just introduced College Scheduler, an easy and quick way to develop a course schedule and register for your classes that meet your needs and preferences.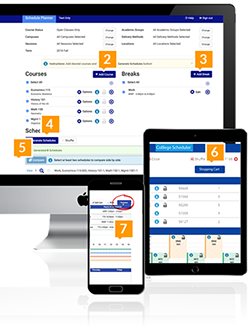 1. Launch College Scheduler
Login Here
2. Add Courses:
For your selected term
3. Manage Breaks:
To block off times for no classes
4. Generate Schedules:
All possible schedules
5. View Schedule:
Each of your class schedule options
6. Send to Shopping Cart
: From the "View" screen, click the "Shopping Cart" button to begin registration
7. Register:
Finalize your schedule and complete course registration
Registration for Winter and Spring 2023 classes begins Monday, October 31.
How to Videos
Quick overview for using College Scheduler
Adding a break in College Scheduler
Searching for and Adding Courses in College Scheduler
Generating schedules options
Using locks to select specific sections for one or more courses
Favoriting a schedule so you can find it again easily
Sending your schedule to your Shopping Cart
Editing the Shopping Cart
Registering for courses in your Shopping Cart
Dropping courses you already added and adding new courses