Paralegal Studies
The Paralegal Program provides graduates the knowledge, skills, and abilities to perform competently as paralegals in law-related occupations under the supervision of an attorney. Paralegals work in all phases of practice except providing legal advice to clients, appearing in court, and setting fees. Paralegals may not provide legal services directly to the public, except as permitted by law.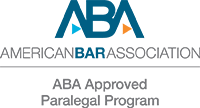 Get Ready to Apply
To learn about your next steps for the Paralegal program, start your application:
Message from the Curriculum Chair
Welcome to the Paralegal Studies Curriculum at Westchester Community College.  You have made an important career choice and we look forward to working with you to achieve your goals.  At Westchester Community College you will be part of a large campus community with all the advantages that provides in facilities and resources while enjoying the personal, individual attention from faculty that our students always tell us distinguishes their experience here.
In Fall 2016, the Paralegal Studies entered its twenty-first year as a curriculum at Westchester Community College.  In spring 2013, our American Bar Association approval was renewed for another seven years ensuring our students the quality that ABA demands.  Our dedicated seminar room in the library along with the legal studies alcove which houses a substantial collection of law books fosters a sense of community and scholarly research among our students.
At Westchester Community College we believe strongly in the value of co-curricular activities as a way of deepening classroom assignments.  The student-run Law Society schedules two educational (and fun) field trips—one to the highest court of New York, the Court of Appeals, in Albany and one to the United States Supreme Court in Washington, D.C.  A special evening is also planned to a Broadway or Off Broadway performance of a law-related play.
The U.S. Department of Labor predicts that legal occupations will grow faster than the average for all occupations in the economy through 2018. Employment opportunities exist in government agencies and court systems, law offices, banks, insurance and title companies, as well as in the contract or legal departments of various other government and business enterprises. Your own ambition and enthusiasm will lead you in exciting directions in law.
The program's emphasis on computer skills in all aspects of legal work has made our graduates competitive in the job market.  Every student has access to Westlaw, a premier database widely used in law offices. Our internship course provides hands-on paralegal training in a local law firm or legal agency and on occasion an employment option in addition to our fine placement service that is committed to helping you enter or re-enter the workforce.  Last year, we added a new online version of our Introduction to Paralegal Studies course and additional online courses are forthcoming.
To navigate the curriculum, whether an associate's degree or a certificate, the program has an up to date web site, www.sunywcc.edu/paralegal  the gateway to a wealth of resources about the program. One-on-one counseling is offered from the first phone call to graduation. Please plan to come in and talk to me about your schedules, your interests, concerns, or requirements for graduation.
Chair: Cynthia Haycock, Esq.
Telephone: 914-606-6972
Email: cynthia.haycock@sunywcc.edu
Information about the chair
Contact Information
Coming Soon

Loading...

Program Map

Program Learning Outcome
More Information
About Westchester Community College
Financial Aid
Nearly 33% of Westchester Community College students receive some form of financial aid. Financial Aid is available to students who qualify. In addition, the Westchester Community College Foundation offers $1.6 million in scholarships annually.
Sports
The Westchester Community College Athletic Department sponsors thirteen different intercollegiate athletic teams in various sports. The roster of sports offered includes Men's Baseball, Women's Softball, Men's and Women's Basketball, Men's and Women's Bowling, Men's and Women's Cross Country, Men's Golf, Men's and Women's Track and Field, Men's Soccer, and Women's Volleyball. Visit the Vikings Athletics website for schedules, reports, and more.
Locations
We're accessible: Public transit-friendly main campus and extension locations. Online classes for wherever you are. Valhalla (main campus); extension sites in New Rochelle, Mount Vernon, Yonkers, Shrub Oak, Mahopac, Ossining, Port Chester and Peekskill (Center for the Digital Arts) and White Plains (Center for the Arts).
Some jobs may require transfer and completion of four-year degree or more education. Salary info retrieved from:
https://sunywcc.emsicc.com
Get More Information
Interested in learning more about Westchester Community College. Fill out this form: