Liberal Arts and Sciences: Childhood Education, Art Concentration A.S.
Do you dream of teaching in an elementary school? This program provides a foundation in the field of education as well as a background in liberal arts. With a focus on social justice, you will examine practices that best support children's emotional, social and intellectual needs. This program will prepare you to transfer to a baccalaureate program and start a career as an elementary teacher in grades 1
through 6.
Get Ready to Apply
To learn about your next steps for the Childhood Education program, start your application:
Message from the Curriculum Chair
The Liberal Arts and Sciences: Childhood Education A.A. degree prepares students to become thoughtful and effective elementary school teachers in grades 1 through 6. Students will focus on understanding children through their strengths and interests in order to plan meaningful and relevant curriculum. They will consider the importance of collaborating and partnering with children and families to ensure that the classroom is fully engaging and inclusive. With a strong emphasis on the observation of children, students examine practices that best support children's emotional, social, physical and intellectual needs. Students will develop a personal philosophy of education that will incorporate the work of important theorists and researchers, as well as their own experiences. Seminar style classes ensure that all students in the program have the opportunity to participate thoughtfully in their college experience.
Students in the Liberal Arts and Sciences: Childhood Education A.A. program will receive a solid foundation in the liberal arts, which is the basis for continuing in the field of Education. Students are required to select a concentration in either English or History. The program is based on the prescribed course of study universally recognized across the State University of New York to enable transfer to classroom teaching programs at baccalaureate campuses with New York State teacher certification authority. The curriculum is flexible, with classes offered during the day and evening.
Information about the chair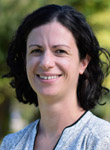 Contact Information
Phone: 914-606-6012
Office location: Classroom Bldg – 32
Email: Diana.Berman@sunywcc.edu
Title(s): Curriculum Chair: Early Childhood and LAS: Childhood Education Education (Teacher Education Transfer)
Department/Division: Education
Bio: Diana Berman is the Curriculum Chair of Early Childhood and LAS: Childhood Education (Teacher Education Transfer) within the School of Business and Professional Careers. She earned a MS in Early Childhood and Childhood Education at Sarah Lawrence College and has taught children from infancy through elementary school. Diana teaches courses across the Early Childhood and Childhood Education curricula. She is an active member in the local Education community and serves as a mentor to Education students.
Loading...
Program Requirements
Program Map
Program Learning Outcome
More Information
About Westchester Community College
Financial Aid
Nearly 33% of Westchester Community College students receive some form of financial aid. Financial Aid is available to students who qualify. In addition, the Westchester Community College Foundation offers $1.6 million in scholarships annually.
Sports
The Westchester Community College Athletic Department sponsors thirteen different intercollegiate athletic teams in various sports. The roster of sports offered includes Men's Baseball, Women's Softball, Men's and Women's Basketball, Men's and Women's Bowling, Men's and Women's Cross Country, Men's Golf, Men's and Women's Track and Field, Men's Soccer, and Women's Volleyball. Visit the Vikings Athletics website for schedules, reports, and more.
Locations
We're accessible: Public transit-friendly main campus and extension locations. Online classes for wherever you are. Valhalla (main campus); extension sites in New Rochelle, Mount Vernon, Yonkers, Shrub Oak, Mahopac, Ossining, Port Chester and Peekskill (Center for the Digital Arts) and White Plains (Center for the Arts).
Transfer Pathways
Lehman College
Mercy College
Pace University
Transfer agreements vary by school, details are available online. After successfully completing your studies at Westchester Community College, you can transfer almost anywhere, in-state or out-of-state. NYS residents are also guaranteed admission to a SUNY four-year campus.
Contact Information
School: Business and Professional Careers
Academic Dept: Education
HEGIS: 5649
Curriculum Chair: Prof. Diana Berman
Telephone: 914-606-6012
Email: diana.berman@sunywcc.edu
Get More Information
Interested in learning more about Westchester Community College. Fill out this form: