Cybersecurity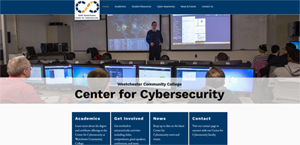 Cybercrime is among the most urgent threats to U.S. national and economic security, and they are increasing in scale, sophistication, and frequency. What does this mean to you, to your business, to your future?
A degree or certificate in Cybersecurity will help you acquire a unique skill set in the Information Technology field. You have the chance to become a well-rounded professional by incorporating knowledge from all of the different areas of IT, including desktop support, networking, programming, the web, and of course, security. Our program is unique in the area. Here, you will be able to acquire Certifications, Internships opportunities, Cyber-Competition and other applied learning opportunities combined with hands-on approach classes that mimic what companies require you to know in order to hire you.
Currently, news media report daily events involving Cybersecurity, underscoring that cyber threats are becoming more commonplace and widespread than they were just a few short years ago. Data breaches affect all types of companies, from commerce and banks to IT companies, and even the government. The problems in the security field are only growing, indicating an immediate need for our well-trained graduates in a wide variety of companies.
See information below for Cyber Security Program and Certification.
You can also visit our Center for Cyber Security website here.
John Watkins
---
Memberships
Conferences
NICE, WICYS, HOPE, 3CS,
Cybersecurity AAS
The Cybersecurity major provides a strong foundation in Computer Technology security area. It covers the functions of hardware, operating systems, databases, and networks. It is designed to bring you from beginner classes to advance topics in security such as Computer Forensics, Network Security and Ethical Hacking.
This program prepares the student for employment in entry-level positions in Information Technology departments, information assurance, security firms, and digital forensics.
The curriculum is designed for both the student who intends to seek full-time employment after graduation and the student who wishes to make a career change/enhancement into Information Assurance, Information Systems or Information Technology programs at a four-year college.
Curriculum Chair: Prof. John Watkins
Office: CLA-44
Telephone: 914-606-8519
Email: john.watkins@sunywcc.edu
Cybersecurity Certificate
The Cybersecurity certificate provides students with a firm foundation in the basic principles of business security. It is recommended for individuals with prior computer experience, and designed for students who need to enhance their job skills. The courses can also be applied to the A.A.S. degree in Cybersecurity. Graduates of this certificate can expect opportunities to use their skills in private industry, government, law enforcement, the military, health services and academia.
Curriculum Chair: Prof. John Watkins
Office: CLA-44
Telephone: 914-606-8519
Email: john.watkins@sunywcc.edu