Accounting and Finance A.S.
The Accounting A.S. program provides seamless transfer opportunities to local colleges after which graduates find jobs in accounting firms, corporations, banks and small businesses. Many become Certified Public Accountants. Students receive the training needed to succeed in bachelor's degree programs and in the meantime to work in entry-level positions and internships. Courses in accounting and business are combined with practical studies in federal income taxation, computerized accounting and more.
Get Ready to Apply
To learn about your next steps for the Accounting program, start your application:
Information about the chair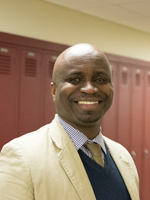 Contact Information
Phone: (914) 606-6791
Office location:  Class Room Building / Rm #40
Email: franklin.asante@sunywcc.edu
Title(s): Full-Time Faculty
Department/Division: Business and Professional Careers/Accounting
Degree Information:
MS Taxation, Long Island University-Brooklyn Campus:
BBA-Accounting, Baruch College-CUNY
AAS – Borough of Manhattan College (BMCC-CUNY)
Courses Taught:
Financial Accounting
Managerial/Cost Accounting
Individual Taxation
Computerized Accounting W/ QuickBooks
Intermediate Accounting
Institution Service or Academic Service: 
Accounting Club Co-Advisor – 2019
Accounting Tutorial Supervisor – 2019
Westchester Community College Foundation Scholarship Committee Member – Spring 2018 to Present
Teachers of Accounting at Two Year Colleges – Member since 2018
Career Opportunities in the Accounting Profession (COAP) – Board Member and Presenter
Franklin Asante holds Master's degree in Taxation from Long Island University (Brooklyn Campus), a BBA in Accounting from Baruch College – CUNY, and is active CPA licensed to practice tax and accounting in New York State.
Franklin Joined KMPG after completing his Bachelor's degree 2002 as an Associate of the Assurance Group and has since worked with several mid to small size public accounting firms including ERE LLP now part of MBAF, Amex Tax & Business Services (GGK), now part of RSM Mcgladry, LH Frishkoff & Company LLP in the New York City area as Staff Auditor, Tax Accountant, Senior Tax Accountant and Manager of Tax Accounting. He also worked in non-public accounting, serving as Manager of Tax Accounting for David Yurman, a luxury Jewelry company in New York City from September 2008 until April 2016, where he oversaw all corporate tax activities including indirect taxes (sales, property and HST/PST) as well as coordinating and reviewing all corporate tax filings with outside accountants for both U.S. and Canada operations. Handled all indirect tax audits with States Tax Agencies. Currently, in addition to his full-time time duties at Westchester Community College , Franklin serves as Director of Tax and Accounting for F K Accountants and Advisors, LLC (a company he founded), providing tax and accounting services to small businesses in and around Bronx and Westchester County areas. He helps clients streamline their accounting, bookkeeping, and payroll activities. He provides compilation and write-up services as well.
Franklin  has also served as an Adjunct Lecturer at the Borough of Manhattan College (BMCC)-CUNY, where he has taught Accounting and Tax classes since Spring 2007. Some of the classes include Accounting principles, Cost Accounting and Individual Taxation. Franklin has a passion for teaching and considers it to be a calling.
Franklin Asante is a member of several professional associations including the American Institute of Certified Public Accountants (AICPA).
Loading...
Program Requirements
Program Map
Program Learning Outcome
More Information
About Westchester Community College
Financial Aid
Nearly 33% of Westchester Community College students receive some form of financial aid. Financial Aid is available to students who qualify. In addition, the Westchester Community College Foundation offers $1.6 million in scholarships annually.
Sports
The Westchester Community College Athletic Department sponsors thirteen different intercollegiate athletic teams in various sports. The roster of sports offered includes Men's Baseball, Women's Softball, Men's and Women's Basketball, Men's and Women's Bowling, Men's and Women's Cross Country, Men's Golf, Men's and Women's Track and Field, Men's Soccer, and Women's Volleyball. Visit the Vikings Athletics website for schedules, reports, and more.
Locations
We're accessible: Public transit-friendly main campus and extension locations. Online classes for wherever you are. Valhalla (main campus); extension sites in New Rochelle, Mount Vernon, Yonkers, Shrub Oak, Mahopac, Ossining, Port Chester and Peekskill (Center for the Digital Arts) and White Plains (Center for the Arts).
Transfer Pathways
"2+2+1" option for Masters' degrees at Delaware State University.
"2+2+1" option for Masters' degrees at Excelsior College.
Transfer agreements vary by school, details are available online. After successfully completing your studies at Westchester Community College, you can transfer almost anywhere, in-state or out-of-state. NYS residents are also guaranteed admission to a SUNY four-year campus.
Contact Information
Curriculum Chair: Professor Franklin Asante
Telephone: 914-606-6791
Email: franklin.asante@sunywcc.edu
Get More Information
Interested in learning more about Westchester Community College. Fill out this form: