Veterinary Technology
Veterinary technology is the art and science of using an understanding of basic animal science, biological testing, and animal behavior to assist the veterinarian in the care of animals. The program prepares graduates to sit for the Veterinary Technician National Exam (VTNE), and seek employment in animal/veterinary-related fields.
Get Ready to Apply
To learn about your next steps for the Veterinary technology program, start your application:
Message from the Curriculum Chair
Information about the chair
Contact Information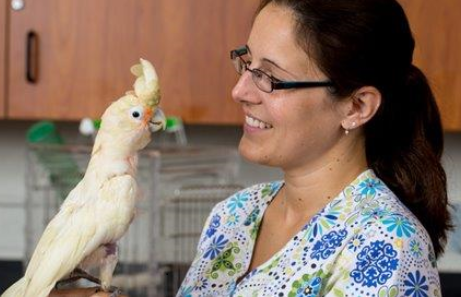 Phone: 914-606-8599
Office location: Health Science Building / Rm 16
Email: VetTech@sunywcc.edu; jg22@sunywcc.edu
Title: Department Chair, Assistant Professor
Department/Division: Veterinary Technology

Degree Information:
Doctor of Philosophy, Psychology: Animal Learning and Behavior, Kansas State University, 2012
Master of Science, Psychology: Animal Learning and Behavior, Kansas State University, 2007
Bachelor of Art, Psychology, University of Southern Maine, 2003
Associates in Applied Science, Veterinary Technology, Vermont Technical College, 2000
Courses Taught
:
Introduction to Veterinary Technology
Small Animal Nursing
Large Animal Nursing (coteach)
Veterinary Office Practices
Surgical and Anesthetic Procedures for Veterinary Technicians
Radiography for Veterinary Technicians
Publications and Presentations: Dissertation research: http://derussischedwerghamster.nl/INVESTIGATION%20OF%20TEMPORAL%20DISCOUNTING%20IN%20DWARF%20HAMSTERS.pdf
Institution Service or Academic Service: Coordinated national accreditation with the American Veterinary Medical Association (AVMA) Committee on Veterinary Technician Education and Activities (CVTEA) for the Veterinary Technology Program in March, 2014
Loading...
Class/Program Requirements
Program Learning Outcome
More Information
About Westchester Community College
Financial Aid
Nearly 33% of Westchester Community College students receive some form of financial aid. Financial Aid is available to students who qualify. In addition, the Westchester Community College Foundation offers $1.6 million in scholarships annually.
Sports
The Westchester Community College Athletic Department sponsors thirteen different intercollegiate athletic teams in various sports. The roster of sports offered includes Men's Baseball, Women's Softball, Men's and Women's Basketball, Men's and Women's Bowling, Men's and Women's Cross Country, Men's Golf, Men's and Women's Track and Field, Men's Soccer, and Women's Volleyball. Visit the Vikings Athletics website for schedules, reports, and more.
Locations
We're accessible: Public transit-friendly main campus and extension locations. Online classes for wherever you are. Valhalla (main campus); extension sites in New Rochelle, Mount Vernon, Yonkers, Shrub Oak, Mahopac, Ossining, Port Chester and Peekskill (Center for the Digital Arts) and White Plains (Center for the Arts).
For more complete career information visit
Career Coach
. Some jobs may require transfer and completion of four-year degree or more. Salary info retrieved from Career Coach.