Study Abroad Program – Cambridge University
Application Forms
Study Abroad Application PDF
Teacher Reference Form PDF
About the Study Abroad Program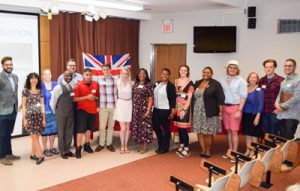 One of the most remarkable opportunities in the Honors Program is study abroad at Cambridge University in England as part of Cambridge University's International Summer Schools. Westchester Community College is one of only three community colleges in the United States to participate in this program.
Candidates are selected in a competitive process for one of the three Honors summer courses: Cambridge Studies in Literature-Honors, Cambridge Studies in History-Honors or Cambridge Studies in Science-Honors. Each course offers 3 Westchester Community College credits and an official Certificate of Completion from Cambridge University. The Westchester Community College Foundation provides partial Cambridge scholarships to eligible candidates.
Students meet with their mentor prior to departure to outline their program of study at Cambridge. In addition to a general course orientation, students attend individual pre-departure planning sessions with their professors to review the reading lists supplied by Cambridge instructors and discuss writing projects.
In July, students spend two weeks at Cambridge University. They reside "in college" (that is, on the campus of one of the Cambridge University colleges) and are required to participate in two seminars a day (1 ½ hours each) taught by Cambridge faculty. The Cambridge University faculty keep a meticulous record of students' attendance, but do not evaluate them. While students are at Cambridge, they continue meeting regularly with their Westchester Community College mentor (in-person or online) to address questions regarding the program, reflect on their cultural experience, and review their writing projects. The weekend and evenings are free, so students are able to travel to London and explore areas around Cambridge.
Upon return, students present the completed WCC course assignments to their mentor, and their grade for the course is based on this portfolio.
This is a truly unique opportunity for students to study at one of the world's oldest and most prestigious universities. This kind of accomplishment is bound to impress review committees at the four-year colleges well as prospective employers. Students become exposed to the British cultural heritage as well as, through informal daily interaction with classmates, to cultures of many different countries in the world. Special events that are part of the Cambridge Summer School experience—evening talks, concerts, readings, social activities, trips, visits to theaters—are as enriching as the courses themselves. Since the seminars are conducted on a very high level, with faculty drawn from the various Cambridge colleges, the material challenges students with rigors of upper-level courses and genuinely prepares them for their future academic career.