News
2018 International Voices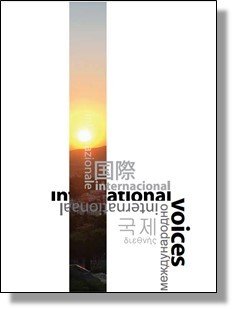 The 2018 edition of International Voices has been delivered to campus and has been distributed to various locations around campus. As in years past, please email  Kent.Trickel@sunywcc.edu if you would like to special order copies for display in your area or for distribution in your classes. Congratulations to all of the wonderful students who contributed to this year's issue. We really do have some amazing talent at Westchester Community College!
Click here to view or download in PDF format
About International Voices
International Voices is an award winning annual publication of Westchester Community College students. The creative works showcased here represent some of the diverse experiences and perspectives of the Westchester Community College community. This diversity and inclusive spirit are at the core of the College mission, stemming from the belief that education should be accessible to all and that improving education levels brings benefits, both tangible and intangible, to the community at large.
Contact Information
Kent Trickel, Associate Professor
English, Reading and ESL Department
Academic ESL Coordinator | Abeles Endowed Chair for Distance Learning
Kent.Trickel@sunywcc.edu | GTW S233D | (914) 606-8509